How to do a Rangeland Health Assessment: Videos
Rangeland, or range, can perform a number of valuable functions for both the livestock industry as well the general public. Rangeland is defined as land that supports indigenous or introduced vegetation that is either grazed or has the potential to be grazed and is managed as a natural ecosystem. By evaluating its health, cattle producers can manage their grazing lands for optimal, sustainable forage production.
The benefits of maintaining healthy rangeland for livestock producers include:
Lower feed costs
Renewable and reliable source of forage production
Stability of forage production during drought
Greater flexibility and efficiency for alternate grazing seasons (fall or winter)
Lower maintenance costs like weed control
Does not require the input of inorganic fertilizers and other soil amedments and additives
Reduced concern for noxious weeds
In two new videos featuring Mike Alexander, Provincial Rangeland Specialist with the Alberta Ministry of Environment and Sustainable Resource Development (ESRD), you'll learn the basics of how to do your own rangeland health assessment.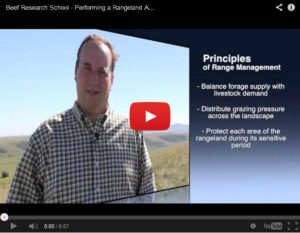 Part one defines rangelands, covers the principles of range management and highlights some of the assessment tools that are available.
See Part 1 of 2 here.
In Part two, we follow Mike as he does a rangeland health assessment using five key questions on a lightly grazed site in Southern Alberta, and see how it compares to heavily and very heavily grazed range.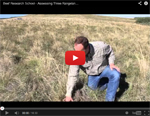 See Part 2 of 2 here.
Stay tuned for upcoming episodes of the Beef Research School, which will soon discuss deadstock disposal and the beef care code. Past episodes covered mineral supplementation, vaccination programs, trich and vibrio, and riparian zone assessment and restoration. More information on the Beef Research School.
Learn more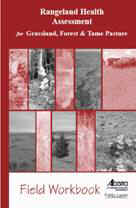 Rangeland Health Assessment for Grassland, Forest and Tame Pasture (PDF)
Alberta ESRD
Native Grassland and Forest Workbook
Saskatchewan Prairie Conservation Action Plan
Grazing & Range Management
Alberta ESRD
Saskatchewan Grassland & Riparian Health Assessment Field Books
Saskatchewan Prairie Conservation Action Plan
Range Monitoring with Photo Points (PDF)
Texas Agriculture Extension Service
Assessing your Grazinglands
BC Ministry of Agriculture
How to access riparian zones
BCRC Blog | August 1, 2013
Strategies to restore riparian zones
BCRC Blog | August 2, 2013
Click here to subscribe to the BCRC Blog and receive email notifications when new content is posted.
The sharing or reprinting of BCRC Blog articles is welcome and encouraged. Please provide acknowledgement to the Beef Cattle Research Council, list the website address, www.BeefResearch.ca, and let us know you chose to share the article by emailing us at info@beefresearch.ca.

We welcome your questions, comments and suggestions. Contact us directly at info@beefresearch.ca or generate public discussion by posting your thoughts below.