How to Assess Riparian Zones: Beef Research School Video
The area between land and a river or stream is called a riparian zone. When riparian zones are healthy, they serve important roles in soil conservation, habitat biodiversity, and aquatic ecosystems.
In this episode of the Beef Research School series, Ken Lewis, conservation coordinator with Red Deer County, describes what to look for to assess the health of riparian zones on your land. Ken also explains where to find additional resources to help with riparian assessments.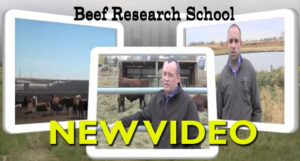 See the video here.
Update: The following episode of the Beef Research School covered restoration of riparian zones.
Past episodes covered forage rejuvenation, maximizing forage acres, and biosecurity for beef cattle. More information on the Beef Research School.
Click here to subscribe to the BCRC Blog and receive email notifications when new content is posted.
The sharing or reprinting of BCRC Blog articles is welcome and encouraged. Please provide acknowledgement to the Beef Cattle Research Council and list the website address, www.BeefResearch.ca.
We welcome your questions, comments and suggestions. Contact us directly at info@beefresearch.ca or generate public discussion by posting your thoughts below.
Stay connected by following us on Twitter @BeefResearch, liking us on Facebook, and subscribing to our YouTube Channel.