Fertilizing Pastures and Hay: Beef Research School Episode
In the previous episode of the Beef Research School, Dr. Paul Jefferson explained how to maximize your forage acres, including when to rejuvenate and when to reseed. In this episode, we take a closer look at rejuvenation methods.
Dr. Bart Lardner with the Western Beef Development Centre discusses why producers should consider fertilizing hay and pasture land. In addition to chemical fertilizer or composted manure, in-field winter feeding systems are another strategy to consider. For example, bale grazing not only deposits nutrients through raw manure, bale waste will also make nutrients available to plants (once soil microbes are done feeding). Dr. Lardner cautions that bale grazing sites must be rotated to prevent excessive nutrient deposits which can lead to problems.
With increased forage production on grazing land, higher stocking rates can be used and animal performance may improve. Increased production on hay land reduces the cost of unit of production, which means reduced winter feed costs per cow.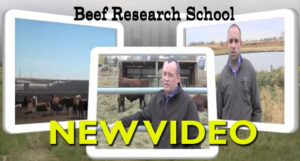 See the video here.
Stay tuned for more episodes of the Beef Research School. Past episodes covered maximizing forage acres, biosecurity for beef cattle, and manure management. More information on the Beef Research School.
Learn more
Sustainable Management of Nutrients on the Landscape for In-Field Livestock Winter Feeding Systems
Agriculture and Agri-Food Canada
Maximizing forage acres: Beef Research School episode
BCRC Blog – July 15, 2013
Manure application and soil nutrient management: new video
BCRC Blog – June 6, 2013
Click here to subscribe to the BCRC Blog and receive email notifications when new content is posted.
The sharing or reprinting of BCRC Blog articles is welcome and encouraged. Please provide acknowledgement to the Beef Cattle Research Council and list the website address, www.BeefResearch.ca.
We welcome your questions, comments and suggestions. Contact us directly at info@beefresearch.ca or generate public discussion by posting your thoughts below.
Stay connected by following us on Twitter @BeefResearch, liking us on Facebook, and subscribing to our YouTube Channel.