Manure Application and Soil Nutrient Management: New Video
Cattle manure is a valuable resource in agriculture when utilized properly. On an annual basis, approximately 3.4 million hectares of land in Canada receives animal manure as an amendment to improve soil fertility and quality for crop growth. Manure from cattle contains macronutrients and micronutrients that plants need. It also has considerable amounts of organic matter that can improve soil tilth. Land application of cattle manure is an effective way of recycling nutrients. As such, cattle manure that is hauled out and applied to farm fields or deposited directly by grazing or overwintered cattle reduces reliance on commercial fertilizers and helps to sustain land productivity.
The latest video in the Beef Research School series features Dr. Jeff Schoenau, University of Saskatchewan researcher and professor of soil science. Dr. Schoenau explains the availability of nutrients in manure to plants, how cattle diet affects manure nutrient levels, the importance of having manure and soil samples tested, and tips for manure application on fields.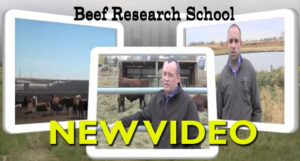 See the video here.
Stay tuned for more episodes of the Beef Research School. Past episodes covered e-beam irradiation of beef trim, planning pastures for grazing and hay, and pain mitigation while dehorning, castrating and branding. More information on the Beef Research School.
Learn more
The sharing or reprinting of BCRC Blog articles is welcome and encouraged. Please provide acknowledgement to the Beef Cattle Research Council and list the website address, www.BeefResearch.ca.
We welcome your questions, comments and suggestions. Contact us directly at info@beefresearch.ca or generate public discussion by posting your thoughts below.
Stay connected by following us on Twitter @BeefResearch, liking us on Facebook, and subscribing to our YouTube Channel.
Click here to subscribe to the BCRC Blog and receive email notifications when new content is posted.