Improved Test for Vibriosis in Bulls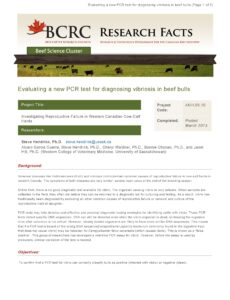 Venereal diseases like trichomoniasis (trich) and vibriosis (vibrio) remain common causes of reproductive failure in cow-calf herds in western Canada. Unlike trich, there is no good diagnostic test available for vibrio.
A recently-completed research project funded by the National Check-off and Canada's Beef Science Cluster studied polymerase chain reaction (PCR) tests, which detect specific DNA sequences, as a potentially cost-effective and practical diagnostic testing strategy for identifying beef cattle with vibrio.
The research found that the PCR test is 85% accurate at identifying positive and negative bulls when sampled in the field. While not perfect, it is an improvement in what has been available to practicing veterinarians.
To learn more about this research, view the fact sheet.
Learn more
Reproductive Failure
BeefResearch.ca
Click here to subscribe to the BCRC Blog and receive email notifications when new content is posted.
The sharing or reprinting of BCRC Blog articles is welcome and encouraged. Please provide acknowledgement to the Beef Cattle Research Council and list the website address, www.BeefResearch.ca.
We welcome your questions, comments and suggestions. Contact us directly at info@beefresearch.ca or generate public discussion by posting your thoughts below.
Stay connected by following us on Twitter @BeefResearch, liking us on Facebook, and subscribing to our YouTube Channel.