New Technologies to Breed Better Barley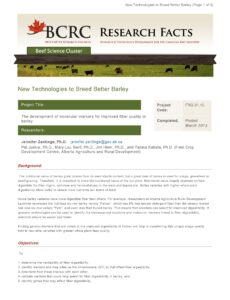 The nutritional value of barley grain comes from its seed starch content, but a great deal of barley is used for silage, greenfeed or swathgrazing. Therefore, it is important to know the nutritional value of the cut plant.
Nutritional value largely depends on how digestible the fiber (lignin, cellulose and hemicellulose) in the stem and leaves are. Barley varieties with higher whole plant digestibility allow cattle to obtain more nutrients per tonne of feed. Some barley varieties have more digestible fiber than others.
A recently-completed research project funded by the National Check-off and Canada's Beef Science Cluster studied the use of genomic technologies to make selection for improved digestibility in feed barley easier and faster.
To learn more about this research, view the fact sheet (web version).
Click here to subscribe to the BCRC Blog and receive email notifications when new content is posted.
The sharing or reprinting of BCRC Blog articles is welcome and encouraged. Please provide acknowledgement to the Beef Cattle Research Council and list the website address, www.BeefResearch.ca.
We welcome your questions, comments and suggestions. Contact us directly at info@beefresearch.ca or generate public discussion by posting your thoughts below.
Stay connected by following us on Twitter @BeefResearch, liking us on Facebook, and subscribing to our YouTube Channel.