Vaccination Tips for your Cattle Herd: Beef Research School Episode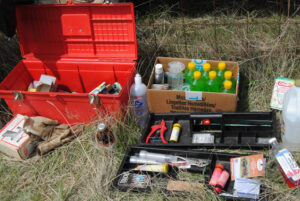 Vaccinating your herd is like buying insurance. Just like choosing an insurance policy, the set of vaccines you select should be based on your level of risk. A vaccination program based on your herd's risk level will minimize disease and optimize production, while keeping the cost of preventative health at a reasonable level.
You'll also benefit from the peace of mind knowing your cattle are less prone to disease, and having a good reputation for healthy cattle with buyers.
Having a good relationship with your veterinarian is especially important in developing a vaccination program that best suits your herd.
In this episode of the Beef Research School, Dr. Nathan Erickson of Veterinary Agri-Health Services explains how to determine the risk level of your herd, which vaccines to deliver to each risk group, and describes a new vaccine on the market. He also offers tips on what to do if you suspect a broken needle, as well as how to prevent injection site lesions that must be trimmed off the carcass and discarded.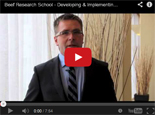 See the video here.
Stay tuned for upcoming episodes of the Beef Research School. Past episodes covered trich and vibrio, riparian zone assessment and restoration, and forage rejuvenation. For more information on the Beef Research School, visit www.beefresearch.ca/blog/new-video-series/
Learn more
How to prevent injection site lesions – video (10:03)
BeefResearch.ca
Broken Needles in Beef: Prevention and Responsibility
BCRC Blog – October 2, 2012
Vaccination Guidelines
VIDO Beef Technical Group
On-farm biosecurity manual protects cattle health: producer manual now available
BCRC Blog – April 30, 2013
Injection Techniques for Beef Cattle
Verified Beef Production
Click here to subscribe to the BCRC Blog and receive email notifications when new content is posted.
The sharing or reprinting of BCRC Blog articles is welcome and encouraged. Please provide acknowledgement to the Beef Cattle Research Council and list the website address, www.BeefResearch.ca.
We welcome your questions, comments and suggestions. Contact us directly at info@beefresearch.ca or generate public discussion by posting your thoughts below.
Stay connected by following us on Twitter @BeefResearch, liking us on Facebook, and subscribing to our YouTube Channel.