Broken Needles in Beef: Prevention and Responsibility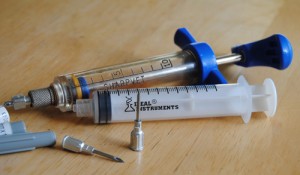 Suspected broken needles are rare, but imagine the food safety risk if a broken needle were to end up in a meat product, and potential harm to the industry's reputation. As a producer, it is very important to take steps to prevent needles from breaking, and to know what to do if a broken needle is suspected.
The following advice is courtesy of the Verified Beef ProductionTM (VBP) program.
Prevent broken needles
Securely restrain the animal. Neck extenders on the chute help hold the animal's neck in place.
Use detectable needles, which are made of a type of steel with the same strength as traditional needles and are more likely to be identified by metal detectors at the plant. Ask for detectable needless wherever animal health supplies are sold.
Use only sharp needles, never dull or burred needles.
Change needles often – every 10 animals when vaccinating mature animals, and every time for sick animals. Reusing needles can transmit infections like Anaplasmosis or Bovine Leukemia Virus from animal to animal. Keep a full box of needles on hand.
Never straighten a bent needle for re-use.
Visually inspect needles after use to be sure they are intact on the syringe and not bent.
Use appropriate needle size and length. This will depend on the product viscosity and route of injection.
Use proper injection technique. Give injectable products in the neck and use under the skin (sub-Q or SC) method when recommended on the label. Suspect broken needles in the neck are easier to detect at the plant level.
Discard used needles into a sharps container. Don't risk injury to other cattle, animals or people.
If a needle breaks
Identify the suspect animal and record the incident on a permanent record.
Notify a buyer of the specific animal and location of the broken needle.
Alternatively, slaughter the animal at a smaller plant where instructions can be given to remove the area of meat around the injection site, and keep the beef for your own consumption.
Learn more
The sharing or reprinting of BCRC Blog articles is welcome and encouraged. Please provide acknowledgement to the Beef Cattle Research Council and list the website address, www.BeefResearch.ca.
We welcome your questions, comments and suggestions. Contact us directly at info@beefresearch.ca or generate public discussion by posting your thoughts below. Stay connected by following us on Twitter @BeefResearch, liking us on Facebook, and subscribing to our YouTube Channel.