Molecular Factors Influencing Maintenance Energy Requirements in Mature Beef Cows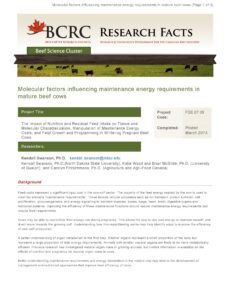 Feed costs represent a significant input cost in the cow-calf sector. The majority of the feed energy needed by the cow is used to meet the animal's 'maintenance requirements'. During pregnancy, cows may be able to reprioritize their energy use, which allows the cow to use less energy to maintain herself, and divert more towards the growing calf.
Better understanding maintenance requirements and energy metabolism in the mature cow may lead to the development of management and nutritional approaches that improve feed efficiency of cows.
A recently-completed research project funded by the National Check-off and Canada's Beef Science Cluster examined:
How nutrient restriction of pregnant beef cows during mid-to late gestation impacts performance, visceral organ mass, liver metabolic rate, enzymes and proteins involved in energy metabolism, and
The influence of pregnancy in mature beef cows on performance, internal organ size, liver metabolic rate, and proteins involved in energy metabolism.
The studies identified proteins that respond to restricted feeding and pregnancy in mature beef cows. These proteins may be important in energy signalling and maintenance requirements for beef cows. Although more research is needed to determine how these proteins are regulated, they do identify possible key targets for possible genetic selection, identification of novel SNPs or through control through dietary, management or pharmacological manipulation.
To learn more about this research, view the BCRC fact sheet.
Click here to subscribe to the BCRC Blog and receive email notifications when new content is posted.
The sharing or reprinting of BCRC Blog articles is welcome and encouraged. Please provide acknowledgement to the Beef Cattle Research Council, list the website address, www.BeefResearch.ca, and let us know you chose to share the article by emailing us at info@beefresearch.ca.

We welcome your questions, comments and suggestions. Contact us directly at info@beefresearch.ca or generate public discussion by posting your thoughts below.