*UPCOMING WEBINAR* Record Keeping for Production Management Part 3: Keeping Production Data to Improve the Supply Chain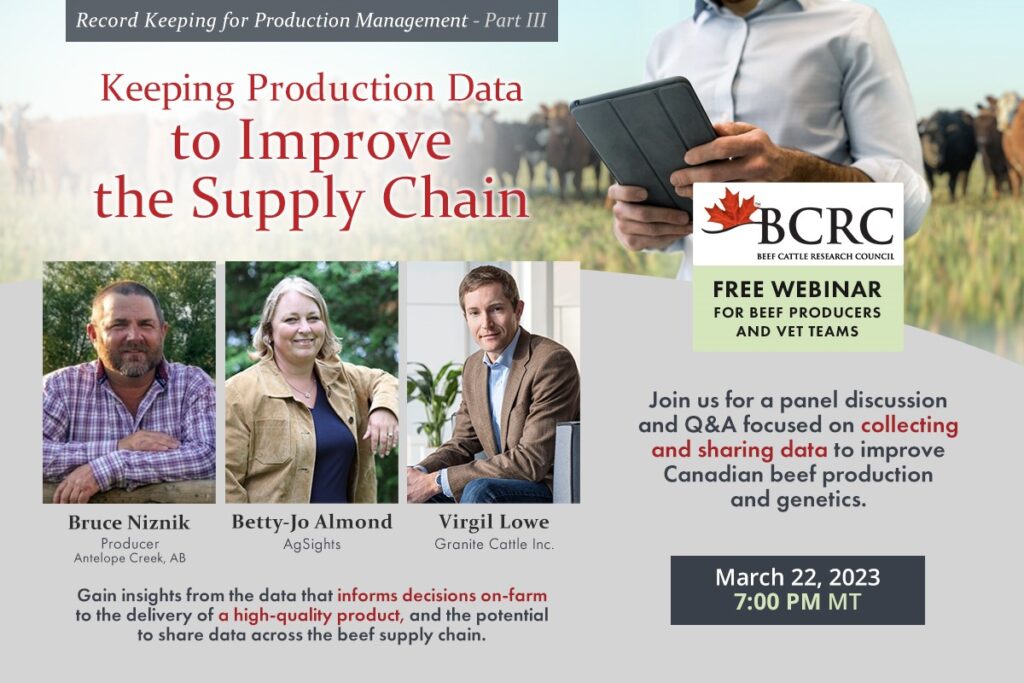 Your sector is one piece of the puzzle that enables putting beef on the plates of Canadians. The information available from each sector has key implications for others in the industry, yet there are limitations to accessing this data at times. Join us for a panel discussion and Q&A focused on collecting and sharing data to improve the entire beef supply chain, from the records that aid in decisions on-farm to the processing and delivery of a high-quality Canadian product.
Register for the live March 22 webinar to hear from our panel which includes Alberta cow-calf producer Bruce Niznik, Betty-Jo Almond of AgSights and Virgil Lowe of Granite Cattle Inc.
WHEN IS THE WEBINAR?  WEDNESDAY, MARCH 22, 7:00 PM MT
6:00 PM in BC  
7:00 PM in AB and SK
8:00 PM in MB  
9:00 PM in ON and QC  
10:00 PM in NS, NB and PEI 
10:30 PM in NFLD
Duration
Approximately 1 hour.
Cost
BCRC webinars are available free of charge thanks to guest speakers who volunteer their time and expertise to support advancements in the Canadian beef industry and through the Knowledge Dissemination and Technology Transfer project funded by the Canadian Beef Cattle Check-Off and Canada's Beef Science Cluster.
INTERESTED BUT UNAVAILABLE FOR THE LIVE EVENT?
Register anyway! This webinar will be recorded and posted online after the event. All registrants will receive a link to the recording and additional learning resources. However, by attending the live broadcast, you'll have the opportunity to interact and ask questions.
SPEAKERS
Bruce Niznik, Beef Producer at Niznik Farms, Antelope Creek, Alberta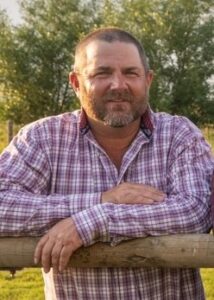 Bruce Niznik farms and ranches 12 miles west of Brooks, Alberta, in Antelope Creek with his wife Jodi and three daughters. Bruce went to school in Brooks and attended Lethbridge College, graduating with an Ag Tech Beef Management Diploma. He is fourth generation on the farm, working alongside his brother, dad and uncle raising Black Angus cattle and crops on irrigated ground. They are also a producer partner with Brandt Lake Wagyu, crossing their Angus genetics with Wagyu.
The only off-farm influence in their cattle is their bull battery and Bruce believes that carcass data is key to improving herd quality and sources out superior genetics. Bruce is a former Alberta Beef Producers delegate, was a guest speaker for Carcass 101 and a long-time board member of their local grazing association. Niznik Farms has proudly won the Calgary Stampede Farm Family Award and, most recently, the Certified Angus Beef Canadian Commitment to Excellence Award.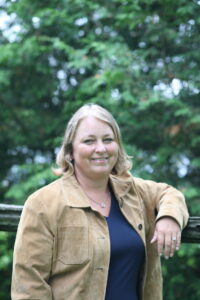 Betty-Jo Almond, AgSights
Betty-Jo Almond is originally from a commercial beef operation in Eastern Ontario. She graduated from the University of Guelph with an agriculture degree, majoring in animal genetics. More recently, she is a graduate of the Advanced Agriculture Leadership program that focuses on experiential executive leadership. Prior to working at AgSights, she was the program lead for several risk management programs, developing a strong understanding of both business and IT needs, abilities and limitations.
Betty-Jo has been with AgSights for over 10 years in various roles related to management solutions and services for beef, sheep, goats and small to medium-sized meat processing businesses. Betty-Jo represents AgSights on the Alpha Phenomics board, specialized in providing disruptive technology solutions for the livestock production industry, veterinarians and processors.
Virgil Lowe, Granite Cattle Inc., Nanton, Alberta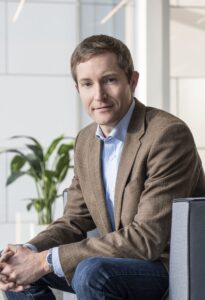 Virgil Lowe has been actively involved in the beef industry his entire life. Currently he works with TELUS Agriculture & Consumer Goods' Animal Health team and manages Granite Cattle Inc., a small cattle feeding company focused on sourcing calves based on historical data.
In the past he has held a variety of roles including business manager of Verified Beef Production Plus and prior to that was a lawyer with Dentons Canada LLP in Calgary. Virgil has also maintained various volunteer roles over the past 10 years, including as a Calgary Stampede Agrifood Committee member and as the chair of the Canadian Beef Industry Conference.
Virgil grew up on his family's ranch/feedlot near Nanton, Alberta, where he now lives with his wife Emily and daughter Juniper.
WHAT IS A WEBINAR?
Webinars are just like attending a workshop or conference, but from the comfort of your own home or office. We bring the presentation right to you. They're easy to join and participate in. A reliable, high-speed internet connection is required.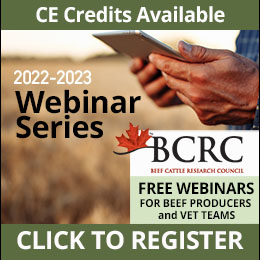 All you need to do is register beforehand, and about 5-10 minutes before the webinar is scheduled to begin, click the link you were provided as you registered. Then turn up your computer speakers or call the phone number provided. That's it! Sit back and enjoy.
As a participant, you can anonymously answer polls and surveys and will have the opportunity to ask questions near the end of the webinar.
Don't have high-speed internet?  Consider calling a neighbor that does and watch the webinar together, or call your regional ag office to ask whether arranging a group viewing is possible.
Visit our Webinars page  to find other upcoming webinars in this series as well as past BCRC webinar recordings.
Click here to subscribe to the BCRC Blog and receive email notifications when new content is posted.
The sharing or reprinting of BCRC Blog articles is welcome and encouraged. Please provide acknowledgement to the Beef Cattle Research Council, list the website address, www.BeefResearch.ca, and let us know you chose to share the article by emailing us at info@beefresearch.ca.
We welcome your questions, comments and suggestions. Contact us directly or generate public discussion by posting your thoughts below.