Chute Decisions – Using Low Tech and High Tech Record Systems to Help Make Decisions Chute-Side 
The best record-keeping system is the one that will be used by your operation. Whether it is recipe cards in a tin container or a more advanced digital recording system, if the system is gathering dust on the shelf, it isn't adding value to your operation. These producers made the switch from paper records to higher tech systems and found greater value in tracking data digitally.
Wilco van Meijl, South Valley Farms, Rapid City, MB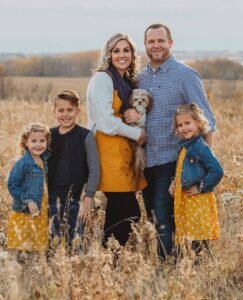 Wilco van Meijl runs South Valley Farms, a mixed operation farm partnership with his wife Adrienne, brother Eric and Eric's wife Jamie. The partnership bought the first large group of cattle from Wilco and Eric's parents in 2017.
Wilco participated in a BCRC webinar held January 18, 2023, where he discussed moving from paper records to an electronic database.
The herd continued to expand after Wilco and his brother took over the management in 2021. "We could no longer remember every cow's history by looking at them." All four partners worked off farm and couldn't always be in the same place at the same time. The team moved to electronic records which allowed all the family members to be able to see the records when they needed to.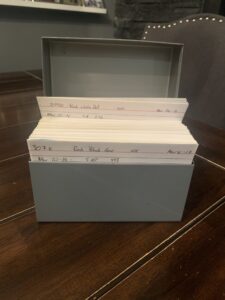 South Valley Farms started with paper records with an individual record for each cow. Each cow record was on a recipe card that was kept in a metal tin. "We called them 'the cards'. If any of us dropped the cards, we were in trouble. It was a very manual process, and we wouldn't review them very often."
Due to the inefficiencies of this record-keeping system, the operation made a lot of chute decisions. "When you're at the side of the chute, you're making that decision while the cow is in the head of the chute. It can become an emotional decision. If a cow was bred, we kept her. We had a cow on our farm that had three c-sections. Our records were all on paper, and she didn't make it on the culling list. That's when we said we need to do something different."
For the open cows, "we used to keep them over. My son's first 4-H heifer changed that practise when the heifer came back open two years in a row. If a cow was open, we would keep her and give her another shot. Moving to digital records for us opened our eyes to many of these areas we were missing out on."
The farm began using a Microsoft Excel spreadsheet to track records and then made the switch to the record keeping software CattleMax®. Digital records have allowed the van Meijls to see lineage and a strong correlation to the dams having open years. It made it clear they had to work on conception rates.
Data like retained heifers were easier to view with digital records. "One cow had seven active daughters in our herd that we could see the lineage for. Once you start playing with lineages you can see more patterns you may not see with paper records."
The electronic records have helped with heifer retention as well. "Conformation is still a starting point for us. We look at age, keeping the older heifers. When we began looking at our history digitally, we began to notice that if the heifer was born late, it was only a matter of time until she had chronically late calves. We are also keeping heifers born in the first two cycles."
For Wilco, the benefits of electronic record keeping are clear. "You can see the big picture of your operation and you can compare your progress." He cites the downside of electronic records as, "time. Getting started is the biggest hurdle for getting into electronic records. Garbage in, garbage out – you get out of it what you put into it."
Mark Hoimyr, Box H Farm, Gladmar, SK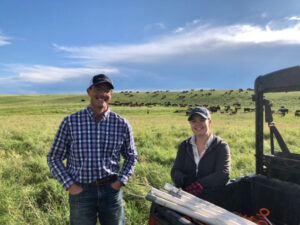 Mark Hoimyr and his family operate a 300 cow-calf and direct market grassfed beef operation in southern Saskatchewan.
Mark participated on the BCRC webinar held on January 12, 2022, where he spoke about upgrading their paper record keeping to a smart phone app.
The operation's data collection has evolved. Starting with a pocketbook calving book, recording cows as they calved, Mark gained more interest in record keeping and data collection. Mark then moved to a spreadsheet. "I liked the ability to be able to manipulate some of the numbers and to summarize some of the information – so we migrated to a spreadsheet. This was while also still using the paper calving book." Since the farm was multigenerational, Mark was transferring data from the paper calving book to another paper copy for his father and in the evening was recording into the database which was cumbersome, and he was finding data errors. This method was dropped, and the operation started using the Numbers® app on the iPhone. They have been using this system successfully for 10 years.
Mark set up multiple tabs on the spreadsheet for data such as cow records, health treatments, bull records, important dates and the calving season. He made the calving record easy to enter in all the data (he estimates about 30 seconds to enter the data). The spreadsheet has the tag list for the cows, polled/horned status and calving ease and has set defaults like polled unless changed to horned.
Adding formulas to the spreadsheets such as the calf ID cell automatically generated using the dam's ID, a header has allowed Mark to keep track of cows left to calve, number of live calves and percentage of cows calved. He also used the "sort" function to sort cows that have recently calved. A number scale is used to track calves and cows that caused the most issues during calving as well as teat and udder scores.
The operation started using the information for culling decisions, selecting culls based on udder size and recognizing that poor udders tend to correlate with the issues they observed handling newborn calves. They also used the data for heifer retention, trying to avoid bad temperament and udders.
For Mark, the phone method is quick to use and accessible, usually safe from the washing machine and backed up online on the Cloud. The challenge is that it takes some basic technical skills and the time and energy to learn how to use a new system. Overall, Hoimyr is happy with how it has allowed them to keep track of what they want and not spend a ton of time doing it.
Tyler Fulton – Tyton Farm, Birtle, MB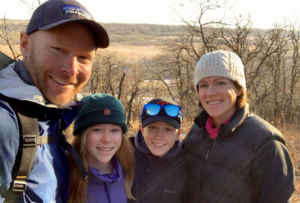 Tyler Fulton and his family own and operate Tyton Farm, a 650 head commercial cow-calf and backgrounding operation near Birtle, Manitoba. Tyler participated on the BCRC Webinar held on January 13, 2021, where he discussed the transition from paper records to using Google Sheets®.
Part of the marketing strategy for Tyton Farm involves verification programs including antibiotic free, EU certification, and Verified Beef Production Plus (VBP+). These programs were part of the motivation to improve their record keeping capability.
Initially, the operation was using an Excel spreadsheet to manage records. In 2021, Tyler's operation started using Google Sheets®. At calving, calves are tagged with a management and CCIA tag, the cows are rated based on teats, udder and feet, calves are weighed and males are castrated. Since Tyler's father is doing much of the calving data recording, the information is initially recorded on paper and Tyler's daughter then enters it into the spreadsheet. This process gives data access to everyone including Tyler's sister, who is off farm, as well as a farm employee.
The electronic based system has allowed the operation to record birth weights and weaning weights which are eventually used to calculate weight gain per day of age from birth to weaning. This shows how consistent the calves are gaining across the herd. A capability with Google Sheets® is the ability to easily generate graphs that can show trends.
When it comes to selecting replacement heifers, Tyler generates a pivot table* and sets minimum criteria such as cows with minimum teat and udder scores of 1, birth weights between 65-95 pounds, calves in first two heat cycles and then sorted on weight gain per day of age. Depending how he wants to rank these traits, the spreadsheet can give a list of best to worst heifers. However, he recognizes that you can't just go by the numbers. They also look at phenotypic traits. If a heifer looks good physically and her stats are good, she is kept.
*A pivot table is a table of grouped values that combines information from a larger table, so it is easier to review.
For 2022, the operation was working to determine what their top 50 cows are based on fertility, average daily gain, and teat and udder scores. They were also implementing another tool from Google called the Google Form® to use as a calving record generator.
Tips

Find something that works for you. Find a data keeping system that you'll spend the time to enter the data into.
There's always going to be a hurdle of time to get the initial data entered.
Talk to other producers about what they use.
Make your farm records work for you. Pre-register now for the BCRC's Cow-Calf Record-Keeping Course on animal health and performance data.
When it launches this spring, this six-part online course will walk you through the process of successful record-keeping. Learn how to collect and save data so that it can be analyzed, used to make better decisions and turn information into action.
Content will be emailed to you in digestible bites every few days. E-mail lessons will provide a brief overview with links to supporting information.
Click here to subscribe to the BCRC Blog and receive email notifications when new content is posted.
The sharing or reprinting of BCRC Blog articles is welcome and encouraged. Please provide acknowledgement to the Beef Cattle Research Council, list the website address, www.BeefResearch.ca, and let us know you chose to share the article by emailing us at info@beefresearch.ca.
We welcome your questions, comments and suggestions. Contact us directly or generate public discussion by posting your thoughts below.