Lost profits: Injection site lesions cost the industry $1.63 million: New Videos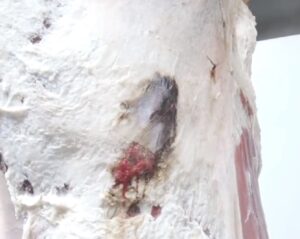 Injection site lesions visible on the carcass surface have increased to nearly 14% of non-fed cattle and 8% of fed cattle. Even in areas that are inches away from injection sites can result in tissue damage causing tougher meat and lower eating quality. As a result, injection site lesions cost the industry $0.56/head or $1.63 million in 2016. That's up considerably from 0.21/head or $662,951 in 2011.
What do you need to know?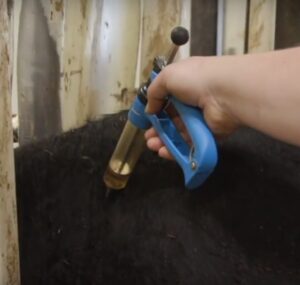 Animals should be properly restrained to ensure the safety of both yourself and the animal. This will also give greater access to the neck area to improve delivery accuracy and reduce the risk of broken needles.
Use subcutaneous (below the skin) when possible versus intermuscular (into the muscle) when administering injections. Intermuscular injections generate a greater risk of developing a reaction to the treatment and can create injection abscesses and bruising.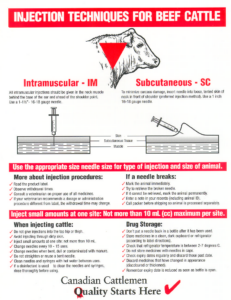 It is recommended to deliver only 10 mL of treatment per injection site. Although, antibiotics such as penicillin may require multiple injections per dose. To do this, deliver the treatment in the soft tissue area between the spine, shoulder and neck veins which forms a triangle. Deliver multiple injections of 10 mL or less about one hand width apart.
Alternatively, injections may be delivered behind the shoulder blade by tenting the skin and injecting in a downward motion. It is best to avoid injections in the hip region.
Avoid delivering treatments in an area with mud or tag on the hide. Injections through areas of tag and debris can introduce bacteria into the injection site and cause a reaction.
In remote locations, animals may be treated using a dart gun. While the darts may hold more than 10 mL, the same rule applies to only give 10 mL per injection site. This method may not be appropriate for treatments that need more than 10 mL per dose. When retrieving the dart make sure that the entire needle has been removed.
Multi-dose needles should be changed every 10-15 animals or when dull, burred, or bent and should be changed before every new drug or vaccine.
Watch the videos
Learn more:
Click here to subscribe to the BCRC Blog and receive email notifications when new content is posted.
The sharing or reprinting of BCRC Blog articles is welcome and encouraged. Please provide acknowledgement to the Beef Cattle Research Council, list the website address, www.BeefResearch.ca, and let us know you chose to share the article by emailing us at info@beefresearch.ca.

We welcome your questions, comments and suggestions. Contact us directly or generate public discussion by posting your thoughts below.