*Upcoming Webinar* Record-Keeping for Production Management Part 1: Defining Your Goals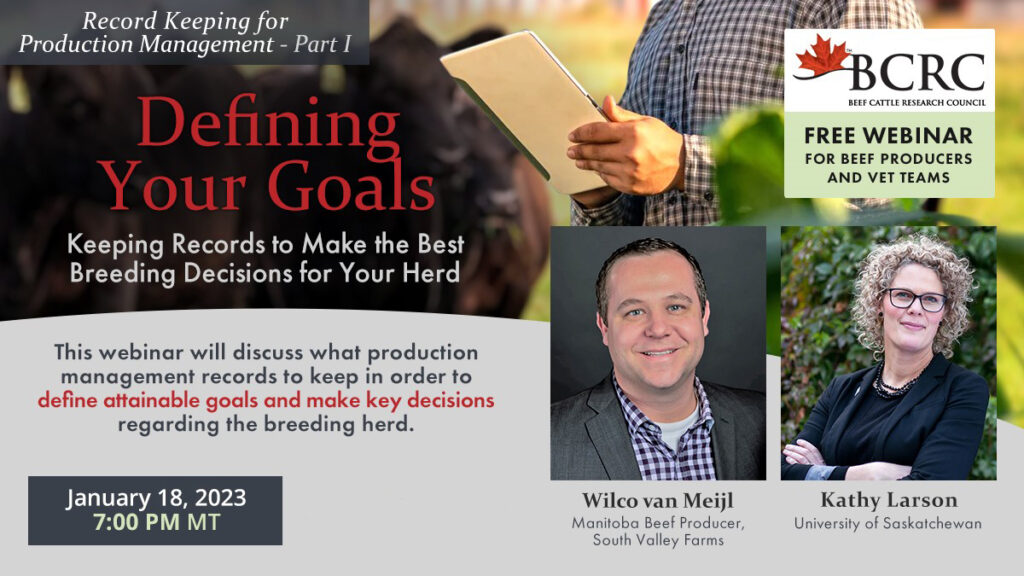 Keeping Records to Make the Best Breeding Decisions for Your Herd
The records you keep are incredibly important when it comes to making decisions about which animals to cull and choosing replacements. This webinar will discuss what production management records to maintain to define attainable goals and make key decisions regarding the breeding herd.
Register for the live January 18 webinar to hear from Kathy Larson, research associate from the University of Saskatchewan, and Wilco van Meijl, owner/operator of South Valley Farms in Rapid City, Manitoba.  
WHEN IS THE WEBINAR?  WEDNESDAY, JANUARY 18, 7:00 PM MT
6:00 PM in BC  
7:00 PM in AB 
8:00 PM in SK and MB  
9:00 PM in ON and QC  
10:00 PM in NS, NB, NFLD and PEI 
Duration
Approximately 1 hour.
Cost
BCRC webinars are available free of charge thanks to guest speakers who volunteer their time and expertise to support advancements in the Canadian beef industry and through the Knowledge Dissemination and Technology Transfer project funded by the Canadian Beef Cattle Check-Off and Canada's Beef Science Cluster.
INTERESTED BUT UNAVAILABLE FOR THE LIVE EVENT?
Register anyway! This webinar will be recorded and posted online after the event. All registrants will receive a link to the recording and additional learning resources. However, by attending the live broadcast, you'll have the opportunity to interact and ask questions.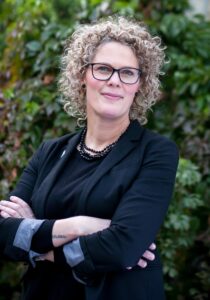 speakers
Kathy Larson, Research Associate, Department of Agricultural and Resource Economics, University of Saskatchewan 
Kathy Larson is a research associate in the Department of Agricultural and Resource Economics at the University of Saskatchewan. She completed both her undergraduate and master's degrees in Agricultural Economics at the University of Saskatchewan. Prior to joining the U of S in 2018, she was the beef economist for the Western Beef Development Centre for eight years. Her research and extension interests include:
cost of production,
the adoption rates of management and marketing practices among cow-calf producers
the value of record keeping and
the economic impact of leafy spurge.
She also collaborates with researchers from a variety of institutions to provide economic analysis of practices and technologies for their respective studies. Current collaborations include researchers with the Department of Animal Science, Department of Plant Science, Western College of Veterinary Medicine, Lakeland College and University of Calgary. Originally from a beef and grain farm near Francis in southeastern Saskatchewan, Kathy now calls Prince Albert home. In her spare time, she enjoys camping and fishing with her husband and son.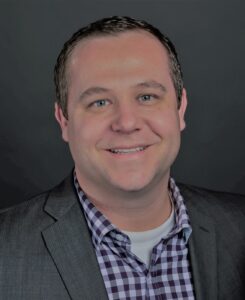 Wilco van Meijl, Manitoba Producer and District Director, Farm Credit Canada
Wilco is a partner/owner of South Valley Farms, a mixed operation at Rapid City, Manitoba that calves approximately 400 mother cows. Wilco also works off the farm, having spent the last nearly seven years at Farm Credit Canada. Prior to FCC he worked at Cargill for just under a decade.  
He is the proud father of three children that keep him busy with their activities and, being a 4-H alumni, he is incredibly happy to see his kids getting the same great 4-H experience he enjoyed. 
In 2016, Wilco was selected as a finalist in the prestigious Canadian Cattle Young Leaders program and completed a mentorship focused on marketing strategies for cow-calf operations.  
WHAT IS A WEBINAR?
Webinars are just like attending a workshop or conference, but from the comfort of your own home or office. We bring the presentation right to you. They're easy to join and participate in. A reliable, high-speed internet connection is required.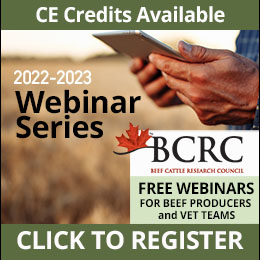 All you need to do is register beforehand, and about 5-10 minutes before the webinar is scheduled to begin, click the link you were provided as you registered. Then turn up your computer speakers or call the phone number provided. That's it! Sit back and enjoy.
As a participant, you can anonymously answer polls and surveys and will have the opportunity to ask questions near the end of the webinar.
Don't have high-speed internet?  Consider calling a neighbor that does and watch the webinar together, or call your regional ag office to ask whether arranging a group viewing is possible.
Visit our Webinars page  to find other upcoming webinars in this series as well as past BCRC webinar recordings.
Click here to subscribe to the BCRC Blog and receive email notifications when new content is posted.
The sharing or reprinting of BCRC Blog articles is welcome and encouraged. Please provide acknowledgement to the Beef Cattle Research Council, list the website address, www.BeefResearch.ca, and let us know you chose to share the article by emailing us at info@beefresearch.ca.
We welcome your questions, comments and suggestions. Contact us directly or generate public discussion by posting your thoughts below.