*Upcoming Webinar* Nutrition Part 3: Making the Most of Low-Quality Forage — Tips for Improving Animal Performance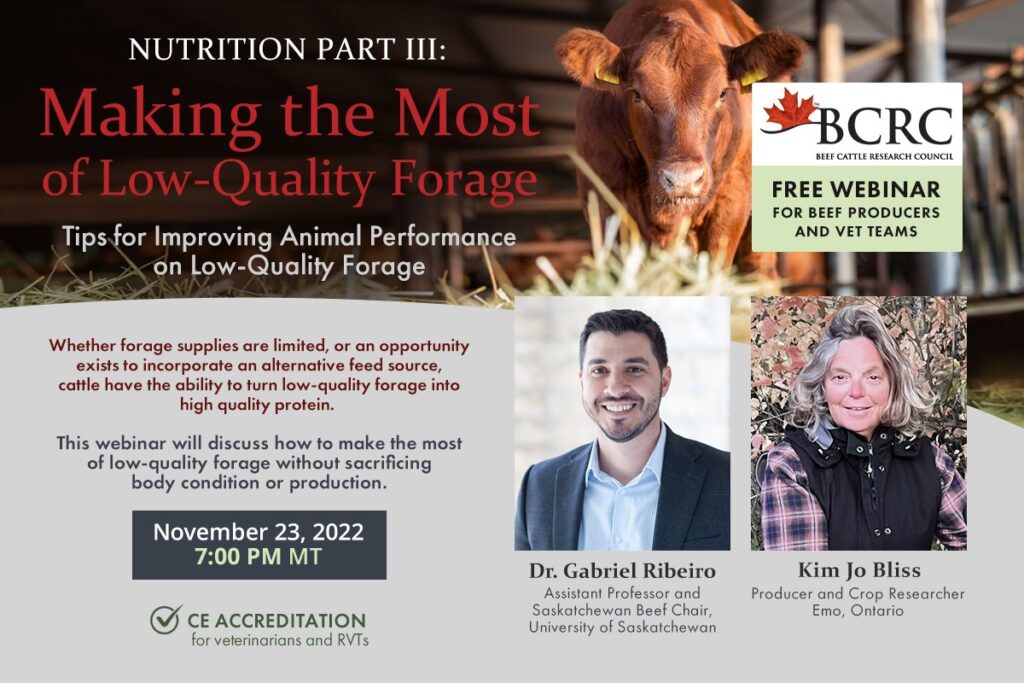 Whether forage supplies are limited, or an opportunity exists to incorporate an alternative feed source, cattle have the ability to turn low-quality forage into high quality protein. This webinar will discuss how to make the most of low-quality forage without sacrificing body condition or production.
Register for the live November 23 webinar to hear from the Saskatchewan Beef Industry Chair and a beef producer/crop researcher on how to manage low-quality forage.
This webinar qualifies for one continuing education (CE) credit for registered veterinary technologists and technicians. For more information on CE accreditation for RVTs, please contact Dana Parker.
WHEN IS THE WEBINAR? WEDNESDAY, NOVEMBER 23, 7:00 PM MT
6:00 PM in BC 
7:00 PM in AB
8:00 PM in SK and MB 
9:00 PM in ON and QC 
10:00 PM in NS, NB, NFLD and PEI
Duration
Approximately 1 hour.
Cost
BCRC webinars are available free of charge thanks to guest speakers who volunteer their time and expertise to support advancements in the Canadian beef industry and through the Knowledge Dissemination and Technology Transfer project funded by the Canadian Beef Cattle Check-Off and Canada's Beef Science Cluster.
INTERESTED BUT UNAVAILABLE FOR THE LIVE EVENT?
Register anyway! This webinar will be recorded and posted online after the event. All registrants will receive a link to the recording and additional learning resources. However, by attending the live broadcast, you'll have the opportunity to interact and ask questions.
Speakers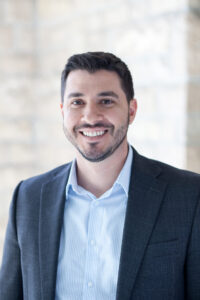 Dr. Gabriel Ribeiro, Assistant Professor and Beef Industry Chair, University of Saskatchewan
Dr. Gabriel Ribeiro obtained his DVM, and MSc. and Ph.D. in Animal Science (ruminant nutrition) from the Federal University of Minas Gerais (UFMG) in Brazil. After the completion of his Ph.D., he worked as a post-doctoral fellow at Agriculture and Agri-Food Canada's Lethbridge Research and Development Centre. Dr. Ribeiro is currently an assistant professor and the Saskatchewan Beef Industry Chair at the University of Saskatchewan. Dr. Ribeiro's research interest is in beef cattle production and nutrition with a focus on uncovering nutritional strategies to improve health, performance, and profitability, while simultaneously lessening the environmental impact of beef cattle production. Overall, his research goal is to identify technologies and nutritional and management practices to improve the sustainability and productivity of forage-based and feedlot beef cattle production systems.
Kim Jo Bliss, Ontario Beef Producer and Crop Researcher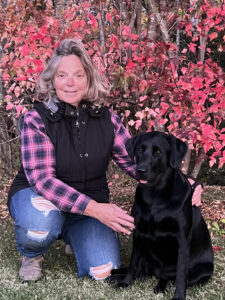 Kim Jo was born and raised in North-Western Ontario near the town of Emo. Kim Jo developed a love of the farm at a young age as her grandma was farming after being widowed. After graduating high school, she attended the New Liskeard College of Ag Technology. Kim Jo started working as a summer student at what was then known as Crop Check North, a crop research station in the Rainy River District. Kim Jo is still working at that same research station though it has moved and has gone through two name changes – now known as the Ontario Crops Research Centre – Emo, a University of Guelph Station. Kim Jo also farms north of Emo with a 50 cow/calf herd and a small sheep flock. She is deeply involved with all things local in particular the Stratton Sales Barn and Rainy River Regional Abattoir. Currently a director on the Beef Farmers of Ontario Board of Directors, Kim Jo loves to promote agriculture in the North.
WHAT IS A WEBINAR?
Webinars are just like attending a workshop or conference, but from the comfort of your own home or office. We bring the presentation right to you. They're easy to join and participate in. A reliable, high-speed internet connection is required.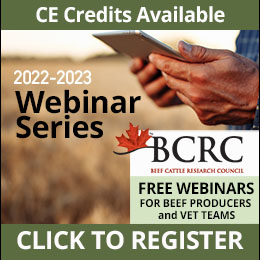 All you need to do is register beforehand, and about 5-10 minutes before the webinar is scheduled to begin, click the link you were provided as you registered. Then turn up your computer speakers or call the phone number provided. That's it! Sit back and enjoy.
As a participant, you can anonymously answer polls and surveys and will have the opportunity to ask questions near the end of the webinar.
Don't have high-speed internet?  Consider calling a neighbor that does and watch the webinar together, or call your regional ag office to ask whether arranging a group viewing is possible.
Visit our Webinars page  to find other upcoming webinars in this series as well as past BCRC webinar recordings.
Click here to subscribe to the BCRC Blog and receive email notifications when new content is posted.
The sharing or reprinting of BCRC Blog articles is welcome and encouraged. Please provide acknowledgement to the Beef Cattle Research Council, list the website address, www.BeefResearch.ca, and let us know you chose to share the article by emailing us at info@beefresearch.ca.
We welcome your questions, comments and suggestions. Contact us directly or generate public discussion by posting your thoughts below.