What goes in must come out: manure and nutrient management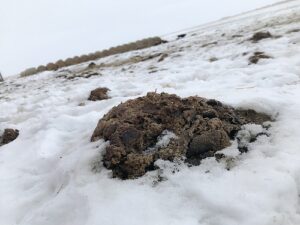 In a cow-calf operation where cattle are often fed in pens for a portion of the year, pens are generally cleaned at least annually to remove accumulated manure and bedding. While backgrounders and feedlots have enforced protocols to manage and store manure, general guidelines apply to all producers who are handling and storing manure.
Manure offers a long-term source of nutrients that can influence soil properties, increase soil carbon and nitrogen, and alter soil phosphorus and potassium concentrations along with other nutrients. Best management practices must be followed across all sectors from cow/calf to backgrounders and feedlots.
Though specifics vary by region, recommendations include:
avoid short term stockpiles on sandy soils, rock quarries, or gravel pits
use a concrete pad if possible, to prevent nutrient leaching into soil and groundwater
have runoff containment, such as a lagoon
ensure that stored manure areas are at least 60 metres from drilled water wells, 400 metres from municipal wells and 120 metres from all other wells, streams, rivers, lakes, and ponds
the slope of the land where manure is stockpiled must not be greater than 3% to avoid overland runoff
keep winter feeding sites and corrals at least 30 metres from bodies of water
Treatment of stored manure can include stockpiling, composting, drying, and less commonly, separation and filtering. These methods reduce moisture content, which reduces volume and odour. Stockpiling (no treatment), composting and drying are the most common treatment strategies in beef cattle operations.
Visit our new webpage for more information on the benefits, use and storage of manure.
Provincial Guidelines/Regulations

Click here to subscribe to the BCRC Blog and receive email notifications when new content is posted.
The sharing or reprinting of BCRC Blog articles is welcome and encouraged. Please provide acknowledgement to the Beef Cattle Research Council, list the website address, www.BeefResearch.ca, and let us know you chose to share the article by emailing us at info@beefresearch.ca.

We welcome your questions, comments and suggestions. Contact us directly or generate public discussion by posting your thoughts below.