New video: What Beef Producers Need to Know About Antimicrobial Use and Resistance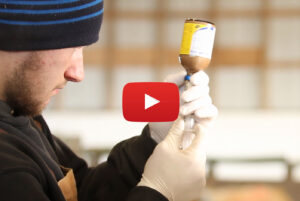 There's no avoiding the topics of antimicrobial use (AMU) and antimicrobial resistance (AMR) these days.
We often see headlines like "Agricultural folly spawns superbugs", "Antibiotic Resistance Declared A 'Serious Health Threat' By CDC As Use In Meat Industry Skyrockets", and "Doctors call for ban of antibiotic use in farm animals as drug-resistant human infections hit 'dangerous level'" in the mainstream media. Headlines like that are alarming for most of us – consumers, government officials, and people who make a living raising livestock.
Flip through your favorite industry publication and you're bound to find stories on the latest release of AMR reports by influential organizations, regulatory moves by the Federal government to restrict the use of various antimicrobial drugs, announcements by grocery and restaurant chains to source meat produced with particular practices, or articles that encourage producers and industry groups to be transparent about why and how antimicrobials are used on farms.
At the heart of it all, we know three things:
AMR is a real threat. If antimicrobials become less effective, then human health and animal welfare will suffer.
AMR is a natural and very complex phenomenon, but improper use of antibiotics favors the development of AMR.
AMU is necessary in beef production, and prudent AMU will slow the development of AMR.
So as a beef producer, what do you need to know about using antimicrobials in your cattle, and the potential risk of resistance to those drugs developing?
Watch the short video, then visit beefresearch.ca and talk to your veterinarian to learn science-based facts about Canadian beef producers' impacts and responsibilities related to AMR. The webpage includes a list of tips on how to avoid illness in cattle to reduce the need to use antimicrobials, and how to responsibly treat cattle when antimicrobial use is necessary.
Can't see the embedded video above? Click to watch it on YouTube
This video is intended for Canadian beef cattle producers from cow-calf to feeder and their employees.
The BCRC thanks the following for their assistance in the making of this video:
– Namaka Farms Ltd, Strathmore, AB
– Veterinary Agri-Health Services, Airdrie, AB
– Dr. Leigh Rosengren
– IAPT, Airdrie, AB
Click here to subscribe to the BCRC Blog and receive email notifications when new content is posted.
The sharing or reprinting of BCRC Blog articles is welcome and encouraged. Please provide acknowledgement to the Beef Cattle Research Council, list the website address, www.BeefResearch.ca, and let us know you chose to share the article by emailing us at info@beefresearch.ca.

We welcome your questions, comments and suggestions. Contact us directly or generate public discussion by posting your thoughts below.