Two Farms "Right-Sized" Their Herds by Being Open to Change and Working in Sync with Nature 
Editor's note: This is the second in a two-part series on taking inventory of forage supplies and "right-sizing" a herd. Click to read Part One.
Every farm has a unique set of circumstances, resources and goals, but every farm should aim to make a profit. A key aspect of maximizing profit and maintaining stability is striking the right balance between cattle numbers and available forage.
Work in Sync with Nature
Well-known holistic management proponent Don Campbell says one of the best ways to manage forage supply and demand on a farm is to look at nature.
"It's a great place to start – instead of trying to dominate nature, how can I cooperate and work with nature?" he asks.
"Your real power isn't in your land or your grass or your cattle, your real power is in your mind."

– Don Campbell, Saskatchewan beef producer
Campbell, who along with his family, runs a large grazing and beef operation near Meadow Lake, Saskatchewan, says the key to creating stability on their farm has been planned grazing. "I took a holistic management course in 1985 – that changed everything," he explains, which prompted him to focus on profit rather than production.
Over the course of decades, Campbell's ranch has sustained floods, droughts, and every condition in between. "The year before, we had a severe flood, we were underwater," Don says, about 2020. "That was a major upset. The next year, 2021, was a drought," he adds. "We had frost in May which is detrimental and heat in July and grasshoppers – things all went wrong at the same time," Campbell explains.
"With planned grazing and better management, our land is resilient," Don says, estimating they have tripled their capacity to grow grass since they changed their management in the mid-80's.
The Campbells calve in May and June with a relatively short calving period which helps them achieve a uniform calf crop.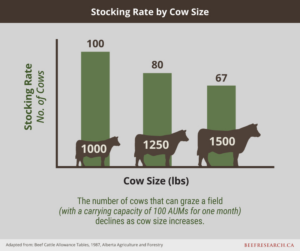 Calving in sync with nature achieves two goals, says Don. "One, you have a higher survival rate of offspring, and two, you have a higher breeding percentage in females," he says. "We breed a lot of heifers and let nature select them. The ones that get bred are the best ones and fertile, and the ones that aren't – sell them as yearlings," Don suggests.
Adapting their cow size to match their grazing resources has been important for the Campbell family and they use their cattle as a tool to make a profit. "It takes a certain amount of nutrition and grass to run a cow," he says, explaining that running a larger cow (for example, 1500-1800 lb) will end up meaning a producer can run fewer cows that eat the same amount of grass but have fewer calves to sell. "The calves may be somewhat heavier, but they are less profit per cow," Campbell says. "If you right-size the cow, she takes less feed.
The Campbell family also grazes yearlings as a management strategy. "If you have a difficult year, the yearlings are flexible," Don says, as they consume less grass than a cow-calf pair and they are quick to market if need be.
Campbell acknowledges that operating a ranch and challenging one's paradigms is not easy, but producers should be encouraged to step up and take control of their business. "You can start calving anytime you want, and you control when you pull bulls out of the herd," Don says. "Your real power isn't in your land or your grass or your cattle, your real power is in your mind," he adds.
Pondering the idea of balancing forage supply and demand, Don shares a favourite quote from cattle handling icon Bud Williams: "In the cattle business, there's grass, there's money, and there's cattle. You can never have too much grass, you can never have too much money, but you can have too many cattle."
Learn to be Fluid
Terri and Brad Mappin run Lazy M Bar Ranch in Stettler County, Alberta, along with their two sons. Their philosophy is to move towards making life easier with cattle.
The Mappins transitioned to calving in May and June when their kids were still young. They traditionally backgrounded their calves with the target of selling them in the spring on the grass market. "In 2020, when COVID hit, the grass market kind of fell out," Terri says. They responded by switching gears to grass the yearlings themselves.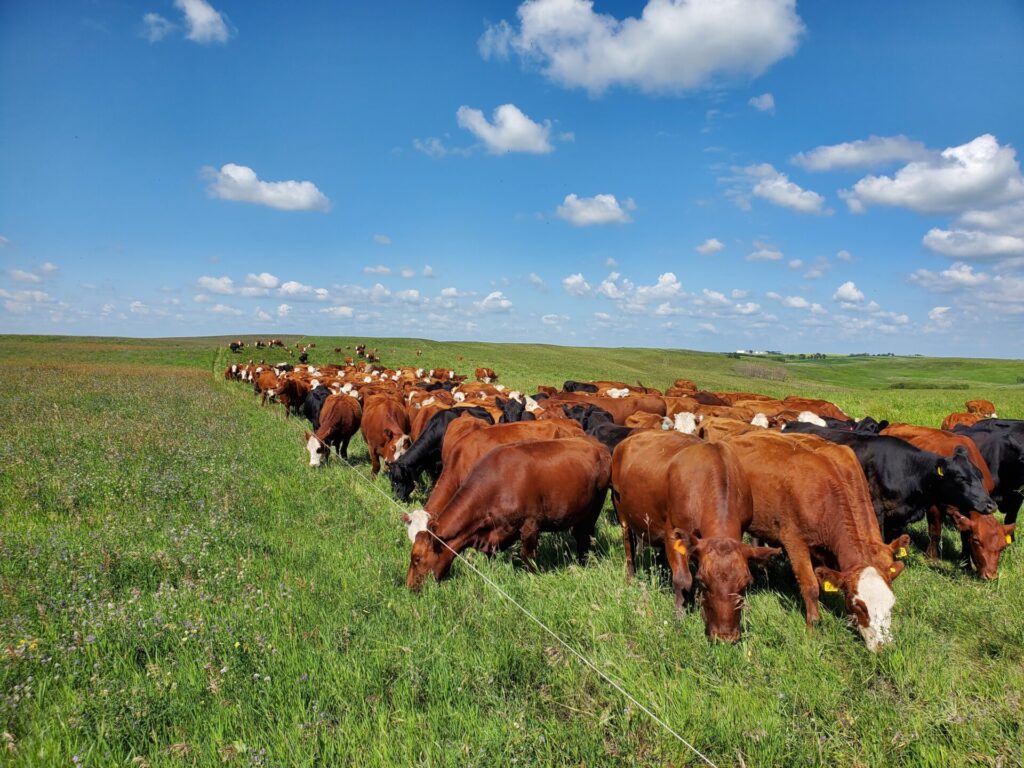 With some quick thinking and cover crops, they grazed their yearlings on a cocktail mix that contained oats, canola and chicory, which got them through to September.
"The yearlings gave us adaptability, we had always talked about grassing them through but had never done it," she says. "Keeping the yearlings has pushed the paradigm and made us think differently." This past spring, when conditions were dry, they were prepared to market the grass cattle if it didn't rain by a certain date.
Being adaptable has served the Mappin family well given they've experienced many climate curveballs in recent years, including drought, dwindling stock water supplies and hail storms.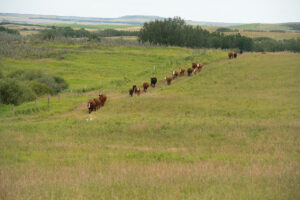 I've always rotationally grazed cows to some extent whether it's been splitting a field in half or quarters or whatever," explains Terri. "With the drought, I've upped the ante on that which gives the grass more rest time which results in more grass," she says. They've also started using more relay blends to complement winter cereals which fill gaps in their forage supply. "We've always done fall and winter cereals, they take advantage of snow if you get it or moisture in the fall and winter," she says.
Brad and Terri have developed additional dugouts, invested in more solar water systems, and strategically fenced grazing paddocks to make things work from a stock-water standpoint. They rely on alleyways and electric fences to create pathways to water. "It doesn't hurt cattle to walk to water," says Terri.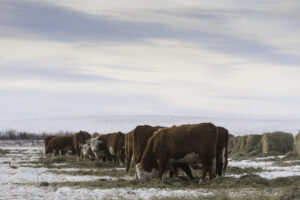 This year, they had to pivot again when their triticale/sweet clover swath grazing mix was wiped out by hail. "The swath grazing was intended for cows but after the hail, we put it into a silage pile," she explains. They plan to feed the silage right out in the field by limiting access using electric fence.
At a time when mixed farmers seem to be trending away from forage, Mappins are bucking the trend. "Brad loves to run numbers, and with input prices, it kind of got to the point where either we go all in grain or we try and figure out a different way and we're going a different way," says Terri. "If we can minimize our costs by grazing more and for longer, we feel there is an opportunity.
Brad says they are part of a grazing club and get together to look at different operations. "If you talk to other people, there are so many other ideas and different ways of doing things," he says. "That's such a key going forward in the cattle industry," Brad says. "You have to learn how to be fluid, you can't hang on to the ways we've always done things."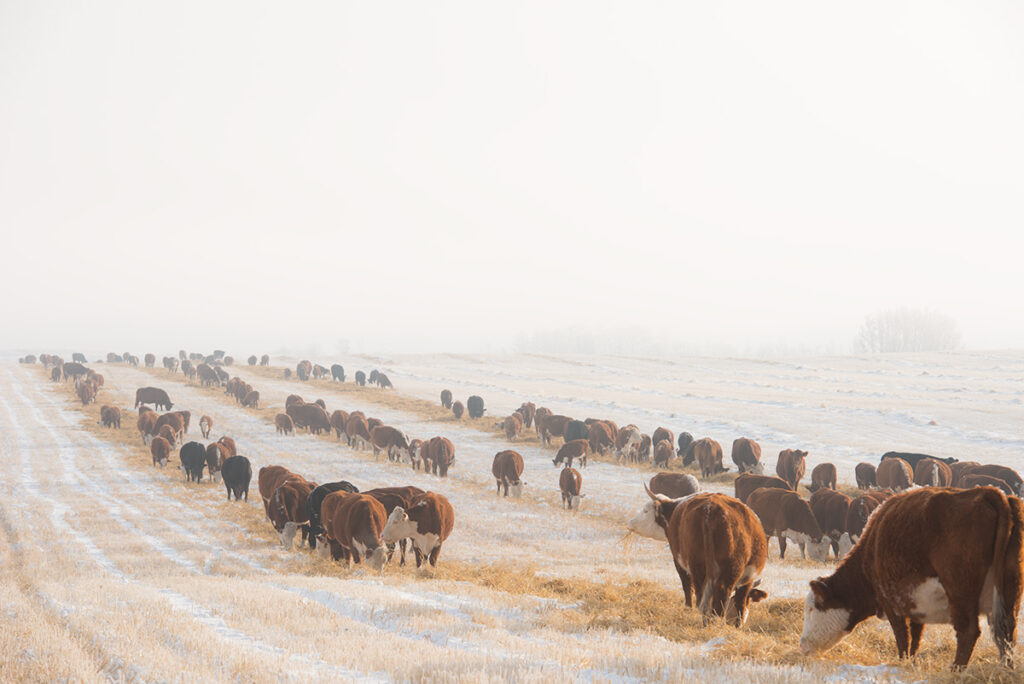 Learn More
Click here to subscribe to the BCRC Blog and receive email notifications when new content is posted.
The sharing or reprinting of BCRC Blog articles is welcome and encouraged. Please provide acknowledgement to the Beef Cattle Research Council, list the website address, www.BeefResearch.ca, and let us know you chose to share the article by emailing us at info@beefresearch.ca.
We welcome your questions, comments and suggestions. Contact us directly or generate public discussion by posting your thoughts below.