Remote Drug Delivery Devices — What You Need to Know ▶️
This post is written by Dr. Roy Lewis, a veterinarian in Alberta.
Cattle producers and their veterinarians see the need for remote drug delivery devices (RDDDs) when animals can't be caught or there is severe risk to the handler, and timing of treatment is critical for a favourable outcome.
When a worked-up bull is in the bush a long way from any handling facility and needs medication, it is less stressful on the bull and safer for the handler to dart it. When dealing with younger stock, it may depend on the roping ability of the producer or the amount of open terrain as to whether darting or another method of treatment gets chosen. There is an advantage to treating young calves with pneumonia by darting because it is less stressful than handling those calves. With contagious diseases, darting may be appropriate because gathering a group of animals together increases the risk of spreading the disease, like a case of pinkeye in one animal for example.
RDDDs have evolved from the pole syringe to the long bow, the crossbow and finally to the dart gun. Most new purchases of equipment by cattle producers for remote drug delivery are dart guns. Through a veterinary-client-patient-relationship (VCPR) with a prescription for extra label use, dart guns are primarily used by cattle producers to deliver antimicrobials.
A recent survey in Western Canada found producers and many veterinarians agree RDDD use is their third choice when treatment is necessary; their first choice is to use a handling facility, followed by roping or using a calf hook. The survey also found producers and veterinarians agree on the importance of using the devices properly and closely following proper injection techniques. Survey respondents indicated that the most common products they use in RDDDs are the low-volume macrolides, some of which have pneumonia, foot rot and pinkeye on the label.
Dart guns have pros and cons. Concerns include their accuracy in delivering the proper dosage through the proper route of administration.1,2
The Beef Cattle Research Council (BCRC) has developed resources to help with decisions on RDDD use to stay within beef quality guidelines while being safe and avoiding any drug residues. Resources for producers, available at www.BeefResearch.ca/RDDD, include a five-minute video, decision tree and a review of drug delivery best practices.
Click here to download a one-page PDF for beef producers featuring best practices for remote drug delivery.
For veterinary clinics, the webpage also includes information about printed copies of a best practices brochure and a QR code that leads to RDD resources for use on printed drug labels.
The BCRC's RDDD decision tree provides guidance on whether to treat the animal and when it's appropriate to use a RDDD versus a handling facility. You may do this intuitively, but it is always good to conscientiously think about the dos and don'ts when considering using the dart gun. Stick to beef quality guidelines and be sure to have an accurate diagnosis for prudent usage of antimicrobials.
One of the most overtreated things in cattle production is lameness caused by foot rot. There is no doubt foot rot is very responsive to antibiotics, but most times lameness is not actually foot rot, so we all need to be very conscious of that.
By adhering to proper dart selection, needle size and dosage, the product should be administered correctly. In reviewing Canadian sales, over 95% of the darts are half-inch needles for subcutaneous usage. The ¾-inch may be used for subcutaneous in large bulls. That tells me everyone is trying to give products subcutaneously as that is what the label is stating.
Use the targets supplied with the gun and make sure you have got that down pat before attempting your first darting of an animal. If accuracy is good, you don't get too far away (4-9 meters or 13-30 feet) and only shoot when animals are stationary, your accuracy in the side of the neck can be very good, especially when using the guns with scopes. It is felt that about 200 lbs should be the minimum-sized animal to dart, as the target is very small and the dart could cause damage in smaller animals.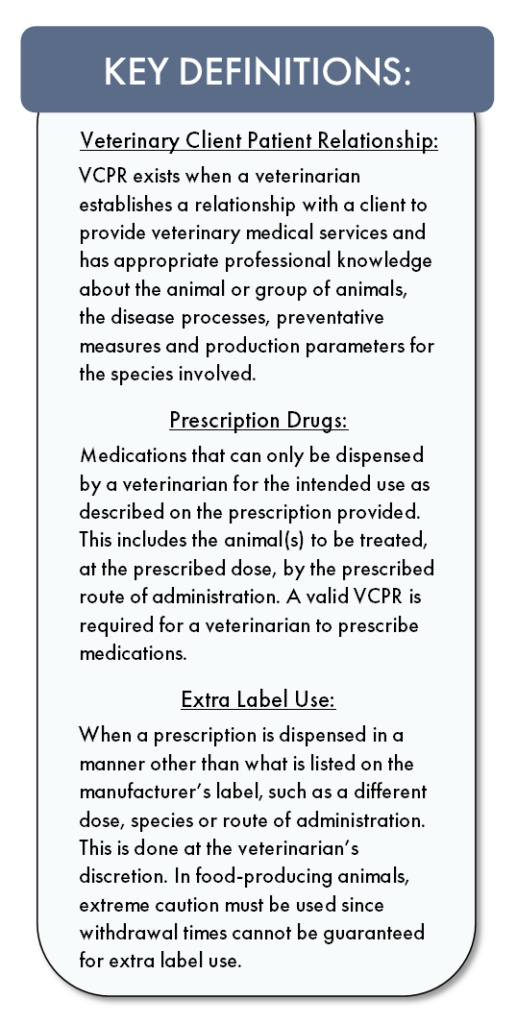 The darts are getting better at full discharge and administering the product subcutaneously if the right length needle is selected. The goal is to try and give the product the same way as we would in a squeeze chute or if the animal was caught.
When two darts are necessary, one could use the other side of the neck to make sure the shots are spread apart much as one often uses both sides of the neck if a calf is treated in the chute. Even though we are delivering the drug with a RDDD, we want to adhere to the same principles we do when delivering drugs by normal injection.
To mitigate risks with specific drugs, there are a couple products to avoid using in RDDDs:
Tilmicosin should never be used in an RDDD because of human safety concerns, and  
a product like Excede should never be administered remotely because it needs to be given behind the ear.
It should be noted that all pharmaceutical companies that make these products have been very strong advocates for them NOT to be used in any RDDD device.
Just like with any treatment, record-keeping is necessary. Also, try to recover any dispelled darts and dispose of them in a sharps container as you would any sharps used in cattle production. Discuss the right approach with your veterinarian for any medical or preventative procedure you are doing with your cattle.
Producing quality, wholesome and safe meat should be everyone's goal. Darting for treatment is a last option and should be pretty infrequent, but if you utilize RDD, do so following the guidelines as close as possible.
References

1. Coetzee, JF, et al. Pneumatic dart delivery of tulathromycin in calves results in lower antimicrobial concentrations and increased biomarkers of stress and injection site inflammation compared with subcutaneous injection. J Anim Sci. 2018 Jul 28;96(8):3089-3101. Available here.

2. Rivera, JD, et al. Pharmacokinetics of tulathromycin following administration to stocker cattle with remote delivery devices. J Anim Sci. 2019 Nov 4;97(11):4482-4487. Available here.

.
Click here to subscribe to the BCRC Blog and receive email notifications when new content is posted.
The sharing or reprinting of BCRC Blog articles is welcome and encouraged. Please provide acknowledgement to the Beef Cattle Research Council, list the website address, www.BeefResearch.ca, and let us know you chose to share the article by emailing us at info@beefresearch.ca.
We welcome your questions, comments and suggestions. Contact us directly or generate public discussion by posting your thoughts below.