*Upcoming Webinar* Nutrition Part 2: Hitting the Bullseye with Targeted Feeding – Feeding for Performance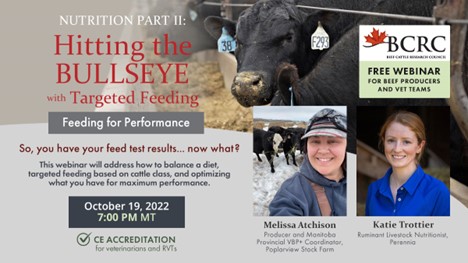 So, you have your feed test results, now what? This webinar will address how to balance a diet, target feeding based on cattle class and optimize what you have for maximum performance.
Register for the live October 19 webinar to hear from a ruminant livestock specialist and a beef producer on how to manage feed based on your cattle's nutrient requirements.
This webinar qualifies for one continuing education (CE) credit for registered veterinary technologists and technicians. For more information on CE accreditation for RVTs, please contact Dana Parker.
WHEN IS THE WEBINAR? WEDNESDAY, October 19, 7:00 PM MT
6:00 PM in BC
7:00 PM in AB and SK
8:00 PM in MB
9:00 PM in ON and QC
10:00 PM in NS, NB, NFLD and PEI
Duration
Approximately 1 hour.
Cost
BCRC webinars are available free of charge thanks to guest speakers who volunteer their time and expertise to support advancements in the Canadian beef industry and through the Knowledge Dissemination and Technology Transfer project funded by the Canadian Beef Cattle Check-Off and Canada's Beef Science Cluster.
INTERESTED BUT UNAVAILABLE FOR THE LIVE EVENT?
Register anyway! This webinar will be recorded and posted online after the event. All registrants will receive a link to the recording and additional learning resources. However, by attending the live broadcast, you'll have the opportunity to interact and ask questions.
SPEAKERS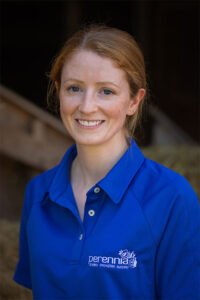 Katie Trottier, Ruminant Livestock Specialist, Perennia
Originally from Northern Ontario, Katie recently completed a Master of Science in Animal Nutrition at the University of Guelph. During her master's, she focused closely on sheep and beef. Her experience includes, but is not limited to, research trials and farm visits. As a master's student, Katie managed a two-year research project that looked at determining fibre requirements for market lambs.
Katie has in-depth knowledge and passion for Canada's ruminant livestock industry. She currently works as a ruminant livestock specialist with Perennia Food and Agriculture Inc. in Nova Scotia.
Melissa Atchison, Manitoba Beef Producer, Poplarview Stock Farm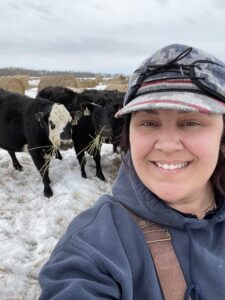 Melissa grew up on a purebred Charolais operation in the Interlake region of Manitoba. She earned a Bachelor of Science in Agriculture from the University of Manitoba focusing on Animal Science. She has worked as a primary products inspector with the CFIA. Following that, she served eight years with Manitoba Agriculture as a livestock specialist. Melissa is currently the Manitoba provincial coordinator with the VBP+ Program and is the vice president of Manitoba Beef Producers.
Along with her husband, Trevor, and his family, they run Poplarview Stock Farm. Trevor and Melissa calve approximately 700 head of mother cows and have a small backgrounding lot. They have two children, Reese and Wyatt, who are the fifth generation on the farm. In her spare time, Melissa enjoys training and showing reined cow horses, cross country skiing, snowshoeing and hiking.
WHAT IS A WEBINAR?
Webinars are just like attending a workshop or conference, but from the comfort of your own home or office. We bring the presentation right to you. They're easy to join and participate in. A reliable, high-speed internet connection is required.
All you need to do is register beforehand, and about 5-10 minutes before the webinar is scheduled to begin, click the link you were provided as you registered. Then turn up your computer speakers or call the phone number provided. That's it! Sit back and enjoy.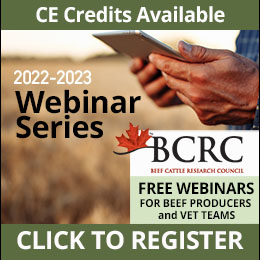 As a participant, you can anonymously answer polls and surveys and will have the opportunity to ask questions near the end of the webinar.
Don't have high-speed internet?  Consider calling a neighbor that does and watch the webinar together, or call your regional ag office to ask whether arranging a group viewing is possible.
Visit our Webinars page  to find other upcoming webinars in this series as well as past BCRC webinar recordings.
Click here to subscribe to the BCRC Blog and receive email notifications when new content is posted.
The sharing or reprinting of BCRC Blog articles is welcome and encouraged. Please provide acknowledgement to the Beef Cattle Research Council, list the website address, www.BeefResearch.ca, and let us know you chose to share the article by emailing us at info@beefresearch.ca.
We welcome your questions, comments and suggestions. Contact us directly or generate public discussion by posting your thoughts below.