Don't let high winter feed costs stall your herd's reproductive momentum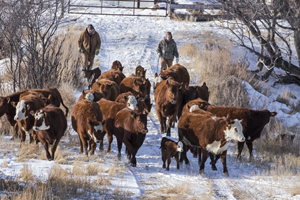 Across Canada dry conditions are contributing to a poor hay crop and uncertain feed grain production. Consequently, winter feed costs for cows are moving higher. Planning now for winter feeding provides an opportunity to utilize available feed resources most efficiently. Pregnancy-checking and assessing body condition of cows can help you make the best use of available feed to maintain your herd's reproductive momentum.
Reproductive Momentum
Reproductive efficiency is a key aspect to cow-calf profitability. Higher reproductive efficiency means fewer cows are maintained to produce the same amount of beef. Conversely, low reproductive efficiency increases the number of replacement heifers needed to maintain or expand the herd and subsequently increases the per unit cost of raising replacement heifers.
Establishing and maintaining breeding momentum is important. Once a cow is bred in the first part of the breeding season, she has a greater likelihood of staying bred early in the years to follow. Cows that are bred early will birth calves that have greater potential to gain, resulting in a uniform calf crop and improved profitability. For example, a calf born in the first cycle compared to one born twenty-one days later will have the potential to gain an extra 52.5 lb (i.e. 2.5lb/day) more than its later counterpart. This can result in additional revenue of $100 per calf.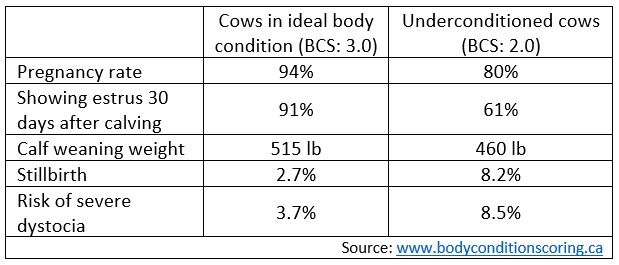 Cows return to estrus approximately 50-60 days after calving, yet it takes first-calf heifers between 80-100 days to return to estrus. This means heifers need to be calving in the first part of the calving season so they are capable of rebreeding early the following year. Ensuring replacement heifers are cycling by 12 months of age and bred 30-42 days before cows will help them to establish positive breeding momentum and ensure greater herd profitability.
Nutrition is the most important factor in cow fertility. Cows that have a low body condition score and/or lose condition after calving return to estrus more slowly and are much less likely to become pregnant than cows in ideal condition. A balanced ration that is sufficient in energy is key to maintaining body condition. Maintaining condition is easier than adding it.
Pregnancy-Checking
When feed costs are high, no one wants to feed an open cow. By removing open or even late cows from the herd, valuable feed resources can be allocated to productive cows. Preg-checking early will help tighten up your calving season by cutting off late-bred cows (or you could pull bulls early and shorten next year's calving season). Reproductive efficiency is not the only reason to consider culling. When winter feed costs are high, it can be a good opportunity to cull for temperament, feet, legs, udders, calving issues, low productivity, etc. Removing the bottom end of performance is one of the fastest ways to improve the herd.
Although preg-checking costs money ($3-8/head), remember to consider the value this one practice can have on other areas of the cow-calf operation. The overall cost of preg-checking the herd is likely less than it will cost to feed an open cow throughout the winter. The BCRC's Economics of Pregnancy Testing Calculator will help you decide each year.
Higher feed costs are expected to impact all types of winter feeding systems – whether directly through higher purchase price or indirectly through the opportunity cost of lower yields. The chart provides two scenarios for the 2018/19 winter.
In Scenario #1, barley and hay costs are up 29% and 18% from last year (based on August 2018 prices versus August 2017).
In Scenario #2, barley and hay prices are up 40% and 23% from last year (based on year to date average price versus the same period last year).
The higher feed prices in Scenario #2 show that if feed costs increase further going into the fall, that the benefits from preg-checking and culling all open cows in October (rather than selling in March) increase (compared to Scenario #1) regardless of the winter-feeding system used.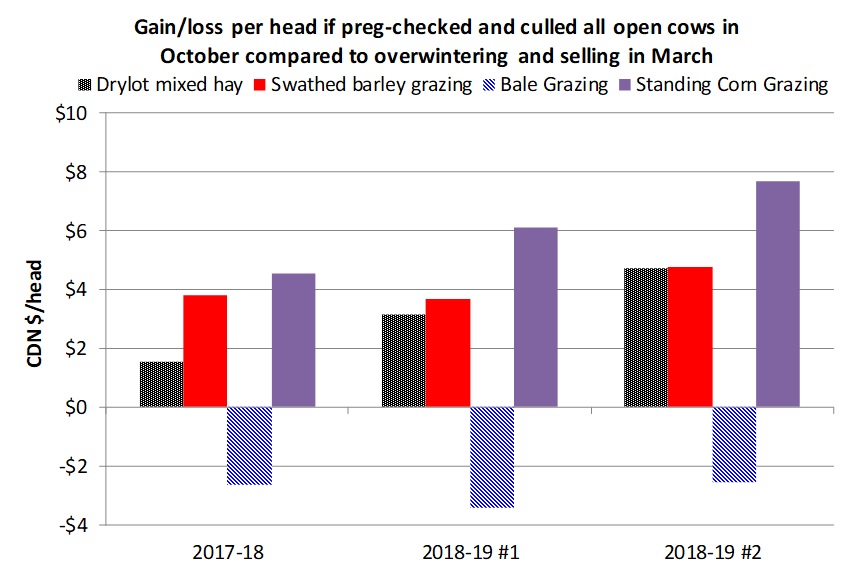 To take advantage of the labour available when running these cows through the chute, consider completing a few more tasks (vaccinations, parasite control, body condition scoring) that will make the winter go smoother.
Keeping cows in ideal condition to protect reproductive momentum
While those cows are in the chute for preg-checking, it is a good time access their fat cover to sort for winter feeding groups. This allows cows to be supplemented through the winter according to their needs. There is no need to feed the entire herd an expensive ration, when only some cows need it. There are generally two groups of cows to consider when going into the winter.
Group 1: Those who may need some additional help to get through the winter without losing body condition. This includes (1) the older, thin cows and (2) the first calf heifers which are typically the toughest to get rebred. The cost of open three-year olds can have a substantial impact on the bottom line.
Group 2: The rest of the mature cows.
The recently updated interactive productivity and profitability tool based on cows' body condition shows that cows with an idea body condition score of 3.0 (on a scale of 1-5) high higher pregnancy rates and rebreed up to 30 days sooner than thin cows. Shorting cows on groceries will have negative future implications on fertility and increase the risk of dystocia or difficult birth (according to the Western Canadian Cow-Calf Surveillance Network).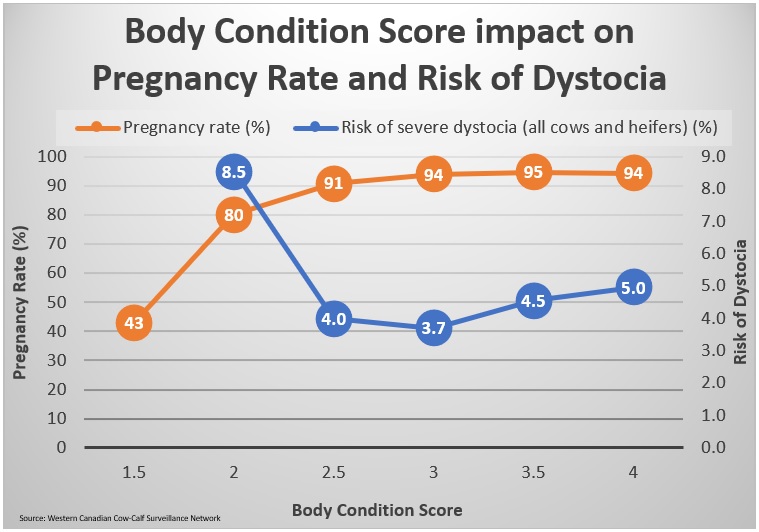 According to John Paterson, Montana State University Extension beef specialist, it's best to "balance rations to be 'best-cost' rations realizing that they may not be least-cost rations." Least cost rations over the short term can in the long-term cost more if they require additional feed to rebuild lost body condition and cow fertility. Taking the time to weigh a group of cows using a scale can help refine rations. Underestimating cow weight by 200 lbs can take a toll on body condition by the end of the winter. Feed testing is another way to ensure resources are utilized effectively.
"Balance rations to be 'best-cost' rations realizing that they may not be least-cost rations."
Learn More
Decision Making Tools
Click here to subscribe to the BCRC Blog and receive email notifications when new content is posted.
The sharing or reprinting of BCRC Blog articles is welcome and encouraged. Please provide acknowledgement to the Beef Cattle Research Council, list the website address, www.BeefResearch.ca, and let us know you chose to share the article by emailing us at info@beefresearch.ca.

We welcome your questions, comments and suggestions. Contact us directly or generate public discussion by posting your thoughts below.