Maintaining Momentum During the Breeding Season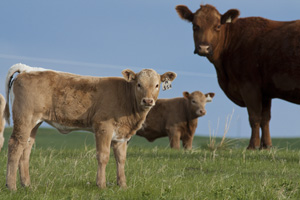 Reproductive wrecks can happen all at once or slowly over several years. With breeding season just around the corner, producers should be considering ways to maximize conception rates in their cow herds. Using fertile bulls is one part of the equation, but what about the reproductive management of cows? What are some strategies producers can use this season to make sure their cows are reaching their breeding potential?
John Campbell, DVM, from the University of Saskatchewan's Western College of Veterinary Medicine, shared his insight on boosting calf crop percentage and achieving reproductive goals during a BCRC webinar.
It is important for producers to assess their reproductive goals and set targets, aiming for:
A high percentage of pregnant cows (95%);
Front-loading the calving season with 65% or more of calves born in the first breeding cycle;
A uniform calf crop;
Heifers calving by two years of age.
Establishing and maintaining breeding momentum is important. Once a cow is bred in the first part of the breeding season, she has a greater likelihood of staying bred early in the years to follow. Cows that are bred early will birth calves that have greater potential to gain, resulting in a uniform calf crop and improved profitability. For example, a calf born in the first cycle compared to one born twenty-one days later will have the potential to gain an extra 52.5 lb (i.e. 2.5lb/day) more than its later counterpart. This can result in additional revenue of $100 per calf.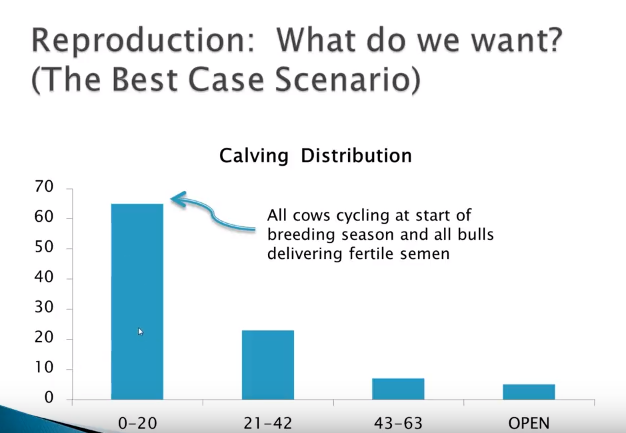 In order for females to be bred, they need to be cycling. Providing proper nutrition for cows and heifers is critical during calving, breeding, and subsequent re-breeding periods. Producers can use body condition scoring as a tool to determine if their cows are fit. Body condition scoring can be done anytime, however producers should do it well in advance of breeding season so they can adjust feed as needed.
In addition to proper nutrition, implementing disease management tactics, such as vaccination and biosecurity protocols, will reduce embryonic loss, and prevent reproductive wrecks.
Cows return to estrus approximately 50-60 days after calving, yet it takes first-calf heifers between 80-100 days to return to estrus. This means heifers need to be calving in the first part of the calving season so they are capable of rebreeding early the following year. Ensuring replacement heifers are cycling by 12 months of age and bred 30-42 days before cows will help them to establish positive breeding momentum and ensure greater herd profitability.
Click to learn more about the economics of replacement heifer development.
Like all BCRC webinars, you can find the full recording on boosting calf crop percentage here.
Click here to subscribe to the BCRC Blog and receive email notifications when new content is posted.
The sharing or reprinting of BCRC Blog articles is welcome and encouraged. Please provide acknowledgement to the Beef Cattle Research Council, list the website address, www.BeefResearch.ca, and let us know you chose to share the article by emailing us at info@beefresearch.ca.

We welcome your questions, comments and suggestions. Contact us directly or generate public discussion by posting your thoughts below.