Antimicrobial Resistance: Does Canadian Beef Production Contribute?
In March 2013, a policy paper was released by the Ontario Medical Association on the contribution of inappropriate use of antibiotics to antimicrobial resistance (AMR). The report strongly implied that antibiotic use in livestock is a major contributor to the rise of antibiotic resistant bacterial infections in humans. The Canadian Cattlemen's Association (CCA) and Beef Cattle Research Council (BCRC) would like to make the public aware that the report included several misconceptions and myths about beef cattle and AMR.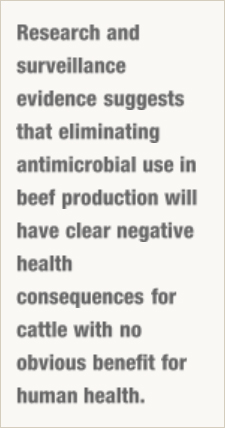 The CCA and BCRC recognizes the necessity for human health drugs to continue to be effective. To assist with responsible drug use in beef cattle production, the Verified Beef Production (VBP) program was developed and provides industry-sanctioned practices. The program is part of an extensive effort by Canada's food providers to ensure on-farm food safety.
Responsible antimicrobial use plays an important role in the VBP program. This includes following veterinarian and label recommendations to use the right product to treat the right condition, and following the correct route of administration, dose and withdrawal time. The program recommends producers follow label instructions and confer with local, municipal or provincial guidelines on proper disposal procedures for outdated products and empty containers.
The biggest concern with antimicrobial resistance pertains to drugs that are of "Very High Importance" in human health, which are used to treat very serious human infections. The Canadian beef industry has supported a number of research projects studying this issue since the late 1990's. One such study funded through the BCRC found that drugs that are most important for human health are rarely used by the Canadian beef industry. Conversely, the drugs that are used most widely by the Canadian beef industry are never used in human medicine. These results are summarized in the Table below.
Furthermore, the study showed that resistance to drugs of "Very High Importance" in human health is below one per cent, and below 2.5 per cent to "High Importance" antimicrobials, those of intermediate concern in human medicine. In addition, the Canadian Integrated Program for Antimicrobial Resistance Surveillance (CIPARS) has found that resistance to drugs of "Very High Importance" is extremely low in healthy cattle entering Canadian processing plants (below one per cent) as well as retail beef (below two per cent).
Research and surveillance evidence suggests that eliminating antimicrobial use in beef production will have clear negative health consequences for cattle with no obvious benefit for human health.
Research proposed under the second Beef Cattle Industry Science Cluster will compare the precise genetic fingerprint of AMR bacteria isolated from cattle with AMR bacteria isolated from sick people to see if the genetic origin is the same. This will not determine whether resistance is traveling from cattle to humans (or vice-versa), but should indicate whether they are related.
The CCA and BCRC strongly support the Public Health Agency of Canada's AMR surveillance efforts and activities through CIPARS.
Learn more
Denmark shows impact of banning growth promoting antimicrobial use in cattle
3-Part Video Series on Antimicrobial Resistance
Explaining growth promotants used in feedlot cattle
Mythematics: Distorting data for shock value
Latest results from antimicrobial resistance surveillance
Click here to subscribe to the BCRC Blog and receive email notifications when new content is posted.
The sharing or reprinting of this BCRC Blog article is welcome and encouraged. Please provide acknowledgement to the Beef Cattle Research Council, list the website address, www.BeefResearch.ca, and let us know you chose to share the article by emailing us at info@beefresearch.ca.

We welcome your questions, comments and suggestions. Contact us directly or generate public discussion by posting your thoughts below.