New Research Investments Build on the Success of the Beef Science Cluster Under Growing Forward 2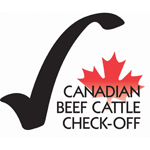 The Beef Cattle Industry Science Cluster is a partnership between Agriculture and Agri-Food Canada (AAFC) and the Beef Cattle Research Council (BCRC) to ensure that proactive and strategic investments in applied research are allocated to programs that have the greatest potential to move the Canadian beef cattle sector forward. The partnership is focused on enhanced coordination and collaboration, and alignment of research activities with industry priorities to increase productivity, reduce costs, advance sustainability, and increase demand for Canadian beef.
The BCRC is Canada's industry-led funding agency for beef research. Its mandate is to determine research and development priorities for the Canadian beef cattle industry and to administer National Check-Off funds allocated to research. The BCRC operates as a division of the Canadian Cattlemen's Association.

The BCRC developed the Science Cluster under Growing Forward in 2009. Joint industry and government funding commitments through the Science Cluster totaled $11.25 million directed to 32 research programs, which will be completed March 31, 2013. Information on all of the Science Cluster programs are available under the Research section on BeefResearch.ca.
Value of research
Investments in beef research have several benefits, including an improved ability to meet increasing global food demand, which is expected to double by 2050. Lagging productivity in combination with increased competition for land and water challenges the industry's ability to maintain positive margins and fulfill increased demand for food in a sustainable manner.
For Canadian beef cattle producers, every check-off dollar invested in national research programs delivers an average return of $46 in producer benefits.
Advancements in Canada's cattle industry also positively impact the nation's economy. In 2012, the beef sector contributed $33 billion to Canada's GDP. The sector generates 228,811 jobs in Canada with every job in the sector yielding another 3.56 jobs elsewhere in the economy. In addition, for every $1 of income received by beef industry workers and farm owners, another $2.08 is created elsewhere.
Research programs in the first Science Cluster
Research programs funded through the Science Cluster addressed a range of industry priorities. For example, research on beef quality and food safety worked toward improvements in consumer satisfaction of and confidence in Canadian beef to maintain or increase product demand. This in turn supports the enhancement and validation of the Canadian Beef Advantage brand in domestic and international markets. The development of new intervention strategies and technologies to minimize E. coli O157:H7 contamination of meat at the most effective, logical and cost-effective points in processing plants (FOS.07.10) is also included in the Science Cluster.
To improve profitability in cattle production and minimize losses, investments in animal health and feed efficiency were made to understand the variables that impact health and efficiency, and develop improved techniques. Examples under the Science Cluster include the investigation of the causes of reproductive failure in beef cattle (ANH.09.10), and the study of biological predictors of feed efficiency (FDE.06.09).
Investments in feed grain, forage and grassland research continue to improve the productivity and resilience of plant varieties while empowering cattle producers to be good stewards of bio-diverse ecosystems. Science Cluster studies examined the performance of forage mixtures under a beef grazing management system in the Northern Latitudes (FRG.07.10), found methods to reduce the cost of swath grazing cows by increasing the swathed-crop yield (FRG.02.10), and provided drought-adapted forages to reduce production risk for the prairie region (FRG.01.09).
Research also produces findings that help to educate the public about cattle production. To address public concerns around livestock transport that lead to calls for tighter regulation, an industry-funded study discovered that over 99.95% of cattle transported in Canada, including those hauled greater than 400 km, arrive at their destination without signs of injury or stress. A Science Cluster study (ANH.10.11) is examining opportunities to further improve that statistic.
The first Science Cluster (April 1, 2009 – March 31, 2013) has proven to be a very successful step towards improving coordination of beef research funding in Canada while generating meaningful, applicable results. Planning for the next Beef Cattle Industry Science Cluster under Growing Forward 2 (April 1, 2013 – March 31, 2018) builds on the success of the first.
The proposal for the Beef Cattle Industry Science Cluster under Growing Forward 2 was recently submitted to AAFC. The BCRC looks forward to working with AAFC to ensure implementation of the proposed program by April 1.
Planning the research portfolio for the second Science Cluster
The establishment of proposed research programs under the second Science Cluster was an extensive process initiated by the development of a comprehensive National Beef Research Strategy. The development of the National Strategy was led by the BCRC and the national Beef Value Chain Roundtable and involved the participation of key stakeholders and major beef research funders across Canada. It gained the commitment of the major funders to coordinate funding to achieve short, medium, and long-term outcomes in alignment with industry's priorities. The strategy is available online at beefresearch.ca/about/national-beef-research-strategy. The desired research outcomes proposed under the second Beef Cattle Industry Science Cluster are directly aligned with those established under the National Beef Research Strategy.
While considering funding approval of research projects under the second Science Cluster, the BCRC's staff and Council sought guidance and expertise from the industry's leading research experts. A Science Advisory Panel appointed by the BCRC offers research expertise from across Canada in a range of research areas. Independent peer reviews were also solicited for each proposal.
Benefits of research programs proposed in the second Science Cluster
The BCRC's proposal for the second Science Cluster builds on the successful momentum of the first. Investments are focused on a portfolio of research that contributes ­to the industry's ability to meet the growing global demand for high quality, safe beef through responsible and profitable production practices that support a sustainable future for the Canadian beef cattle industry. Investments in the second Science Cluster will lead to several benefits.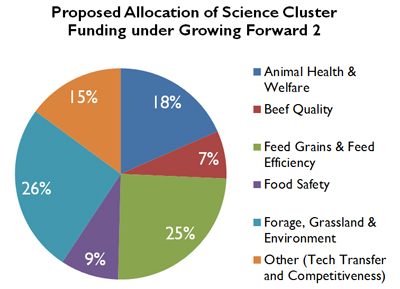 To maintain or improve competitiveness in the production of beef cattle, research examines issues related to animal health, feed efficiency and feed grain and forage production. One program under the second Science Cluster will implement a longitudinal disease surveillance network for cow-calf operations in western Canada that could be readily accessed to provide timely and efficient answers to a variety of emerging research questions, such as biosecurity practices, economics of production limiting diseases, animal welfare practices, antibiotic use, and herd nutrition and management.
Another proposed project is a study that will develop barley and triticale varieties with a focus on enhanced feed quality, yield and disease resistance for both grain and annual forage production. The project will also work to develop a collaborative program in which public plant breeding programs in western Canada work closely with the international centers.
Investments in research are critical to support science-based policy, regulation and trade. For example, antimicrobial use and resistance have received considerable negative, inaccurate attention from the media, activist groups and legislators throughout North America. Research proposed within the second Science Cluster will evaluate the potential contribution of beef cattle to antimicrobial resistance. Findings of this study help to identify appropriate on-farm intervention points for the control of antimicrobial resistance with greater relevance for human health therapeutics, therefore improving food safety along the food supply chain. This research is important in continuing the leadership role that the Canadian beef industry has taken in promoting good antimicrobial stewardship within feedlot production systems.
Another proposed project will study the effect of age and handling of beef cattle on pain, as well as pain mitigation during routine management procedures. The study will provide the scientific knowledge required to make sound, practical management recommendations that may be included in the national Beef Code of Practice, and abate public pressure that can lead to unsound recommendations. This research is timely as public pressure mounts and the only related research currently available was conducted on dairy calves, which may not relate to beef cattle because of significant differences in typical production methods.
Results of beef research are necessary for science-based public education and advocacy to address public concerns in modern beef production, including environmental impact and animal welfare practices. One study proposes to define the environmental footprint of the Canadian beef industry with recognition of the role of cattle production in the provision of healthy ecosystems, the ability of beef cattle to convert low quality forages into high quality protein for human consumption, that pasture lands are major stores of carbon, and that grasslands preserve wetlands and provide habitat to many species at risk. The report findings will make an important contribution to presenting a balanced perspective of the environmental footprint of beef production at regional, national, and international levels.
Programs that support the Canadian Beef Advantage value proposition that Canadian beef is a high quality, safe, responsibly produced product deemed superior over our competitors' by consumers is also a priority to the industry and government. Another National Beef Quality Audit will measure improvements made since the previous audit, as well as ongoing defect issues in order to identify areas that require production or research improvements to increase the value of the carcass. Another example is the continuation of work initiated under the first Science Cluster that will lead to improved education for packing plants on effective food safety procedures that are practical and cost-effective.
Research programs must be cognizant of the value of maintaining professional capacity to conduct long-term research. Maintenance of professional capacity is also integral to ensuring that research facilities with experienced professionals are in place to respond to emerging or critical issues in an expedient manner. In the Canadian beef industry, research capacity related to forage and grassland productivity is of particular concern. While this type of long-term research is often overlooked in favor of other pressing issues, increased productivity of cattle feed from forage crops and grasslands is necessary for the sustainability of the industry. Several research programs proposed under the second Science Cluster will focus on training and mentorship as a major part of the forage breeding, establishment or utilization program.
While beef producers have demonstrated that they are eager to adopt new innovations when it makes sense for their operation, technology transfer has clearly diminished in recent years due in large part to government cuts in extension professionals and programming. In order to reconnect the lines of communication between researchers and industry stakeholders using limited resources, a long term Knowledge Dissemination and Technology Transfer strategy was developed and initiated under the first Science Cluster. During the second Science Cluster, the BCRC will continue to deliver regular communication to industry through its new extension website, beefresearch.ca, and expand their efforts through new mediums such as videos, webinars and cost of production decision making tools. A greater emphasis will also be placed on promoting and enabling the engagement of researchers with industry.
Value of the Science Cluster under Growing Forward 2

Research is a core component of the Canadian beef cattle industry's long-term strategy for sustainability, with a focus on improving competitiveness through improvements in beef quality, food safety, productivity and generational sustainability. The ability to responsibly meet the increasing global demand for food is in part dependant on the strategic and collaborative investment in applied research. Despite the challenge of declining check-off dollars as the Canadian beef cattle herd contracted post-BSE, the BCRC is confident that the five-year collaborative investment requested from AAFC will transform a highly productive and successful industry to an even higher plane of competitive advantage in global food production.
The sharing or reprinting of BCRC Blog articles is welcome and encouraged. Please provide acknowledgement to the Beef Cattle Research Council and list the website address, www.BeefResearch.ca.
We welcome your questions, comments and suggestions. Contact us directly at info@beefresearch.ca or generate public discussion by posting your thoughts below. Stay connected by following us on Twitter @BeefResearch, liking us on Facebook, and subscribing to our YouTube Channel.