Bruising and Injection Sites: Canada's Beef Carcass Quality Audit
This article written by Dr. Reynold Bergen, BCRC Science Director, originally appeared in the June 2013 issue of Canadian Cattlemen magazine and is reprinted with permission.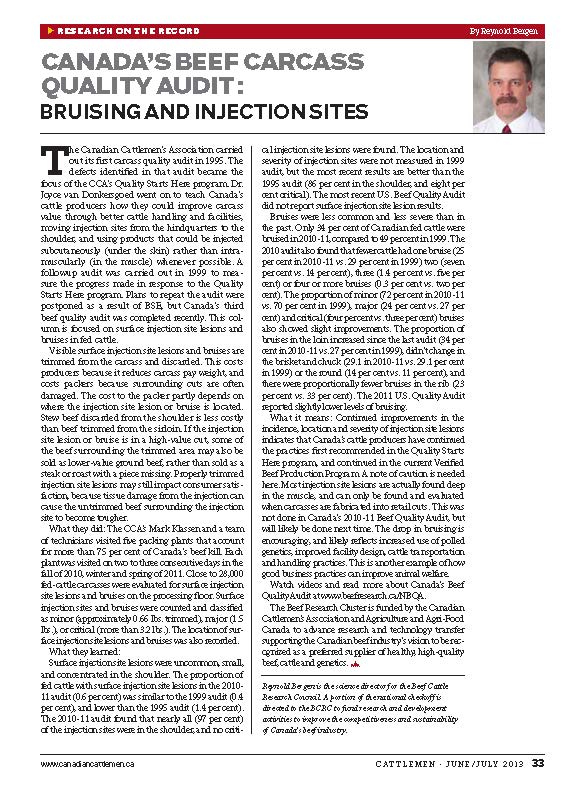 The Canadian Cattlemen's Association carried out its first carcass quality audit in 1995. The defects identified in that audit became the focus of the CCA's Quality Starts Here program. Dr. Joyce van Donkersgoed went on to teach Canada's cattle producers how they could improve carcass value through better cattle handling and facilities, moving injection sites from the hindquarters to the shoulder, and using products that could be injected subcutaneously (under the skin) rather than intramuscularly (in the muscle) whenever possible. A follow-up audit was carried out in 1999 to measure the progress made in response to the Quality Starts Here program. Plans to repeat the audit were postponed as a result of BSE, but Canada's third beef quality audit was completed recently. This column is focused on surface injection site lesions and bruises in fed cattle.
Visible surface injection site lesions and bruises are trimmed from the carcass and discarded. This costs producers because it reduces carcass pay weight, and costs packers because surrounding cuts are often damaged. The cost to the packer partly depends on where the injection site lesion or bruise is located. Stew beef discarded from the shoulder is less costly than beef trimmed from the sirloin. If the injection site lesion or bruise is in a high value cut, some of the beef surrounding the trimmed area may also be sold as lower value ground beef, rather than sold as a steak or roast with a piece missing. Properly trimmed injection site lesions may still impact consumer satisfaction, because tissue damage from the injection can cause the untrimmed beef surrounding the injection site to become tougher.
What they did
The CCA's Mark Klassen and a team of technicians visited five packing plants that account for more than 75% of Canada's beef kill. Each plant was visited on two to three consecutive days in the fall of 2010, winter and spring of 2011. Close to 28,000 fed cattle carcasses were evaluated for surface injection site lesions and bruises on the processing floor. Surface injection sites and bruises were counted and classified as minor (approximately 0.66 lbs trimmed), major (1.5 lbs), or critical (more than 3.2 lbs). The location of surface injection site lesions and bruises was also recorded.
What they learned
Surface injection site lesions were uncommon, small, and concentrated in the shoulder. The proportion of fed cattle with surface injection site lesions in the 2010/11 audit (0.6%) was similar to the 1999 audit (0.4%), and lower than the 1995 audit (1.4%). The 2010/11 audit found that nearly all (97%) of the injection sites were in the shoulder, and no critical injection site lesions were found. The location and severity of injection sites were not measured in 1999 audit, but the most recent results are better than the 1995 audit (86% in the shoulder, and 8% critical). The most recent US Beef Quality Audit did not report surface injection site lesion results.
Bruises were less common and less severe than in the past. Only 34% of Canadian fed cattle were bruised in 2010/11, compared to 49% in 1999. The 2010 audit also found that fewer cattle had one bruise (25% in 2010/11 vs. 29% in 1999) two (7% vs. 14%), three (1.4% vs. 5%) or four or more bruises (0.3% vs. 2%). The proportion of minor (72% in 2010/11 vs. 70% in 1999), major (24% vs. 27%) and critical (4% vs. 3%) bruises also showed slight improvements. There proportion of bruises in the in loin increased since the last audit (34% in 2010/11 vs. 27% in 1999), didn't change in the brisket and chuck (29.1 in 2010/11 vs. 29.1% in 1999) or the round (14% vs. 11%), and there were proportionally fewer bruises in the rib (23% vs. 33%). The 2011 US Quality Audit reported slightly lower levels of bruising.
What it means
Continued improvements in the incidence, location and severity of injection site lesions indicates that Canada's cattle producers have continued the practices first recommended in the Quality Starts Here program, and continued in the current Verified Beef Production Program. A note of caution is needed here. Most injection site lesions are actually found deep in the muscle, and can only be found and evaluated when carcasses are fabricated into retail cuts. This was not done in Canada's 2010/11 Beef Quality Audit, but will likely be done next time. The drop in bruising is encouraging, and likely reflects increased use of polled genetics, improved facility design, cattle transportation and handling practices. This is another example of how good business practices can improve animal welfare.
Video Presentations

Numerous video presentations based on the results of the latest National Beef Quality Audit (NBQA) are now available online, including:

How to prevent injection site lesions


Facility design and transport procedures to minimize carcass bruising




Visit www.beefresearch.ca/NBQA, or view the playlist on YouTube to see all of the NBQA presentations currently available.

More videos to come.
Learn more
Beef Quality Audits
BeefResearch.ca
Includes videos and cattle management tips to prevent or minimize beef quality defects.
2010/11 NBQA Results
Download the 2010/11 NBQA brochure (PDF)
Download the 2010/11 NBQA fact sheet (PDF)
Click here to subscribe and receive email notifications when new content is posted on the BCRC Blog.
We welcome your questions, comments and suggestions. Contact us directly at info@beefresearch.ca or generate public discussion by posting your thoughts below.
Stay connected by following us on Twitter @BeefResearch, liking us on Facebook, and subscribing to our YouTube Channel.