Optimizing protein levels in diets containing distillers' grains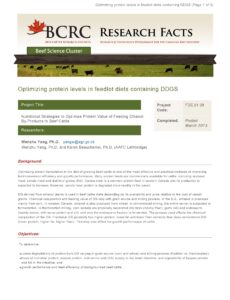 Optimizing protein formulation in the diet of growing beef cattle is one of the most effective and practical methods of improving feed conversion efficiency and growth performance. Many protein feeds are commercially available for cattle, including soybean meal, canola meal and distillers' grains (DG). Canola meal is a common protein feed in western Canada and its production is expected to increase. However, canola meal protein is degraded more readily in the rumen. DG, a by-product from the process of grain-based ethanol production, is used in beef cattle diets depending on its availability and price relative to the cost of cereal grains. Chemical composition and feeding value of DG vary with grain source and milling process.
A recently-completed research project, funded by the National Check-off and Canada's Beef Science Cluster, worked to determine:
rumen degradability of protein from DG varying in grain source (corn and wheat) and milling process (traditional vs. fractionation);
flows of microbial protein, bypass protein and amino acid supply to the small intestine, and digestibility of bypass protein and amino acid in the intestine; and
growth performance and feed efficiency of backgrounded beef cattle.
The study found that the chemical composition, rumen degradability of protein, amino acid profiles and intestinal absorption vary among different protein supplements. This affects the growth performance of backgrounded cattle.
Differences in nutrient composition, potential impacts on animal performance, availability and price all need to be considered when selecting protein supplements for feeder cattle.
To learn more about this research, view the fact sheet: Optimizing Protein Levels in Feedlot Diets Containing DDGS.
Learn more
Click here to subscribe to the BCRC Blog and receive email notifications when new content is posted.
The sharing or reprinting of BCRC Blog articles is welcome and encouraged. Please provide acknowledgement to the Beef Cattle Research Council and list the website address, www.BeefResearch.ca.
We welcome your questions, comments and suggestions. Contact us directly at info@beefresearch.ca or generate public discussion by posting your thoughts below.
Stay connected by following us on Twitter @BeefResearch, liking us on Facebook, and subscribing to our YouTube Channel.