Storage Life of Vacuum Packaged Beef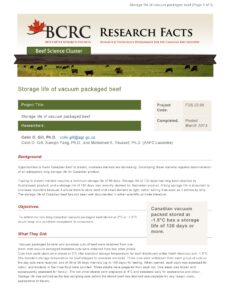 Opportunities to trade Canadian beef to distant, overseas markets are increasing. Developing these markets requires demonstration of an adequately long storage life for Canadian product.
A recently-completed research project, funded by the National Check-off and Canada's Beef Science Cluster, worked to determine how long various cuts of Canadian beef stored at different temperatures would keep at a condition acceptable to consumers.
Results found that the storage life for vacuum packaged cuts at -1.5oC, the coldest temperature that beef can be stored without freezing, was 130 days or more. Recognition that Canadian vacuum packaged beef can attain a very long storage life during distribution could be an important tool in developing overseas markets.
Learn more about this research, view the fact sheet.
Click here to subscribe to the BCRC Blog and receive email notifications when new content is posted.
The sharing or reprinting of BCRC Blog articles is welcome and encouraged. Please provide acknowledgement to the Beef Cattle Research Council and list the website address, www.BeefResearch.ca.
We welcome your questions, comments and suggestions. Contact us directly at info@beefresearch.ca or generate public discussion by posting your thoughts below.
Stay connected by following us on Twitter @BeefResearch, liking us on Facebook, and subscribing to our YouTube Channel.