*UPCOMING WEBINAR* Setting Records- Calving Season Data Collection Jan 12th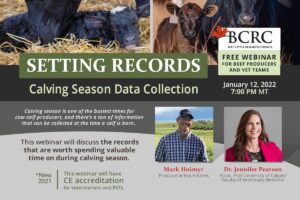 While calving is one of the busiest times of the production cycle for cow-calf producers, there's a lot of important information that can be collected. Which data is the most important to help you make critical decisions on your operation? This presentation will discuss the records that are worth spending valuable time collecting at calving.
Register for our upcoming webinar on January 12th and hear from a veterinarian from the University of Calgary as well as a producer sharing their practical perspective. The speakers will share insight and answer your questions about data collection at calving and how to make the best decisions for your operation!
This webinar also qualifies for 1 continuing education (CE) credit for registered veterinary technologists and technicians. A total of 3 CE credits will be available over the course of the BCRC 2021-22 webinar series. For more information on CE accreditation for RVT's and veterinarians, please contact Dana Parker (parkerd@beefresearch.ca)
When is the Webinar? Wednesday, January 12th at 7:00pm MT
6:00pm in BC
7:00pm in AB
8:00pm in SK and MB
9:00pm in ON and QC
10:00pm in NS, NB, NFLD, and PEI
Are you interested but unavailable that evening?
Register anyway! This webinar will be recorded and posted online after the event. All registrants will receive a link to the recording along with additional learning resources. By attending the live broadcast, you'll have the opportunity to interact and ask questions too.
Duration
Approximately 1 hour.
Cost
BCRC webinars are available free of charge thanks to guest speakers who volunteer their time and expertise to support advancements in the Canadian beef industry and through the Knowledge Dissemination and Technology Transfer project funded by the Canadian Beef Cattle Check-Off and Canada's Beef Science Cluster.
Speakers: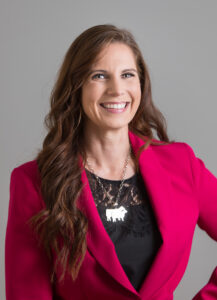 Dr. Jennifer Pearson
Jennifer Pearson graduated from Oregon State University with a Bachelor of Science in biology and animal science. Afterwards, she received her DVM from Oregon State University College of Veterinary Medicine. Upon graduating, she started a one-year internship at Cornell University in Ambulatory and then stayed on for a residency in Ambulatory and Theriogenology. She became board certified through the American College of Theriogenology in 2018. Jennifer completed her PhD at the University of Calgary, Faculty of Veterinary Medicine investigating the impacts of calving management, calf risk factors, and difficult calving on the health and performance of beef calves in 2019. She then worked as a post-doctoral scholar and sessional instructor at the University of Calgary investigating beef cattle behaviour. Jennifer recently started an assistant professor position at the University of Calgary Faculty of Veterinary Medicine in bovine health management where she splits her time between teaching veterinary students and research. Her research interests include peri-partum diseases, neonatal care, and bull health and fertility.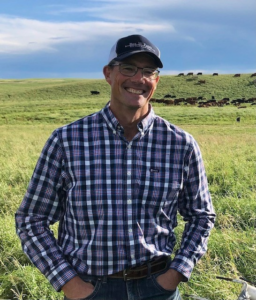 Mark Hoimyr
Mark Hoimyr is the owner and operator of Box H Farm in Gladmar, Saskatchewan. Mark, his wife Laura and their family run a cow/calf operation and direct-market grassfed beef, pastured pork and honey. Over the past 20 years, their farm has evolved from a conventional mixed grain and cattle operation to a forage-based business that focuses on the health of the land to grow nourishing food.
What is a webinar?
Webinars are just like attending a workshop or conference, but from the comfort of your own home or office. We bring the presentation right to you. They're easy to join and participate in. A reliable, high-speed internet connection is required.
All you need to do is register beforehand, and about 5-10 minutes before the webinar is scheduled to begin, click the link you were provided when you registered. Then turn up your computer speakers or call the phone number provided. That's it! Sit back and enjoy.
As a participant, you can anonymously answer polls and surveys, and will have the opportunity to ask questions near the end of the webinar.
Don't have high-speed internet? Consider calling a neighbor that does and watch the webinar together, or call your regional ag office to ask whether arranging a group viewing is possible.
Visit our Webinars page to find other upcoming BCRC webinars and the recordings of our past sessions.
Click here to subscribe to the BCRC Blog and receive email notifications when new content is posted.
The sharing or reprinting of BCRC Blog articles is welcome and encouraged. Please provide acknowledgement to the Beef Cattle Research Council, list the website address, www.BeefResearch.ca, and let us know you chose to share the article by emailing us at info@beefresearch.ca.
We welcome your questions, comments and suggestions. Contact us directly or generate public discussion by posting your thoughts below.