Using New Ideas and Technology in the Beef Industry: Video
Innovative ideas and technologies that can be used by beef producers are coming out all the time. Research is key to driving competitiveness so governments and industry groups make significant investments to continually find better and more efficient methods of producing high quality beef and cattle.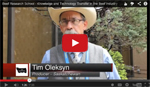 But to realize the benefits of those research efforts, producers and other industry players must be aware and take advantage of the new knowledge and tools that make sense for their operations. Extension and technology transfer services are critically important. Being informed and adopting innovation improves production efficiencies and beef demand, helping to make individual farms and the industry as a whole more profitable.
In this episode of the Beef Research School, we talk to producers from across Canada about why they think it's important to keep up to speed with the latest in beef research. They share their favorite sources of information, and how they make informed decisions that benefit their herds and land.
See the video here

That's a wrap on this season of the Beef Research School.  Did you miss any of the 30 episodes?  Find them all at beefresearchschool.com. More information on the Beef Research School project.
Click here to subscribe to the BCRC Blog and receive email notifications when new content is posted.
The sharing or reprinting of this BCRC Blog article is welcome and encouraged. Please provide acknowledgement to the Beef Cattle Research Council, list the website address, www.BeefResearch.ca, and let us know you chose to share the article by emailing us at info@beefresearch.ca.

We welcome your questions, comments and suggestions. Contact us directly or generate public discussion by posting your thoughts below.