*UPCOMING WEBINAR* Record-Keeping for Production Management Part 2: Setting Bulls Up for Success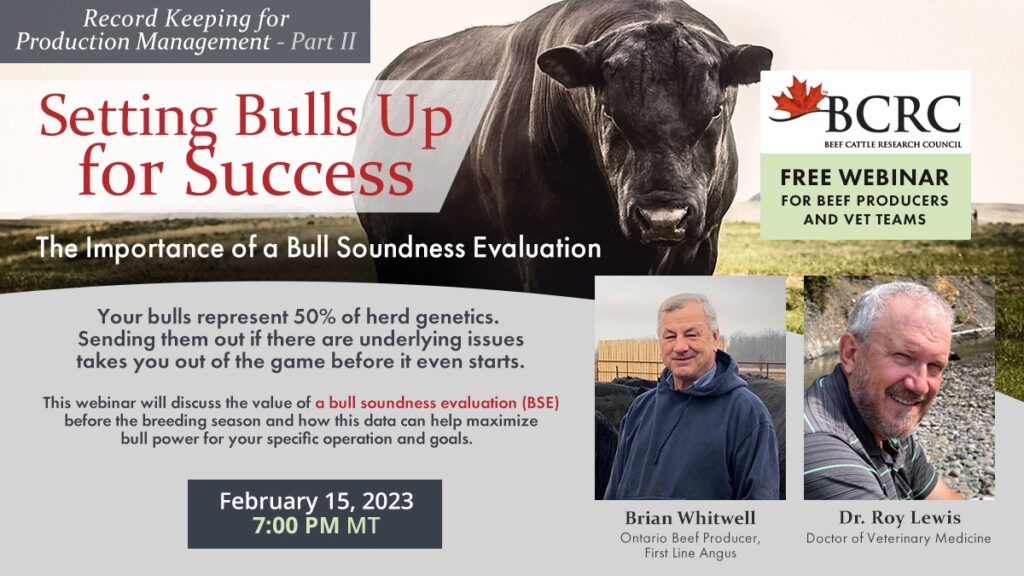 The Importance of a Bull Soundness Evaluation
Your bulls represent 50% of herd genetics. Sending them out if there are underlying issues takes you out of the game before it even starts. This webinar will discuss the value of a bull soundness evaluation (BSE) before the breeding season and how this data can help maximize bull power for your specific operation and goals.
Register for the live February 15 webinar to hear from Dr. Roy Lewis, Doctor of Veterinary Medicine from Spruce Grove, Alberta, and Brian Whitwell, owner/operator of First Line Angus in Hagersville, Ontario.   
WHEN IS THE WEBINAR?  WEDNESDAY, FEBRUARY 15, 7:00 PM MT
6:00 PM in BC  
7:00 PM in AB 
8:00 PM in SK and MB  
9:00 PM in ON and QC  
10:00 PM in NS, NB, and PEI  
10:30 PM in NFLD
Duration
Approximately 1 hour.
Cost
BCRC webinars are available free of charge thanks to guest speakers who volunteer their time and expertise to support advancements in the Canadian beef industry and through the Knowledge Dissemination and Technology Transfer project funded by the Canadian Beef Cattle Check-Off and Canada's Beef Science Cluster.
INTERESTED BUT UNAVAILABLE FOR THE LIVE EVENT?
Register anyway! This webinar will be recorded and posted online after the event. All registrants will receive a link to the recording and additional learning resources. However, by attending the live broadcast, you'll have the opportunity to interact and ask questions.
SPEAKERS
Dr. Roy Lewis, Doctor of Veterinary Medicine, Spruce Grove, Alberta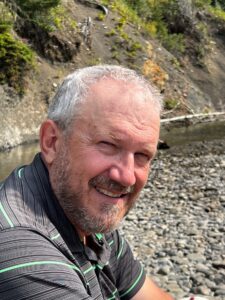 Dr. Roy Lewis graduated from the Western College of Veterinary Medicine (WCVM) in 1981 and was a partner at the Westlock Veterinary Clinic until December 2012. He has been a large animal practitioner for 40+ years mainly in beef cattle (both commercial cattle and purebred herds) and bison. He had his own bison herd of 70 cows at one time. His interests are preventative medicine, fertility in both bulls and cows, as well as animal welfare. He has written numerous producer articles in magazines such as the Western Producer, Alberta Farmer Express, Grainnews and several cattle breed magazines. In 2012, Roy joined Merck Animal Health as a technical services veterinarian part time until June 2020.
Roy has two kids, a daughter Cali (a veterinarian who graduated in 2015 from UCVM) and a son Colton, a medical resident doctor (graduated in 2019 from the University of Alberta). Currently, Roy spends some time examining and lecturing the veterinary students at the University of Calgary. He is also part of Lewis Farms, a family-owned mixed farming operation which includes 1,000 purebred Simmental and Angus cows, grain, and 500 acres of potatoes near Spruce Grove, Alberta.
Brian Whitwell, Ontario Beef Producer, First Line Angus, Hagersville, Ontario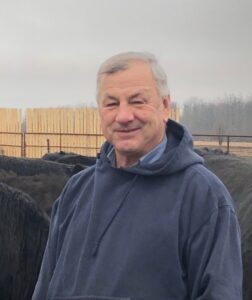 Brian was born and raised just south of Hamilton on a mixed dairy family farm. He began working after school and spent summers with Burton and his son Brian Griffith at Burthlene Farms, a 1,000 head beef feedlot and cow-calf herd operation including 60 purebred Angus cows and 60 crossbred cows. During this time, he was introduced to showing Angus cattle at the Royal Winter Fair, Canadian Western Agribition (CWA), American Angus Futurity, National Western Stock Show, and selling purebred bulls and females into leading American herds.
In 1979, after returning from playing hockey, Brain made a working agreement with Brian Griffith to purchase his first Angus female. In 1984 he purchased his farm on First Line Angus near Hagersville, Ontario and began his own herd. First Line Angus is a family owned and operated cow-calf operation that strives for performance and carcass traits utilizing ultrasound.
Brian was the 4-H beef leader in Haldimand County for 35 years and helped grow the club from six to 30+ members through leadership, motivation, and knowledge. During his time leading the club, they were awarded the Herdsman Competition banner at the Royal a half a dozen times.. Brian was chosen six times to be the Ontario chaperone and coach for the International 4-H Judging Competition at CWA where the Ontario team placed second overall on one occasion.
Away from cattle, Brian is grateful to have coached hockey for over 30 years including minor hockey through to Junior C.
WHAT IS A WEBINAR?
Webinars are just like attending a workshop or conference, but from the comfort of your own home or office. We bring the presentation right to you. They're easy to join and participate in. A reliable, high-speed internet connection is required.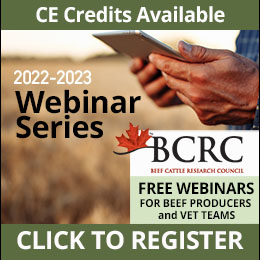 All you need to do is register beforehand, and about 5-10 minutes before the webinar is scheduled to begin, click the link you were provided as you registered. Then turn up your computer speakers or call the phone number provided. That's it! Sit back and enjoy.
As a participant, you can anonymously answer polls and surveys and will have the opportunity to ask questions near the end of the webinar.
Don't have high-speed internet?  Consider calling a neighbor that does and watch the webinar together, or call your regional ag office to ask whether arranging a group viewing is possible.
Visit our Webinars page  to find other upcoming webinars in this series as well as past BCRC webinar recordings.
Click here to subscribe to the BCRC Blog and receive email notifications when new content is posted.
The sharing or reprinting of BCRC Blog articles is welcome and encouraged. Please provide acknowledgement to the Beef Cattle Research Council, list the website address, www.BeefResearch.ca, and let us know you chose to share the article by emailing us at info@beefresearch.ca.
We welcome your questions, comments and suggestions. Contact us directly or generate public discussion by posting your thoughts below.