Practical and Effective Food Safety Procedures for Beef Packing Plants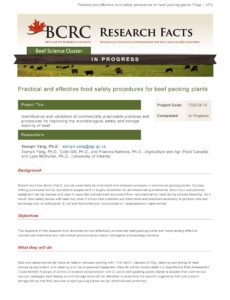 Recent work has shown that E. coli can essentially be eliminated from dressed carcasses in commercial packing plants. Carcass chilling processes can be operated to supplement or largely substitute for decontaminating treatments. Machinery and personal equipment can be cleaned and used in ways that prevent such equipment from contaminating meat during carcass breaking. As a result, food safety issues with beef may arise if known best practices and treatments and practices necessary to produce cuts and trimmings free of pathogenic E. coli and Salmonella are incompletely or inappropriately implemented.
Research currently underway and funded by the National Check-off and Canada's Beef Science Cluster is working to identify which commercial interventions and practices plant personnel should focus on to give maximum control of pathogens and spoilage organisms for minimum cost. Effectively controlling hazardous and spoilage microorganisms will facilitate trade of chilled beef to overseas markets where customers expect product to have a storage life of at least 120 days, and possibly 180 days.
Learn More
Click here to subscribe to the BCRC Blog and receive email notifications when new content is posted.
The sharing or reprinting of this BCRC Blog article is welcome and encouraged. Please provide acknowledgement to the Beef Cattle Research Council, list the website address, www.BeefResearch.ca, and let us know you chose to share the article by emailing us at info@beefresearch.ca.

We welcome your questions, comments and suggestions. Contact us directly or generate public discussion by posting your thoughts below.