Methods of Deadstock Disposal to Reduce Predation: Webinar November 17
Update: Missed the webinar? Find the recording and check for future webinars on our Webinars page.
Disposal of cattle mortalities needs to be done soon after death to prevent the spread of disease, prevent contamination of air or ground water, and to help reduce the chance of predation. There are many methods to dispose of deadstock, each with pros and cons.
Join this free webinar to learn more about deadstock disposal, including composting, burial, and incineration.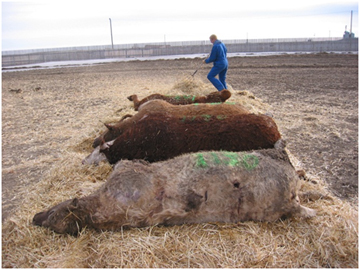 When
Tuesday, November 17 at 7pm MST
6:00pm in BC
7:00pm in AB
8:00pm in SK and MB
9:00pm in ON and QC
10:00pm in NS, NB and PEI
Duration
Approximately 1 hour.
Cost
BCRC webinars are available and free of charge thanks to guest speakers who volunteer their time and expertise to support advancements in the Canadian beef industry, and through the Knowledge Dissemination and Technology Transfer project funded by the National Check-off and Canada's Beef Science Cluster.
Interested but aren't available that evening?
Register anyway! This webinar will be recorded and all registrants will be emailed a link to the recording. Registrants will also receive links to additional learning resources. By attending the live event, you'll have the opportunity to interact and ask questions too.
Speakers
Kim Stanford, PhD – Beef Research Scientist for Alberta Agriculture and Forestry
Dr. Kim Stanford was raised on her family farm in the hills of Spring Coulee, Alberta. She has been employed with Alberta Agriculture and Forestry since 1990 and has been a senior research scientist since 2009. Her work with mortality composting started first with sheep and then moved to cattle after the advent of BSE. Her previous studies led to approving mortality composting for livestock mortality disposal within the province of Alberta. Besides composting, she is currently studying on-farm control and characterization of pathogenic E. coli and binders to reduce the availability of ergot alkaloids and other mycotoxins in feed.
Mark Boyce, PhD – Professor and Research Scientist at the University of Alberta
Dr. Mark Boyce is a world leader in wildlife ecology and conservation biology. His career has taken him around the world, from the US to New Zealand and India to Canada. Presently, he holds the Alberta Conservation Association (ACA) Chair in Fisheries and Wildlife—the longest-running position of its kind in the Department of Biological Sciences. At its core, Dr. Boyce's work is based on the premise that humans can coexist with wildlife and that it makes our lives better. His cross-disciplinary outlook spans from fundamental science to policymaking on a global scale.
What is a webinar?

Webinars are just like attending a workshop or conference, but from the comfort of your own home or office. We bring the presentation right to you. They're easy to join and participate in. A reliable, high-speed internet connection is required.
All you need to do is register beforehand, and about 5-10 minutes before the webinar is scheduled to begin, click the link you were provided when you registered. Then turn up your computer speakers or call the phone number provided. That's it! Sit back and enjoy. As a participant, you can anonymously answer polls and surveys, and will have the opportunity to ask questions near the end of the webinar.
Don't have high-speed internet? Consider calling a neighbor that does and watch the webinar together, or call your regional ag office to ask whether arranging a group viewing is possible.