Hooves not Harrows – Harnessing Cow Power to Rejuvenate Forages
As forage stands age, plant species composition shifts and production declines over time. There are many different methods of rejuvenating or renovating forage stands and strategies vary in intensity, effectiveness, and cost. Breaking old stands and re-seeding forages, while effective, is among the most expensive rejuvenation methods. More producers are opting to improve their older tame pastures and re-seed legumes using a key resource they already have on hand – their cattle herd.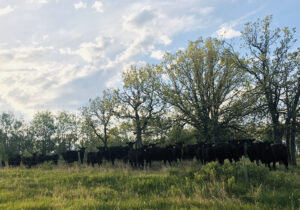 Arron Nerbas with Nerbas Brothers Angus explains how they take a "hooves not harrows" approach to improving older pastures. "We just try and use grazing as much as possible to take the mechanical component out of it," explains Nerbas, who operates on his family's multigenerational farm near Russell, Manitoba.
On Nerbas' purebred and commercial Angus cow-calf operation, they have no cover crops or annual species and rely solely on perennial forages. Their goal is to try and graze as long as they can each season, and minimize the number of months they have cattle on winter feed, which is typically provided through bale grazing.
Nerbas says they plan out their grazing, moving cattle every two to five days. "Anything that we graze by about June 15 or earlier, we won't graze for the rest of the [growing] season," Nerbas says. They will return to those fields again and graze them after freeze-up in the fall or the following spring.
Saving forage to use in the winter as stockpiled grazing is a significant part of their management strategy but he admits that their main goal hasn't been re-seeding. "Using stockpiled forage has its own benefits due to efficiency in feeding, but [re-seeding legumes] is definitely a side benefit," Nerbas describes. "We haven't renovated a forage stand in ten years or more," he says, adding that they prefer using cattle as an alternative to traditional break and re-seed methods, which are costly. "Going forward our plan is to probably never rip up and renovate the traditional way."
"Using stockpiled forage has its own benefits due to efficiency in feeding but re-seeding legumes is definitely a side benefit."

Arron Nerbas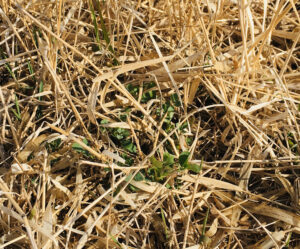 They work with different land types on their farm and different species composition within that, but Nerbas believes that grazing stockpiled forage can work to re-seed almost any species. "Anything that hits maturity that has viable seeds in the seed head that gets smashed or trampled into the ground will become some new seedling," Nerbas says. They've seen increases in legumes in particular. "When cattle are grazing mature alfalfa, they trample and shake all those seeds down. You'll see it in grasses too like meadow brome and other brome grasses," Nerbas explains. "If you leave residue there, they trample quite a bit in. Over the years we've seen soil improve and forage production improve."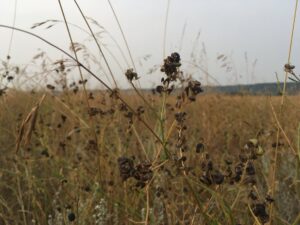 They examine the manure to look for forage seeds that pass through the animal's digestive system and also use that as an in-the-field estimate of whether their herd is getting enough quality forage when they are grazing stockpiled pastures. "If [manure] is nice and loose and the right colour brown you know they are getting enough," Nerbas explains and adds that if it's stacked up a bit, that may be an indication that the cows are lacking a bit in protein and overall nutrition. Nerbas notes that this visual estimating technique is not as accurate as a feed analysis. Forage and feed testing allow producers to get a more accurate read on forage quality.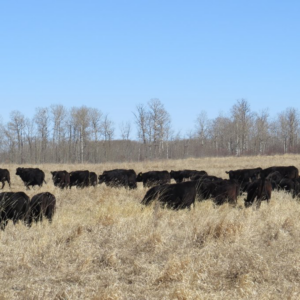 Nerbas has tried other experimental methods of seeding legumes including broadcast seeding using an airplane which has shown a lot of promise. They've also tried mixing seed in loose mineral although they have had mixed results with this approach. "It's extremely patchy. The seeds accumulate in small little clusters," he says.
Managing rotational grazing and using stockpiled forages has enabled the Nerbas family to get more days of grazing every year out of the same land base, all while rejuvenating older forage crops. "That's a key indicator that the land is healthier and forage production is increasing," Nerbas says. "The goal is just to try and improve the land over time."
Learn More:
Click here to subscribe to the BCRC Blog and receive email notifications when new content is posted.
The sharing or reprinting of BCRC Blog articles is welcome and encouraged. Please provide acknowledgement to the Beef Cattle Research Council, list the website address, www.BeefResearch.ca, and let us know you chose to share the article by emailing us at info@beefresearch.ca.

We welcome your questions, comments and suggestions. Contact us directly or generate public discussion by posting your thoughts below.