*UPCOMING WEBINAR* Drought: More Than a Summer Challenge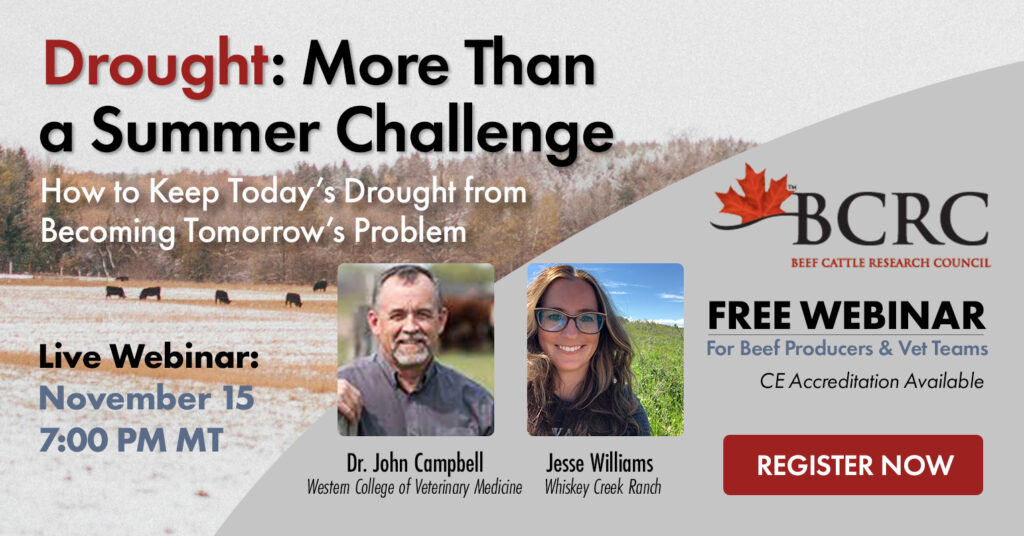 Drought has been a common occurrence on the prairies. With extreme drought conditions and feed shortages, beef cattle producers are making critical decisions that can have a big impact on herd productivity and profitability that goes beyond the summer season. An upcoming BCRC webinar will share key insights on what to look out for to give your herd its best chance to withstand severe or prolonged drought.
Register for the live November 15 webinar to hear from our speakers: John Campbell, DVM, Western College of Veterinary Medicine, and Alberta cattle producer and agricultural fieldman Jesse Williams.
When is the Webinar? WEDNESDAY, NOVEMBER 15, 2023, 7:00 PM MT 
6:00 PM in BC  
7:00 PM in AB
8:00 PM in SK and MB  
9:00 PM in ON and QC  
10:00 PM in NS, NB and PEI 
10:30 PM in NFLD
Duration
Approximately 1 hour.
Cost
BCRC webinars are available free of charge thanks to guest speakers who volunteer their time and expertise to support advancements in the Canadian beef industry and through the Knowledge Dissemination and Technology Transfer project funded by the Canadian Beef Cattle Check-Off and Canada's Beef Science Cluster.
INTERESTED BUT UNAVAILABLE FOR THE LIVE EVENT?
Register anyway! This webinar will be recorded and posted online after the event. All registrants will receive a link to the recording and additional learning resources. However, by attending the live broadcast, you'll have the opportunity to interact and ask questions.
SPEAKERS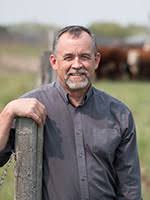 John Campbell, DVM, Western College of Veterinary Medicine
Dr. John Campbell graduated from the Ontario Veterinary College (OVC) in 1985. After several years of private practice, he returned to OVC to complete a doctorate in veterinary science.
He has been part of the WCVM's Ruminant Field Service practice for more than 25 years and is director of the college's Disease Investigation Unit. He is also head of the WCVM Department of Large Animal Clinical Sciences.
His main research interests are in the epidemiology of infectious disease and beef cattle health and management. Recent projects include being a primary investigator of the Canadian Cow-Calf Surveillance Network (C3SN) and hosting The Beef Cattle Health and Nutrition Podcast.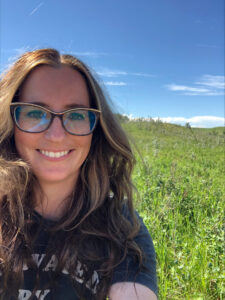 Jesse Williams, Whiskey Creek Ranch, Special Areas, Alberta
Jesse Williams ranches with her husband and two children in the Special Areas of Alberta. They have a cow-calf operation and offer a selection of SimAngus bred heifers annually. She was a former Canadian Cattle Young Leaders mentee and a former director on the Alberta Beef Producers Board. When she is not on the farm, she is managing the agricultural services program with her municipality as a professional biologist.
WHAT IS A WEBINAR?
Webinars are just like attending a workshop or conference, but from the comfort of your own home or office. We bring the presentation right to you, they are easy to join and participate in. A reliable, high-speed internet connection is required.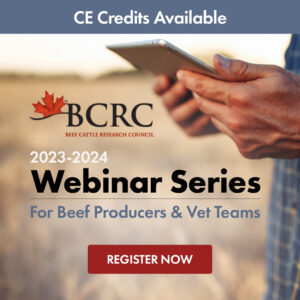 All you need to do is register beforehand, and about 5-10 minutes before the webinar is scheduled to begin, click the link you were provided when you registered. Then turn up your computer speakers or call the phone number provided. That's it! Sit back and enjoy.
As a participant, you can anonymously answer polls and surveys and will have the opportunity to ask questions near the end of the webinar.
Don't have high-speed internet?  Consider calling a neighbor that does and watch the webinar together, or call your regional ag office to ask whether arranging a group viewing is possible.
Visit our Webinars page to find other upcoming webinars in the 2023-24 series as well as past BCRC webinar recordings.
Click here to subscribe to the BCRC Blog and receive email notifications when new content is posted.
The sharing or reprinting of BCRC Blog articles is welcome and encouraged. Please provide acknowledgement to the Beef Cattle Research Council, list the website address, www.BeefResearch.ca, and let us know you chose to share the article by emailing us at info@beefresearch.ca.
We welcome your questions, comments and suggestions. Contact us directly or generate public discussion by posting your thoughts below.