Bov-Innovation: Putting Theory into Practice
This article written by Dr. Reynold Bergen, BCRC Science Director, originally appeared in the June 2016 issue of Canadian Cattlemen magazine and is reprinted on the BCRC Blog with permission of the publisher.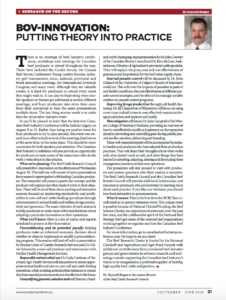 There is no shortage of beef industry conferences, workshops and meetings for Canadian beef producers to attend throughout the year. These have included the Canfax forum, the Canada Beef forum, Cattlemen's Young Leaders forums, industry golf tournaments, tours, national, provincial and breed association meetings, the International Livestock Congress, and many more. Although they are valuable events, it is hard for producers to attend every event they might wish to. It can also be frustrating when similar speakers or themes get addressed at several different meetings, and busy producers take extra time away from their operations to hear the same presentations multiple times. The last thing anyone needs is to make time for yet another industry event.
So you'll be pleased to learn that the first-ever Canadian Beef Industry Conference will be held in Calgary on August 9th to 12th. Rather than being yet another event for busy producers to try to plan around, this event was created in an effort to hold several of the meetings listed above at the same time, in the same place. This should be more convenient for both speakers and attendees. The Canadian Beef Industry Conference will also provide an opportunity for producers to meet some of the researchers who do the work I write about in this column.
What We're Planning
The Beef Cattle Research Council will present Bov-Innovation on the afternoon of Wednesday, August 10. This half-day will consist of joint presentations from research experts paired with leading Canadian producers. The researcher will present a particular concept, and the producer will explain how they made it work in their situation. There will be six of these short, exciting and interactive sessions focused on improving productivity and profitability in cow-calf and cattle feeding operations through advancements in animal health and welfare, forage productivity and genomics. The main objective of each session is to help producers to make more informed decisions about adopting a particular innovation on their operations.
What You'll Learn
Here is a list of topics and experts scheduled to present at Bov-Innovation:
Preconditioning and its potential payoffs: helping producers make an informed economic decision about whether or when to implement or modify a preconditioning program. This session will lead off with a presentation by Brenna Grant of Canfax Research Services and Dr. Oliver Schunicht, a cow-calf producer and veterinarian with Feedlot Health Management Services.
Responsible antimicrobial use: Dr. Cody Creelman of Veterinary Agri-Health Services will discuss how to ensure appropriate animal health and care on cow-calf and cattle feeding operations, while avoiding antimicrobial resistance to ensure that these essential products continue to be effective in the future.
Demystifying genomic selection toolswill feature a head-and-myth-busting tag-team presentation by Dr. John Crowley of the Canadian Breeds Council and Dr. Kim McLean, Saskatchewan Ministry of Agriculture's Provincial Cattle Specialist. They will explain the pro's, con's and cost-effectiveness of genomics and its potential for the beef value supply chain.
Internal parasite controlwill be discussed by Dr. John Gilleard of the University of Calgary's Faculty of Veterinary Medicine. This will cover the impacts of parasites in pasture and feedlot conditions, the cost-effectiveness of different parasite control strategies, and the effect of increasingly variable weather on parasite control programs.
·Improving forage production through soil health will be presented by Dr. Jill Clapperton of Rhizoterra who will focus on using cover crop cocktail mixes to cost-effectively maximize forage production while maintaining and improving soil health.
Pain mitigationwill feature Dr. John Campbell of the Western College of Veterinary Medicine, providing an overview of how to cost-effectively modify or implement on-farm practices aimed at preventing and controlling pain during painful procedures like castration, dehorning and branding.
These well-respected experts will be accompanied by industry leaders and producers who have adopted these production practices. They will share their thoughts about what works well, what doesn't work as well, and other things they have learned in adopting, adapting, altering and fine-tuning these management practices on their own operations.
The presenters will stay around to visit with producers and answer questions after their session is complete. The Beef Cattle Research Council and the Canadian Beef Breeds Council will provide additional information and resources to producers who are interested in learning more about each practice. If you like our webinars, you should love these interactive in-person sessions.
What it Means
This is the first time the BCRC has coordinated an in-person extension event. This unique event is possible because of National-Check-Off funding, the Beef Science Cluster, our experience in extension over the past few years, and the collaborative spirit of the National Beef Strategy that's got many of the national beef organizations working together to organize and host the Canadian Beef Industry Conference.
For more information, go to canadianbeefindustryconference.com. We hope to see you there!
Tweet #CBIC2016
Tweet #bovinnovation
Click here to subscribe to the BCRC Blog and receive email notifications when new content is posted.
The sharing or reprinting of BCRC Blog articles is typically welcome and encouraged, however this article requires permission of the original publisher.

We welcome your questions, comments and suggestions. Contact us directly or generate public discussion by posting your thoughts below.