Horns and Brands: Canada's Beef Carcass Quality Audit
This article written by Dr. Reynold Bergen, BCRC Science Director, originally appeared in the May 2013 issue of Canadian Cattlemen magazine and is reprinted with permission.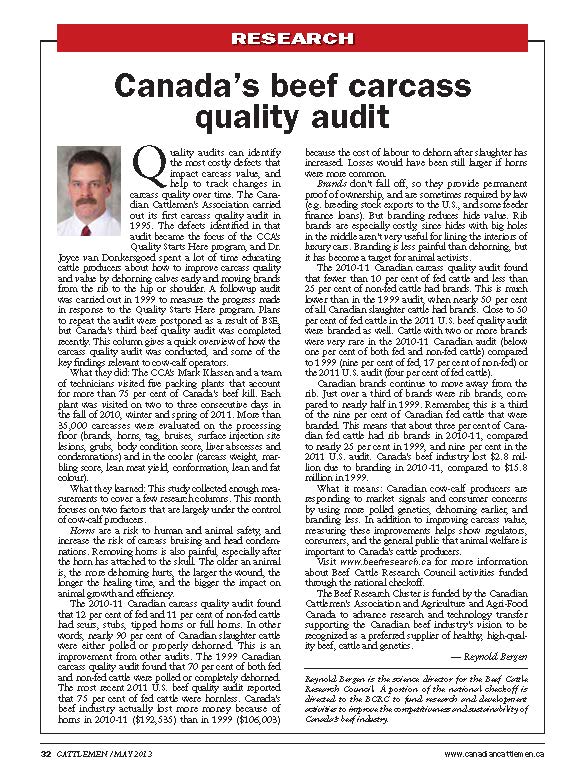 Quality audits can identify the most costly defects that impact carcass value, and help to track changes in carcass quality over time. The Canadian Cattlemen's Association carried out its first carcass quality audit in 1995. The defects identified in that audit became the focus of the CCA's Quality Starts Here program, and Dr. Joyce van Donkersgoed spent a lot of time educating cattle producers about how to improve carcass quality and value by dehorning calves early and moving brands from the rib to the hip or shoulder. A follow-up audit was carried out in 1999 to measure the progress made in response to the Quality Starts Here program. Plans to repeat the audit were postponed as a result of BSE, but Canada's third beef quality audit was completed recently. This column gives a quick overview of how the carcass quality audit was conducted, and some of the key findings relevant to cow-calf operators.
What they did
The CCA's Mark Klassen and a team of technicians visited five packing plants that account for more than 75% of Canada's beef kill. Each plant was visited on two to three consecutive days in the fall of 2010, winter and spring of 2011. More than 35,000 carcasses were evaluated on the processing floor (brands, horns, tag, bruises, surface injection site lesions, grubs, body condition score, liver abscesses and condemnations) and in the cooler (carcass weight, marbling score, lean meat yield, conformation, lean and fat color).
What they learned
This study collected enough measurements to cover a few research columns. This month focuses on two factors that are largely under the control of cow-calf producers.
Horns are a risk to human and animal safety, and increase the risk of carcass bruising and head condemnations. Removing horns is also painful, especially after the horn has attached to the skull. The older an animal is, the more dehorning hurts, the larger the wound, the longer the healing time, and the bigger the impact on animal growth and efficiency.
The 2010/11 Canadian carcass quality audit found that 12% of fed and 11% of non-fed cattle had scurs, stubs, tipped horns or full horns. In other words, nearly 90% of Canadian slaughter cattle were either polled or properly dehorned. This is an improvement from other audits. The 1999 Canadian carcass quality audit found that 70% of both fed and non-fed cattle were polled or completely dehorned. The most recent 2011 US beef quality audit reported that 75% of fed cattle were hornless. Canada's beef industry actually lost more money because of horns in 2010/11 ($192,535) than in 1999 ($106,003) because the cost of labor to dehorn after slaughter has increased. Losses would have been still larger if horns were more common.
Brands don't fall off, so they provide permanent proof of ownership, and are sometimes required by law (e.g. breeding stock exports to the US, and some feeder finance loans). But branding reduces hide value. Rib brands are especially costly, since hides with big holes in the middle aren't very useful for lining the interiors of luxury cars. Branding is less painful than dehorning, but is has become a target for animal activists.
The 2010/11 Canadian carcass quality audit found that fewer than 10% of fed cattle and less than 25% of non-fed cattle had brands. This is much lower than in the 1999 audit, when nearly 50% of all Canadian slaughter cattle had brands. Close to 50% of the fed cattle in the 2011 US beef quality audit were branded as well. Cattle with two or more brands were very rare in the 2010/11 Canadian audit (below 1% of both fed and non-fed cattle) compared to 1999 (9% of fed, 17% of non-fed) or the 2011 US audit (4% of fed cattle). Canadian brands continue to move away from the rib; just over a third of brands were rib brands, compared to nearly half in 1999. Remember, this is a third of the 9% of Canadian fed cattle that were branded. This means that about 3% of Canadian fed cattle had rib brands in 2010/11, compared to nearly 25% in 1999, and 9% in the 2011 US audit. Canada's beef industry lost $2.8 million due to branding in 2010/11, compared to $15.8 million in 1999.
What it means
Canadian cow-calf producers are responding to market signals and consumer concerns by using more polled genetics, dehorning earlier, and branding less. In addition to improving carcass value, measuring these improvements helps show regulators, consumers, and the general public that animal welfare is important to Canada's cattle producers.
Video Presentations

Numerous video presentations based on the results of the latest National Beef Quality Audit (NBQA) are now available online, including this presentation on how to prevent discomfort and carcass defects caused by dehorning and branding:



Visit www.beefresearch.ca/NBQA, or view the playlist on YouTube to see all of the NBQA presentations currently available.

Leading industry experts cover a range of topics from a packer's perspective on Canada's beef carcass quality to specific quality defects, such as bruising, injection site lesions and liver abscesses. The impact of illness in feeder cattle and the use of growth promotants on carcass quality are also explained. Videos highlight the economic impact of quality defects, and offer tips and strategies on prevention to maximize carcass value.

More videos to come.

Learn more
Beef Quality Audits
BeefResearch.ca
Includes videos and cattle management tips to prevent or minimize beef quality defects.
2010/11 NBQA Results
Download the 2010/11 NBQA brochure (PDF)
Download the 2010/11 NBQA fact sheet (PDF)
Results of Canada's most recent quality audit
BCRC Blog – February 25, 2013
We welcome your questions, comments and suggestions. Contact us directly at info@beefresearch.ca or generate public discussion by posting your thoughts below.
Stay connected by following us on Twitter @BeefResearch, liking us on Facebook, and subscribing to our YouTube Channel.
Click here to subscribe and receive email notifications when new content is posted on the BCRC Blog.