Vaccines Are Cheap Insurance – Don't Let Your Premiums Lapse
This article written by Dr. Reynold Bergen, BCRC Science Director, originally appeared in the May 2022 issue of Canadian Cattlemen magazine and is reprinted on the BCRC Blog with permission of the publisher.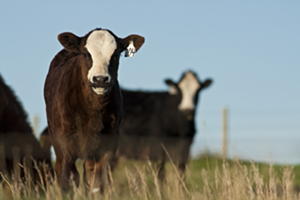 After last summer's pasture conditions and last winter's feed costs, it's safe to say that many cow-calf producers are facing the upcoming grazing season with some anxiety. Some are looking for new grazing arrangements, opportunities to trim input costs, or both. No single solution can solve every challenge for every operation, but nearly all decisions have trade-offs. Using a community pasture or other shared grazing arrangement may reduce pasture costs but mixing different herds can spread reproductive (and other) diseases. This risk is magnified if you're tempted to save costs this year by skimping on your vaccination program.
The February and March editions of this column drew from a large beef cow productivity study that happened to coincide with the 2001-02 drought in Western Canada. That study also revealed how important vaccination programs are to maintaining reproductive performance. These results were published in Livestock Science 163:126-139 and Theriogenology 79:1083-1094; 81:840-848.
What They Did:
To recap, Dr. Cheryl Waldner and her colleagues from the Western College of Veterinary Medicine studied the productivity of over 30,000 beef cows in over 200 well-managed herds in Alberta, Saskatchewan and B.C. Participating producers individually identified each cow and calf, recorded all calf births (including abortions), maintained an active veterinary-client-patient relationship, had good animal handling facilities, pregnancy tested all breeding females, had a veterinarian evaluate all herd bulls, had an established spring or summer breeding season (i.e., didn't calve year-round), and worked with the researchers to collect the needed samples and data.
As part of the study, they compared the pregnancy and abortion rates in these herds, based on whether they used community pastures and whether they vaccinated their cows against BVD and IBR before the breeding season. These two diseases don't just affect calves; they can also reduce reproductive success in cows.
What They Learned:
Overall, 83% of herds vaccinated their cows for BVD and IBR using either live or inactivated vaccines before the breeding season began, while the other 17% did not.
Herds that were commingled during the breeding season had poorer reproductive performance, especially when cows weren't vaccinated pre-breeding. Cows from herds that used community pastures were less likely to be pregnant in fall and were more likely to abort the next spring than cows from herds that didn't use community pastures.
Vaccinated cows were more likely to get pregnant, especially in commingling situations. On community pastures, cows that had been vaccinated before the breeding season with either a live or inactivated vaccine against BVD and IBR were 6 times more likely to be pregnant in fall than cows that had not been vaccinated. In fact, reproductive performance in commingled herds that had been vaccinated against BVD and IBR was the same as in herds that hadn't been commingled at all.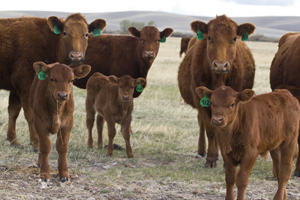 Vaccinated cows were less likely to abort, especially in commingling situations. On community pastures, cows that had been vaccinated before the breeding season with either a live or inactivated vaccine against BVD and IBR were nearly four times less likely to abort than cows that had not been vaccinated.
Calves born to vaccinated cows were less likely to be treated before weaning. An upcoming paper from Dr. Waldner's research team (Improving beef calf health: frequency of disease syndromes, uptake of management practices following calving, and potential for antimicrobial usage reduction in western Canadian herds) drew on information from 89 cow-calf producers participating in the Western Cow-Calf Surveillance Network. Although nearly all the herds vaccinated cows against BVD and IBR, only 29% of the herds vaccinated their cows against BRD bacteria (Mannheimia, Histophilus and Pasteurella). In this study, herds that had not been vaccinated against BRD bacteria were more than eight times more likely to treat their calves for BRD between four months of age and weaning.
So What Does This Mean… to Me?
Your vaccination program will be particularly valuable insurance this year, especially if you end up sharing a breeding pasture with others. Annual booster vaccinations are the insurance premium. A 2019 report entitled "Adoption Rates of Recommended Practices by Cow-Calf Operators in Canada" indicated that over 25% of Canadian cow-calf operations don't vaccinate their cows for IBR and BVD before the breeding season. The most common reason for not vaccinating against these reproductive diseases was "I have a closed herd."
That's pretty unlikely. Closed herds are exceedingly rare. Commingling doesn't just happen on community pastures, forestry reserves and other grazing lease arrangements where different herds mix. Commingling also happens when new breeding stock (purchased or leased females, bulls or calves) enter the herd and when fences break or get jumped. Disease can also spread through nose-to-nose contact across fences.
Vaccination is far less costly than even a few more open cows or a few more abortions, and much less costly than a reproductive disaster, an abortion storm or a BRD wreck in next year's calves. Talk to your veterinarian to make sure that your vaccination plans are still appropriate for this summer's possible grazing scenarios. The BCRC also has calculators to help you assess the cost-benefit of vaccinating against several different diseases:
The Beef Cattle Research Council is funded by the Canadian Beef Cattle Check-Off. The BCRC partners with Agriculture and Agri-Food Canada, provincial beef industry groups and governments to advance research and technology transfer supporting the Canadian beef industry's vision to be recognized as a preferred supplier of healthy, high-quality beef, cattle and genetics.
Click here to subscribe to the BCRC Blog and receive email notifications when new content is posted.
The sharing or reprinting of BCRC Blog articles is typically welcome and encouraged, however this article requires permission of the original publisher.

We welcome your questions, comments and suggestions. Contact us directly or generate public discussion by posting your thoughts below.