Transporting cattle safely. Webinar November 29
Missed this Webinar? Watch the recording here.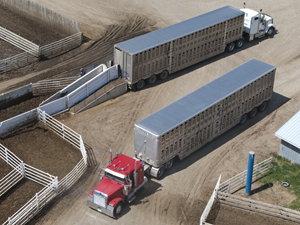 Transporting cattle is the part of the beef production system that is most visible to the public. Research to understand current realities and determine best practices for transporting cattle is ongoing. Join this webinar to learn what that research has found, as well as practical tips that you can use for successful transport outcomes.
Registering on your smartphone? After you click 'I am not a robot', scroll up until you find the task to complete.
When
Thursday, November 29 at 7:00 pm MT
6:00pm in BC
7:00pm in AB
8:00pm in SK and MB
9:00pm in ON and QC
10:00pm in NS, NB and PEI
Interested but aren't available that evening?
This webinar will be recorded and posted online at a later date. All registrants will receive a link to the recording and additional learning resources. By attending the live broadcast, you'll have the opportunity to interact and ask questions too.
Duration
Approximately 1 hour.
Cost
BCRC webinars are available and free of charge thanks to guest speakers who volunteer their time and expertise to support advancements in the Canadian beef industry, and through the Technology Transfer project funded by the Canadian Beef Cattle Check-Off and Canada's Beef Science Cluster.
speaker: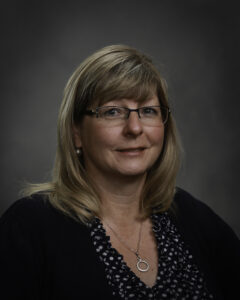 Karen Schwartzkopf-Genswein, PhD
Dr. Schwartzkopf-Genswein is a senior scientist whose expertise and research is in the area of Beef Cattle Welfare. She was raised on a farm in southern Alberta active in the feedlot business which was instrumental in sparking her interest of cattle, their care and management. In 1996, she obtained here PhD at the University of Saskatchewan in Applied Animal Ethology and in 2003 accepted a research scientist position in Beef Cattle Welfare with Agriculture and Agri-Food Canada in Lethbridge.
Her research includes pain/stress assessment and mitigation strategies associated with routine management procedures such as transport, castration, dehorning, and lameness. She has also focused her research in the area of stress reduction and early detection of illness in feedlot cattle.
Based on her research she provides expert advice to provincial, federal and international producer groups on issues related to beef welfare including the National Cattle Feeders Association, Beef Cattle Research Council, Canadian Council on Animal Care and the NCBA, and North American Food Animal Well-Being Commission. She has served (2011-2013) as the co-chair of the Scientist Committee requested by the Canadian National Farm Animal Care Council to revise the Codes of Practice for the Care and Handling of Beef Cattle and the Transportation Codes of Practice (2018 -2021).
She was the 2017 recipient of two prestigious awards including the Canadian Beef Industry Award for Outstanding Research and Innovation and the award for Technical Innovation in Enhancing Production of Safe Affordable Food by the Canadian Society of Animal Science. She has authored/coauthored over 200 peer reviewed manuscripts and popular press articles.
Dr. Schwartzkopf-Genswein is an adjunct professor at the University of Saskatchewan, University of Calgary, University of Manitoba and UNESP University in Sao Paulo, Brazil where she is active in supervising and mentoring students at the Bachelors, Masters, and PhD levels. She is Past President of the Canadian Society of Animal Science and was an associate editor for the Canadian Journal of Animal Science for 6 years 2004-2011.
What is a webinar?
Webinars are just like attending a workshop or conference, but from the comfort of your own home or office. We bring the presentation right to you. They're easy to join and participate in. A reliable, high-speed internet connection is required.
All you need to do is register beforehand, and about 5-10 minutes before the webinar is scheduled to begin, click the link you were provided when you registered. Then turn up your computer speakers or call the phone number provided. That's it! Sit back and enjoy.
As a participant, you can anonymously answer polls and surveys, and will have the opportunity to ask questions near the end of the webinar.
You can find more beef research-related webinars hosted by other organizations on our events calendar.
Don't have high-speed internet? Consider calling a neighbor that does and watch the webinar together, or call your regional ag office to ask whether arranging a group viewing is possible.
Visit our Webinars page to find other upcoming BCRC webinars and the recordings of our past sessions.

Click here to subscribe to the BCRC Blog and receive email notifications when new content is posted.
The sharing or reprinting of BCRC Blog articles is welcome and encouraged. Please provide acknowledgement to the Beef Cattle Research Council, list the website address, www.BeefResearch.ca, and let us know you chose to share the article by emailing us at info@beefresearch.ca.

We welcome your questions, comments and suggestions. Contact us directly or generate public discussion by posting your thoughts below.