This Column is Brought to you by Your National Check-Off
This article written by Dr. Reynold Bergen, BCRC Science Director, originally appeared in the June 2018 issue of Canadian Cattlemen magazine and is reprinted on the BCRC Blog with permission of the publisher.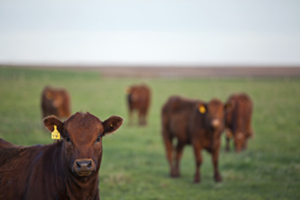 The third annual Canadian Beef Industry Conference (CBIC) takes place in London, Ontario on August 14-16. The CBIC is co-hosted by the BCRC, Canada Beef, Canadian Beef Breeds Council, and the Canadian Cattlemen's Association (CCA). The CBIC's Bov-Innovation session is a popular, interactive, fast-paced, workshop full of tips, ideas, and concepts that cow-calf and feedlot producers can take home and adopt on their farms. Bov-Innovation pairs an expert explaining the science behind best practices with a leading producer explaining how they have adopted these practices to benefit their cattle and their profitability. This year's topics were carefully chosen based on producer suggestions:
"Cross-Canada Cattle: Best transport practices" will pair Derek Haley and Steve Eby. Dr. Haley leads a research program on animal welfare and behaviour at the University of Guelph and is currently studying long-distance cattle transport. Steve Eby, a cattleman from Kincardine, Ontario, will provide his insight for successful transport outcomes.
"The Grass is Always Greener: Pasture infrastructure and management" will see Barry Potter, with the Ontario Ministry of Agriculture, Food, and Rural Affairs facilitate two beef producer presentations. Jason Desrochers operates a cow-calf and backgrounding farm near Val Gagne in northern Ontario. Jason will explain how their farm overcomes land use challenges and converts marginal land into forage. Tim Lehrbass farms near Alvinston in southern Ontario. Tim will share the grazing management strategies used on his operation, which was recently recognized for excellence in forage management.
Bov-Innovation runs Wednesday, August 15 from 10:30am-12:00pm, and again from 3:00pm-5:00pm so that producers can take in both sessions. Bov-Innovation is possible because of funding through the Canadian Beef Cattle Check-Off and the Beef Science Cluster, and collaboration with other industry stakeholders.
Canada's beef industry began collecting a $1 Canadian Beef Cattle Check-Off (also called the "national check-off") in 2002. Once all provinces were collecting the Canadian Beef Cattle Check-Off, Canada also began collecting a $1 import levy on cattle and beef imported into Canada. The Canadian Beef Cattle Check-Off and the import levy fund the domestic and international marketing and promotion of Canadian beef (first through the Beef Information Centre and Canada Beef Export Federation, who later merged to become Canada Beef) and research and development (through the Beef Cattle Research Council, who brings you this column).
The Canadian Beef Cattle Check-Off does not support CCA activities such as policy development, lobbying and trade advocacy; those CCA activities are funded by the provincial beef organizations using provincial check-off funds.
Since 2002, inflation has reduced the buying power of the dollar by about 25%. At the same time, Canada's beef industry is facing many high-profile issues impacting consumer confidence and beef demand (e.g. environmental issues, antimicrobial resistance, animal welfare, growth promotants, etc.), and is expected to carry an ever-increasing share of industry-focused marketing and research initiatives.
In 2013, these realities led to the formation of a National Beef Strategic Planning Group, who developed a National Beef Strategy (www.beefstrategy.com) which outlined the opportunities the industry could capture if the Canadian Beef Cattle Check-Off increased from $1 to $2.50 per head.
Most provincial beef industry groups have voted to support the increased Canadian Beef Cattle Check-Off; Nova Scotia began collecting $2.50 in early 2017, and all provinces but Ontario have followed suit. Once Ontario increases the Canadian Beef Cattle Check-Off to $2.50, the import levy will also increase to $2.50 per head to encourage continued beef consumption in Canada through culinary education and nutrition programming.
The Canadian Beef Cattle Check-Off increase means that the BCRC's research budget will grow from approximately 15 cents to approximately 75 cents per head. In addition to ongoing initiatives like the Beef Science Cluster projects that this column usually features, the increased Canadian Beef Cattle Check-Off will allow the BCRC to provide more meaningful support to long-term strategic industry initiatives like coordinated surveillance for production limiting diseases, broader antimicrobial use and resistance surveillance, seed funding to hire new researchers in critical areas, and expanded, better coordinated extension and technology transfer programs. I'll talk more about these and other new initiatives in upcoming columns.
You can learn more about the BCRC and the Canadian Beef Cattle Check-off at Bov-Innovation, as well as an open house we are hosting for producers and other beef industry stakeholders alongside the CBIC. You're invited to join us on the afternoon of Thursday, August 16th, as we explain how research and technology transfer is impacting farms and ranches across Canada. Examples of innovation and progress will be shared as well as ideas of future objectives and research priorities. Conference registration is not required for the Thursday open house.
Registration for the CBIC is now open and producers are encouraged to register soon. Participants who register before June 15th will take advantage of a reduced rate and guarantee their spot at this event. Information on the full conference, as well as registration, accommodations, flights, and agenda can be found at www.canadianbeefindustryconference.com. We hope to see you there!