Bov-Innovation set for August 15th in London, ON
The Beef Cattle Research Council (BCRC) is proud to co-host Bov-Innovation, an interactive, producer-oriented session that will take place during this summer's Canadian Beef Industry Conference. The conference, in its third year, will be held in London, Ontario, at the London Convention Centre from August 14-16, 2018. The Canadian Beef Industry Conference is co-hosted annually by the BCRC, Canada Beef, Canadian Beef Breeds Council (CBBC), and The Canadian Cattlemen's Association (CCA).
Bov-Innovation is designed to engage both cow-calf and feedlot beef producers. Sessions are fast-paced yet full of tips, ideas, and concepts that producers can adopt on their farms immediately. Presenters include researchers who will explore the science behind best practices as well as industry leaders who will explain how they incorporate concepts to benefit cattle and ultimately the profitability on their beef operations. Topics are carefully chosen based on producer opinions and this year, two sessions will be offered:
"Cross-Canada Cattle: Best transport practices" will include information from Derek Haley, PhD of the University of Guelph. Dr. Haley leads a research program on animal welfare and behaviour, and is currently exploring long-distance cattle transport. Feedlot operator Steve Eby from Kincardine, Ontario, will share his experience with shipping and receiving cattle, and will provide his insight for successful transport outcomes.
"The Grass is Always Greener: Pasture infrastructure and management" will be moderated by Barry Potter, with the Ontario Ministry of Agriculture, Food, and Rural Affairs. Barry has a special interest in beef production in northern Ontario and will facilitate presentations from beef producers Jason Desrochers and Tim Lehrbass, who are each farming in diverse regions of Ontario. Desrochers operates a cow-calf and backgrounding farm near Val Gagne in northern Ontario, and will explain how their farm overcomes land use challenges and converts marginal land into forage. Lehrbass farms in southern Ontario, near Alvinston, and will share grazing management strategies from his operation, which was recently recognized for excellence in forage management.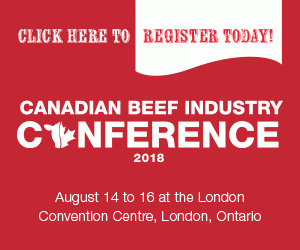 "Bov-Innovation provides engaging information and current research by highlighting real life examples that will resonate with beef producers across Canada," says Bryan Thiessen, feedlot operator and Chair of the BCRC. "We really listen to participant feedback to ensure we continue to meet and exceed their expectations for a unique and informative Bov-Innovation series. We are confident that all of the collaboration put toward these sessions, and the overall Canadian Beef Industry Conference, will lead to another positive experience for conference goers," said Thiessen.
Taking place during the Canadian Beef Industry Conference, Bov-Innovation is scheduled for Wednesday, August 15 from 10:30am-12:00pm. A second opportunity to participate in both the transport and pasture management sessions will take place later that day from 3:00pm-5:00pm.
Past Bov-Innovation sessions have covered topics from antimicrobial resistance to genomics, parasites to pain control, replacement heifer management, feed testing, cover crops, and many others. Resources from previous session can be found online at www.beefresearch.ca/resources/bovinnovation.cfm
Registration for the Canadian Beef Industry Conference is now open and producers are encouraged to register soon. Participants who register before June 15th will take advantage of a reduced rate and guarantee their spot at this important national beef event. Information on the full conference, as well as registration, accommodations, flights, and agenda can be found at www.canadianbeefindustryconference.com.
Bov-Innovation is possible because of funding through the Canadian Beef Cattle Check-Off and the Beef Science Cluster, and collaboration with other industry stakeholders dedicated to advancing the goals in the National Beef Strategy.
The BCRC is also hosting an open house for producers and other beef industry stakeholders alongside the Canadian Beef Industry Conference. You're invited to join us on the afternoon of Thursday, August 16th, as we explain how research and technology is impacting farms and ranches across Canada. Examples of innovation and progress will be shared as well as ideas of future objectives and research priorities. Conference registration is not required for this open house.

Click here to subscribe to the BCRC Blog and receive email notifications when new content is posted.
The sharing or reprinting of BCRC Blog articles is welcome and encouraged. Please provide acknowledgement to the Beef Cattle Research Council, list the website address, www.BeefResearch.ca, and let us know you chose to share the article by emailing us at info@beefresearch.ca.

We welcome your questions, comments and suggestions. Contact us directly or generate public discussion by posting your thoughts below.