Succession Planning in the World of Research 🎙️
This article written by Dr. Reynold Bergen, BCRC Science Director, originally appeared in the June 2023 issue of Canadian Cattlemen magazine and is reprinted on BeefResearch.ca with permission of the publisher.
CLICK THE PLAY BUTTON TO LISTEN TO THIS ARTICLE:
There's been a lot of talk about succession planning in agriculture recently. Succession planning is just as important in research.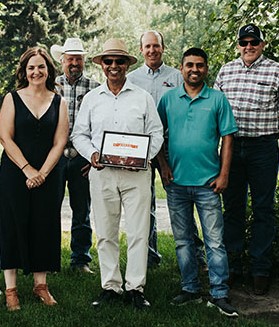 Here's an example. Surya Acharya started with Agriculture and Agri-Food Canada in 1989. He and his teammates developed two new cicer milkvetch varieties (AC Oxley II and AC Veldt), two sainfoins (AAC Mountainview and AAC Glenview), five new orchardgrasses (Kayak, Greenview, Chilliwack-VR, Haida-VR and Cheam-VR), ACE-1 perennial cereal rye and Tristar fenugreek, nine native grass varieties and five new alfalfas (AC Blue J, AC Longview, AC Dalton, AAC Bridgeview and AAC Meadowview). In 2021, Surya received the BCRC's Canadian Beef Industry Award for Outstanding Research and Innovation due to his dedication to applied producer-focused research and extension.
Hiring new researchers ensures that progress continues. New scientists also bring new knowledge, skills, perspectives and energy. But having a PhD doesn't automatically make someone a good researcher, just like a Class 1 license doesn't automatically make someone a good trucker, or an agriculture degree doesn't necessarily make a good farmer. It's often better if a new, fresh-faced recruit has a chance to work with a grizzled veteran before they retire. Experience is the best teacher, and it's faster and more efficient for a new researcher to learn the ropes from an experienced hand than to make all the same mistakes and learn all the same lessons themselves. Having experienced researchers available to mentor new researchers helps shorten the runway to productivity and success.
This is especially important when it comes to working with producers. Like everyone else, a group of researchers can be comfortable communicating and working with each other, just like fellow producers are comfortable talking shop, working cattle or pulling wrenches together. But dynamics change when it's a single producer in a group of researchers or a single researcher in a group of producers. It's essentially a cultural exchange – different customs and languages mean that it can take a long time to communicate and work well together.
Building these relationships is hard work, and if the first experience isn't positive, one will be reluctant to try it again. That creates a gap between producers and researchers that doesn't benefit anyone. We really need researchers to understand the beef and forage sectors, so that they can apply their specialized expertise to the right challenges and opportunities.
To address this challenge, the BCRC started a Beef Researcher Mentorship Program in 2014. This program matches new researchers with beef producers who share similar research interests and bring the practical expertise. The producers serve as mentors for a year, to help the researcher become familiar with the industry and production realities and to begin to understand how to align their skills and interests with industry needs. It also helps them build an industry network and the confidence to get started in producer communication and extension.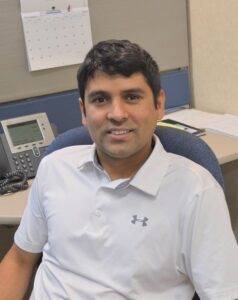 A few years before Surya announced his retirement, he recruited a promising young researcher named Hari Poudel into his research group in 2019. Originally from a farm in Nepal, Hari had recently completed his PhD in plant breeding at the University of Wisconsin. Surya and Hari worked together on several industry-funded forage breeding projects aimed at improving the nutritional value of sainfoin and alfalfa, as well at improving sainfoin's ability to compete and persist in mixed stands with both grass and alfalfa.
Hari was accepted into the BCRC's Researcher Mentorship program in the fall of 2021. He spent the next year (and since) being mentored by Graeme Finn and Doug Wray, two progressive Alberta grass farmers, becoming familiar with production issues, challenges and opportunities in Western Canada. The mentorship program also gives researchers and their mentors opportunities to attend producer and industry events together, helping the researchers to develop and grow their industry network connections, broaden their perspectives, and become comfortable in non-research conversations.
By the time Surya was ready to retire and AAFC opened their competitive hiring process for a new forage breeder in Lethbridge, Hari was clearly the most qualified candidate for the job.
So, What Does This Mean… to You?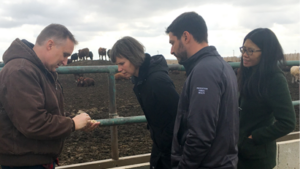 The BCRC funds research projects and develops a lot of science-based decision-making tools for producers. But we also work behind the scenes to make sure that Canada's beef and forage sectors have the researchers and research programs we need to keep our industry moving ahead. Since 2014, the BCRC has coordinated the mentorship of 36 early-career government and university researchers across Canada. Two-thirds came to Canada from 13 other countries, and over 90% have stayed here. These researchers have been mentored by 80 progressive producers and other industry professionals. Drop us a line if you're interested in becoming a mentor for a new and upcoming researcher!
Bottom line: Investing in research is not enough. Facilitating connections between new researchers and industry mentors, and between one generation of researchers to the next, is essential to keep industry-focused research programs progressing. Passing down the knowledge from experienced researchers to new researchers helps them to build relationships with real-life producers and others in the industry to keep the research and knowledge pipeline flowing.
The Beef Cattle Research Council is funded by the Canadian Beef Cattle Check-Off. The BCRC partners with Agriculture and Agri-Food Canada, provincial beef industry groups and governments to advance research and technology transfer supporting the Canadian beef industry's vision to be recognized as a preferred supplier of healthy, high-quality beef, cattle, and genetics.
Click here to subscribe to the BCRC Blog and receive email notifications when new content is posted.
The sharing or reprinting of BCRC Blog articles is typically welcome and encouraged, however this article requires permission of the original publisher.

We welcome your questions, comments and suggestions. Contact us directly or generate public discussion by posting your thoughts below.