Extending the Shelf Life of Marinated Steaks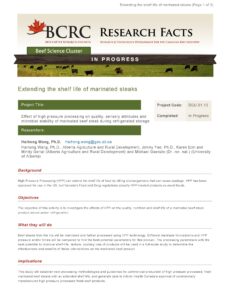 High Pressure Processing (HPP) can extend the shelf life of food by killing microorganisms that can cause spoilage. HPP has been approved for use in the United States. Canada's Food and Drug regulations classify HPP-treated products as novel foods.
Research currently underway, funded by the National Check-off and Canada's Beef Science Cluster, is investigating the effects of HPP on the quality, nutrition and shelf life of marinated beef steak products stored under refrigeration. This study will establish new processing methodologies and guidelines for commercial production of high pressure processed, fresh marinated beef steaks with an extended shelf life, and generate data to inform Health Canada's approval of commercially manufactured HPP-treated fresh beef products.
To learn more about this research, see the BCRC fact sheet.
Click here to subscribe to the BCRC Blog and receive email notifications when new content is posted.
The sharing or reprinting of BCRC Blog articles is welcome and encouraged. Please provide acknowledgement to the original author and let us know you chose to share the article by emailing us at info@beefresearch.ca.

We welcome your questions, comments and suggestions. Contact us directly or generate public discussion by posting your thoughts below.