Selecting for Improved Feed Efficiency and Carcass Quality: Putting Theory into Practice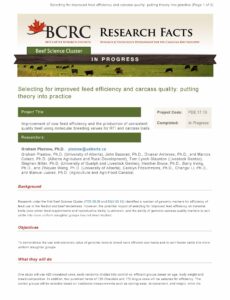 A number of genomic markers for feedlot feed efficiency and beef tenderness were identified through research that was conducted during the first Beef Science Cluster. However, the potential impact of selecting for improved feed efficiency on maternal traits, meaning how choosing breeding stock to produce feed efficient offspring would impact cows' winter feed requirements and reproductive traits for example, is unknown. The ability to sort cattle into more uniform slaughter groups based on genomic carcass quality markers had also not yet been studied.
Research currently underway and funded by the National Check-off and Canada's Beef Science Cluster is working to demonstrate the use and economic value of genomic tools to breed more efficient cow herds and to sort feeder cattle into more uniform slaughter groups. Results are expected in 2018.
Learn More
Click here to subscribe to the BCRC Blog and receive email notifications when new content is posted.
The sharing or reprinting of this BCRC Blog article is welcome and encouraged. Please provide acknowledgement to the Beef Cattle Research Council, list the website address, www.BeefResearch.ca, and let us know you chose to share the article by emailing us at info@beefresearch.ca.

We welcome your questions, comments and suggestions. Contact us directly or generate public discussion by posting your thoughts below.