Resources for Beef Producers during Market Disruptions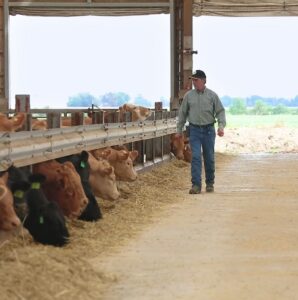 Beef supply chain disruptions due to COVID-19 are challenging producers to make difficult decisions and adapt to changing situations. As beef farmers consider making strategic production and management adjustments in response to shifting cattle markets, the resources listed below provide information and may support you in assessment, planning, and decision-making.
If you are looking for additional information, let us know in the Comment box at the bottom of this page. We will continue to add to this resource list as needed or as more information becomes available.
Feeding & Nutrition
Find information about feed testing and feeding conventional forages as well as using available alternate feeds. For pasture production systems see the link on grazing management.
Feed Shortages or Drought Conditions
Whether producers are worried about uncertain markets and possible drought conditions or faced with keeping cattle longer than expected and have an urgent need to stretch feed supplies, these links contain tips, tools, and ideas for getting the most out of what is available.
Cattle Health & Welfare
During challenging times, beef producers still have a responsibility to maintain animal health and welfare. The resources listed below provide helpful information.
Culling Cattle
Lower value cattle, including cull or market animals, need to receive proper care and management. The following resources include information on transport and pre-transport decisions, taking the next steps when an animal's condition cannot improve, as well as how to best to dispose of mortalities.
Financial Management
Visit these links to access financial calculators and other tools and information to help pencil out different production scenarios.
Mental Health Support
Find information on where to reach out and get support to help cope with stress during these difficult times. Your health and well-being matters.
Additional resources and regular industry updates to help navigate the challenging landscape of COVID-19 can be found through the Canadian Cattlemen's Association and the National Cattle Feeders' Association.
For generations, beef producers have proven themselves to be resourceful and adaptable. Stay safe during these difficult times.
Click here to subscribe to the BCRC Blog and receive email notifications when new content is posted.
The sharing or reprinting of BCRC Blog articles is welcome and encouraged. Please provide acknowledgement to the Beef Cattle Research Council, list the website address, www.BeefResearch.ca, and let us know you chose to share the article by emailing us at info@beefresearch.ca.

We welcome your questions, comments and suggestions. Contact us directly or generate public discussion by posting your thoughts below.