Today's Research Provides Tomorrow's Solutions
This article written by Dr. Reynold Bergen, BCRC Science Director, originally appeared in the September 2021 issue of Canadian Cattlemen magazine and is reprinted on the BCRC Blog with permission of the publisher.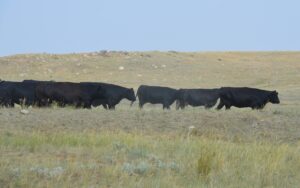 Today's research won't help you weather this year's drought, but the practical information and advice you'll read elsewhere in this issue (and at www.beefresearch.ca) will. Those pasture management, early weaning, creep-feeding, feed and water testing, alternative feeds and ration balancing tips all originate from past research done by scientists and refined by producers. But producer-funded research underway today will help us cope with future droughts.
Crops, pastures and haylands throughout Western and Central Canada are parched. In a lot of places, the only green and thriving forage plants are forage legumes like alfalfa, vetches, trefoil, sweet clover and sainfoin. Legumes have specialized roots that allow them to capture nitrogen from the air and convert it into plant protein. This improves soil fertility and forage and animal productivity. Their root systems can also extend very deep into the soil and allow them to access subsoil moisture that shallow-rooted plants can't reach during times of drought. Canada's forage researchers are working hard today to develop tomorrow's forage varieties and management practices that will improve productivity, nutritional quality and resilience under challenging environmental conditions.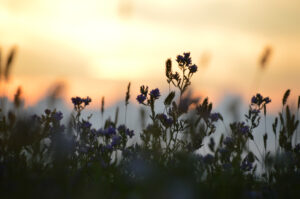 At AAFC Lacombe, Vern Baron collaborates with researchers from Alberta, Saskatchewan and Quebec to increase fall yield and persistence of alfalfa for northern regions. Some genetics are from old, existing, winter-hardy northern Albertan stands, but Quebec breeder Annie Claessens also selects for fast growing plants under controlled, short day lengths in dormant, cold tolerant stands, and Quebec physiologist Annick Bertrand selects very cold tolerant plants from southern stands. New low dormancy varieties must stay green in fall, retaining greater winter hardiness, while yielding more than current ones. The hardy lines have been compared across Canada. Selecting for extreme winter hardiness with greater fall growth is the first step in attaining cultivars that are "on-farm tough" where they may be grazed and must compete with grass. Tolerance to intense grazing and cutting frequency is being tested in field trials in Lacombe and Swift Current.
Alfalfa is very productive, but it can cause bloat and is susceptible to the alfalfa weevil. In contrast, sainfoin is non-bloating, resists the alfalfa weevil and is more salt tolerant than alfalfa. Sainfoin can be seeded with alfalfa to lower the bloat risk, or with grass to improve forage yields. Sainfoin's ability to survive and thrive in these mixed stands sometimes depends on the other species it's grown with. At AAFC Lethbridge, Surya Acharya is collaborating with scientists in Alberta, Saskatchewan and Manitoba to identify sainfoin genetics that have high germination and emergence rates, and improved yield, disease resistance and persistence when seeded with orchard, meadow and hybrid bromegrass at sites in Lethbridge, Saskatoon and Carman. A variety of different methods of seeding sainfoin and grass are also being compared, and forage samples are being assessed for animal digestibility.
In Saskatchewan, Jillian Bainard and Bill Biligetu are collaborating with researchers in Alberta, Manitoba, Quebec and Utah to evaluate a wide variety of tame and native grasses and legumes, grown on their own or in up to seven-species mixtures in Lethbridge, Brandon, Swift Current, Beaverlodge and Saskatoon. Forage quality, yield and regrowth are being measured, in addition to carbon sequestration and soil microbes and pollinator diversity.
Ontario is unusually dry this year, but Central and Eastern Canada are more commonly challenged by waterlogging and higher acidity. At AAFC Nappan in Nova Scotia, Yousef Papadopoulos is collaborating with researchers in Ontario, Quebec, New Brunswick, PEI, and Newfoundland to improve the stand life of alfalfa, red clover and trefoil. They are selecting varieties for improved seed germination, emergence, vigor, and root development under waterlogged or acidic conditions, and testing natural seed treatments that may improve seedling establishment in these environments. They are also seeding these legumes into mixed grass stands using different seeding methods, fertilization rates, grazing seasons and intensities at sites in the Maritimes, Quebec and Ontario, and evaluating how those factors impact species persistence, forage quality and productivity, animal performance, soil fertility and carbon sequestration.
Canada is fortunate to have an extensive web of forage researchers collaborating with each other on a variety of different producer-funded projects spanning the country. This allows them to get the most information they can on how well different genetics and management practices work in distinct locations, under varying environmental conditions. These researchers and their field plots face the same environmental pressures and challenges that producers are dealing with in those areas. That's why it's so critically important for Canada to maintain and support our own forage breeding and management programs rather than relying on genetics and production practices developed elsewhere in the world.
When this drought has passed, some crop producers may realize that the potential returns don't justify the production risks associated with growing high value and high input crops on marginal quality soils or environments. Forages and beef cattle may be a better choice for these conditions. Canada's forage researchers are working to develop forages and management practices that will help the beef and forage industry respond to the future challenges (and opportunities) Mother Nature will continue to send our way.
Click here to subscribe to the BCRC Blog and receive email notifications when new content is posted.