Reproductive Failure in the Beef Herd: Causes, Effects and When to Intervene – Webinar December 2nd
Missed this webinar? Watch the recording here.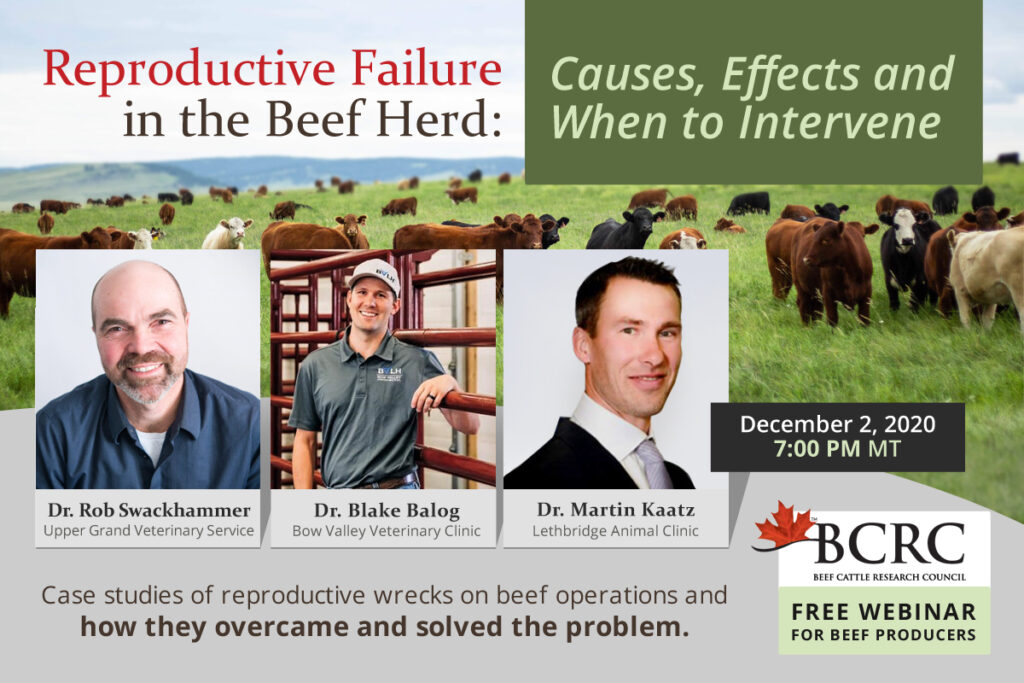 Reproductive failure can pose a significant threat for cow-calf operations, particularly when an issue affects a large portion of the cow herd such as early pregnancy loss. This panel of veterinarians will share case studies of reproductive wrecks on beef operations and how these operations overcame and solved the problem.
Registering on your smartphone? After you click 'I am not a robot', scroll up until you find the task to complete.
When
Wednesday, December 2nd at 7:00 pm MT
6:00pm in BC
7:00pm in AB
8:00pm in SK and MB
9:00pm in ON and QC
10:00pm in NS, NB and PEI
Interested but aren't available that evening?
This webinar will be recorded and posted online at a later date. All registrants will receive a link to the recording and additional learning resources. By attending the live broadcast, you'll have the opportunity to interact and ask questions too.
Duration
Approximately 1 hour.
Cost
BCRC webinars are available and free of charge thanks to guest speakers who volunteer their time and expertise to support advancements in the Canadian beef industry, and through the Technology Transfer project funded by the Canadian Beef Cattle Check-Off and Canada's Beef Science Cluster.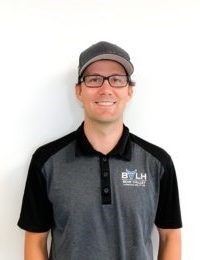 Speakers:
Dr. Blake Balog has been working with beef and dairy cattle herds in the Brooks area as a veterinarian for the last 8 years. Areas of focus involve cow and bull reproductive management ranging from nutrition, timed AI protocols, investigation into poor fertility, vaccination and health protocols, and bull management and soundness evaluation. He is a proud husband and father of a daughter and son. Dr. Balog is veterinarian and owner at Bow Valley Livestock Health in Brooks, AB.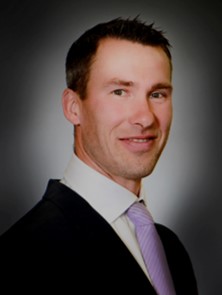 Dr. Martin Kaatz has been practicing as a veterinarian at Lethbridge Animal Clinic for the past five years. Following graduation, Dr. Kaatz investigated the pathogenesis of Bovine Spongiform Encephalopathy (BSE) in cattle at the German Federal Research Institute for Animal Health. This experience facilitated a spot at the European-Canadian research program to transfer BSE-detection methods to find Chronic Wasting Disease (CWD) prion proteins. He moved to Canada shortly thereafter and became associated with the Lethbridge Animal Clinic in 2015.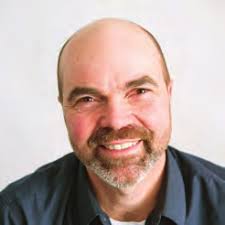 Dr. Rob Swackhammer provides Bovine and Small Ruminant services at Main Street Animal Hospital in Cambridge, Ontario. Rob grew up in the Guelph area working on beef and dairy farms. Rob graduated from the Ontario Veterinary College in 1996. After 12 years of clinical practice at the Ontario Veterinary College (OVC), Rob decided to take on a new challenge and opened Swackhammer Veterinary Services in Rockwood, Ontario. Dairy cattle lameness, dairy farm profitability and reproduction are areas of special interest to Rob. Rob's early years working on his grandfather's beef farm were formative. This led to an interest in small farm agriculture. Rob lives on a farm with his wife and 2 kids as well as a small beef herd.
What is a webinar?
Webinars are just like attending a workshop or conference, but from the comfort of your own home or office. We bring the presentation right to you. They're easy to join and participate in. A reliable, high-speed internet connection is required.
All you need to do is register beforehand, and about 5-10 minutes before the webinar is scheduled to begin, click the link you were provided when you registered. Then turn up your computer speakers or call the phone number provided. That's it! Sit back and enjoy.
As a participant, you can anonymously answer polls and surveys, and will have the opportunity to ask questions near the end of the webinar.
You can find more beef research-related webinars hosted by other organizations on our events calendar.
Don't have high-speed internet? Consider calling a neighbor that does and watch the webinar together, or call your regional ag office to ask whether arranging a group viewing is possible.
Visit our Webinars page to find other upcoming BCRC webinars and the recordings of our past sessions.

Click here to subscribe to the BCRC Blog and receive email notifications when new content is posted.
The sharing or reprinting of BCRC Blog articles is welcome and encouraged. Please provide acknowledgement to the Beef Cattle Research Council, list the website address, www.BeefResearch.ca, and let us know you chose to share the article by emailing us at info@beefresearch.ca.

We welcome your questions, comments and suggestions. Contact us directly or generate public discussion by posting your thoughts below.