Eleven Ways to Avoid Feed Waste this Winter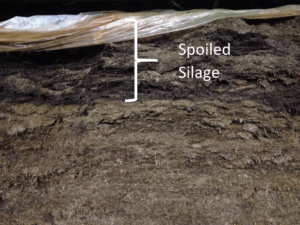 Harvesting, storing and delivering a beef herd's winter rations are the largest expense for most operations. Even small improvements in a winter feed system can result in significant feed cost savings.
Whether a winter feed system uses a silage bunk or pit, baled forage, or swath grazing, significant feed waste losses can happen. Spoilage, mould, trampling, and weather are just a few examples of how losses can occur.
In addition to the expense of the feed lost, cow-calf operations can experience significant reproductive losses from spoiled or low-quality feed such as cows failing to rebreed the following breeding season and poor calf performance.
Feed testing can be the first step toward using stored feed efficiently. Once a plan is in place based on the feed test results, optimizing the consumption of the feed by limiting spoilage and wastage is a logical next step.
How to Limit Silage Waste
Reducing waste in silage starts in the field says Les Halliday, PhD, Beef Specialist at PEI Department of Agriculture and Land. Here are Les' top tips to reduce silage waste:
If your feed test results have left you scratching your head, visit www.beefresearch.ca/feedtesting for instructions and a custom web tool that'll help evaluate your feed test results based on the group of cattle you plan to feed it to.
Use balers with knives. Les says coarse chopping allows for tighter packing of the forage in the bale resulting in less air and 10 -15% higher density which means less bales to wrap. Chopped grass in baled silage will also undergo a faster, more efficient fermentation than in regular baled silage. At feed out, cattle are able to access chopped silage more easily resulting in higher intake and less waste, however, Les cautions that if bales are too tight it can hinder cattle from physically eating the forage, and cause them to tire out.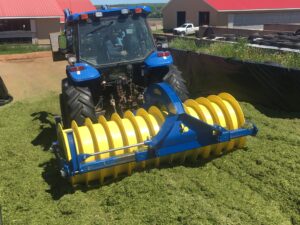 Maintain a smooth silage bunk face to reduce secondary spoilage. An uneven bunk face, caused by feed removal, can result in a significant amount of air (oxygen) infiltration which wakes up the microbes that begin to use up nutrients (sugars, silage acids, and proteins) which leads to the production of carbon dioxide, ammonia and other gases. This can also lead to the growth of moulds, yeasts and certain pathogenic bacteria.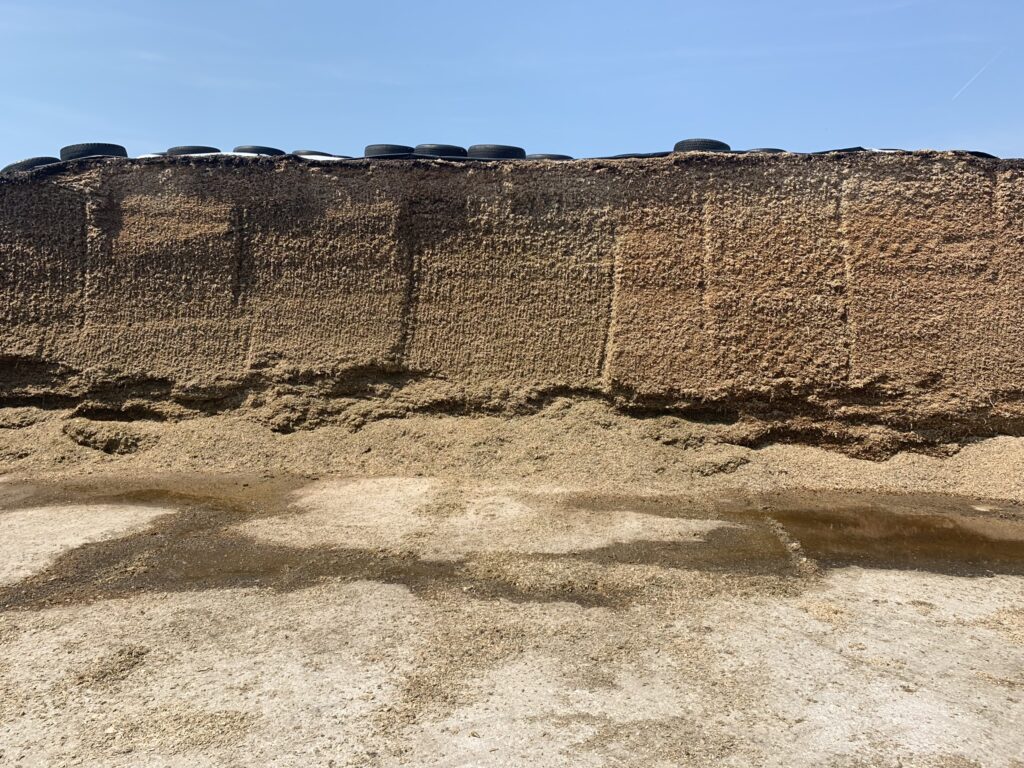 How to Reduce Waste in Dry Hay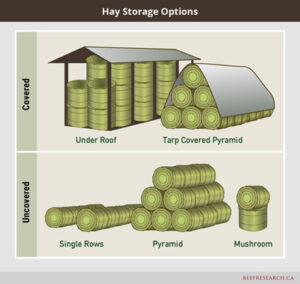 According to Duane McCartney, a retired forage-beef systems research scientist at Lacombe, AB, limiting waste in dry hay also starts in the field.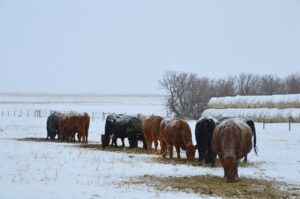 Regardless of the style of winter feeding, continually working to reduce feed waste and minimize the loss of nutrients protects your farm's large investment in stored forage.
Learn More:
Click here to subscribe to the BCRC Blog and receive email notifications when new content is posted.
The sharing or reprinting of BCRC Blog articles is welcome and encouraged. Please provide acknowledgement to the Beef Cattle Research Council, list the website address, www.BeefResearch.ca, and let us know you chose to share the article by emailing us at info@beefresearch.ca.

We welcome your questions, comments and suggestions. Contact us directly or generate public discussion by posting your thoughts below.