REMINDER: Experiencing Drought Stress Webinar July 29th
Don't forget to register for Thursday's webinar. By registering you can watch it live or view the recording later at your convenience.
Large parts of Canada and the Northern Great Plains are currently facing mild to severe drought. With feed supplies low and demand high you may be considering non-traditional feeds for your cattle. If you are thinking about grazing something new, questioning your water quality, wondering about animal health concerns you should be watching out for, considering purchasing greenfeed from non-traditional crops, or have general questions about managing cattle during a drought, here is your chance to get answers straight from the experts.The BCRC is hosting a panel of nutrition and animal health experts to answer your drought-related nutrition questions. Questions will be answered live Thursday, July 29th at 7:00pm MST.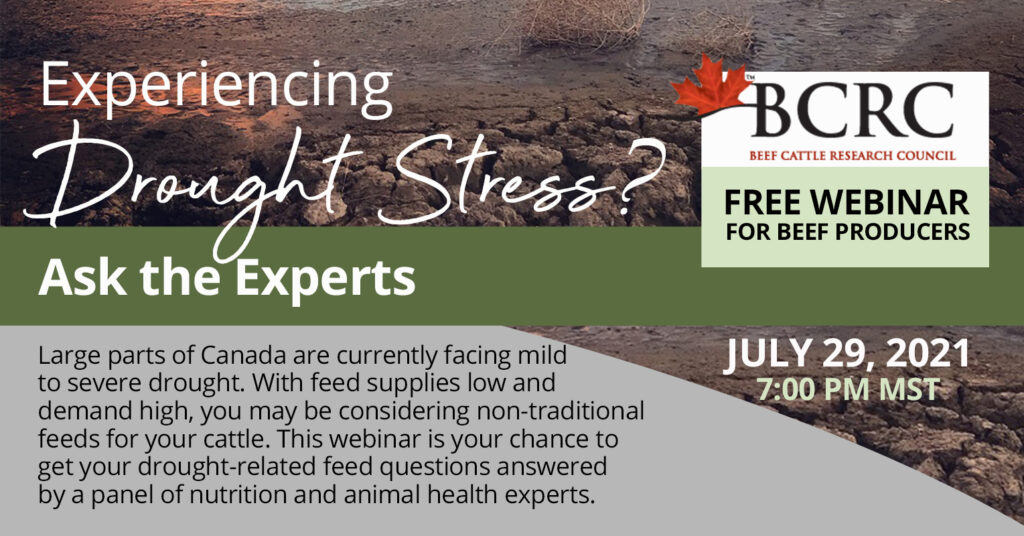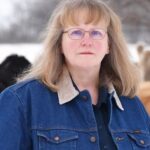 Speakers:
Cheryl Waldner, PhD is the NSERC/Beef Cattle Research Council Senior Research Chair in Beef Cattle Health in Large Animal Clinical Sciences at the Western College of Veterinary Medicine. Much of her current focus is on antimicrobial use and resistance in cow-calf herds and feedlots. Much of her current focus is on antimicrobial use and resistance in cow-calf herds and feedlots. She is also actively involved in research examining factors affecting the productivity of cow-calf herds in Western Canada.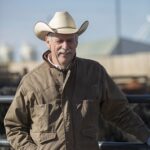 Bart Lardner, PhD is a Professor in the Department of Animal and Poultry Science at the University of Saskatchewan where he supervises students and teaches courses in forages and beef cattle nutrition. For the past 25 years, Dr. H.A. (Bart) Lardner has managed a research program focusing on beef cattle management and forage production research. His expertise lies in pasture and water management in cow-calf systems, summer and winter grazing systems, and ruminant nutrition.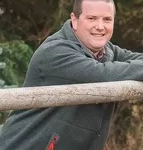 Andrew Acton, DVM graduated from the Western College of Veterinary Medicine in 1992 and has been practicing at Deep South Animal Clinic ever since. He became a Diplomate of the American Board of Veterinary Practitioners in Beef Cattle Practice in 2008. Andy grew up on a farm in Lemberg, SK with his parents and two siblings. After finishing high school, he moved to Saskatoon where he attended university before moving to Ogema. He and his wife, Yvonne have two kids, Kelsey and Corin, and operate a herd of commercial Simmental and Angus cows.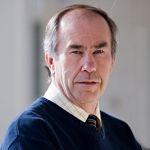 John McKinnon, PhD is a Professor Emeritus in Department of Animal and Poultry Science at the University of Saskatchewan and owns and operates a nutrition consulting company by the name of JJM Nutrition Services Inc. During his tenure at the university, he occupied the Saskatchewan Beef Industry Chair, an industry funded position that focused on extension and research related to beef cattle. His research interests included growth and carcass quality of beef cattle as well as on the feeding value of byproduct feeds. Presently, John works with cow-calf and feedlot producers as well as the pharmaceutical industry across western Canada on issues related to feeding management. As well he writes a monthly nutrition column for the Canadian Cattleman's Magazine.
There will be some time for Q and A during the live webinar, but the best option for having your questions answered is to submit them ahead of time by including them in the question box when you register, commenting below, or email your questions to info@beefresearch.ca with the subject title Drought Webinar.
While you are waiting for the webinar, visit the resources for drought management blog post for more information: http://www.beefresearch.ca/blog/resources-for-drought-management/
Click here to subscribe to the BCRC Blog and receive email notifications when new content is posted.
The sharing or reprinting of BCRC Blog articles is welcome and encouraged. Please provide acknowledgement to the Beef Cattle Research Council, list the website address, www.BeefResearch.ca, and let us know you chose to share the article by emailing us at info@beefresearch.ca.

We welcome your questions, comments and suggestions. Contact us directly or generate public discussion by posting your thoughts below.