Record Keeping for Forage and Grassland Management Webinar March 23rd
Missed the Webinar? Watch the Recording Here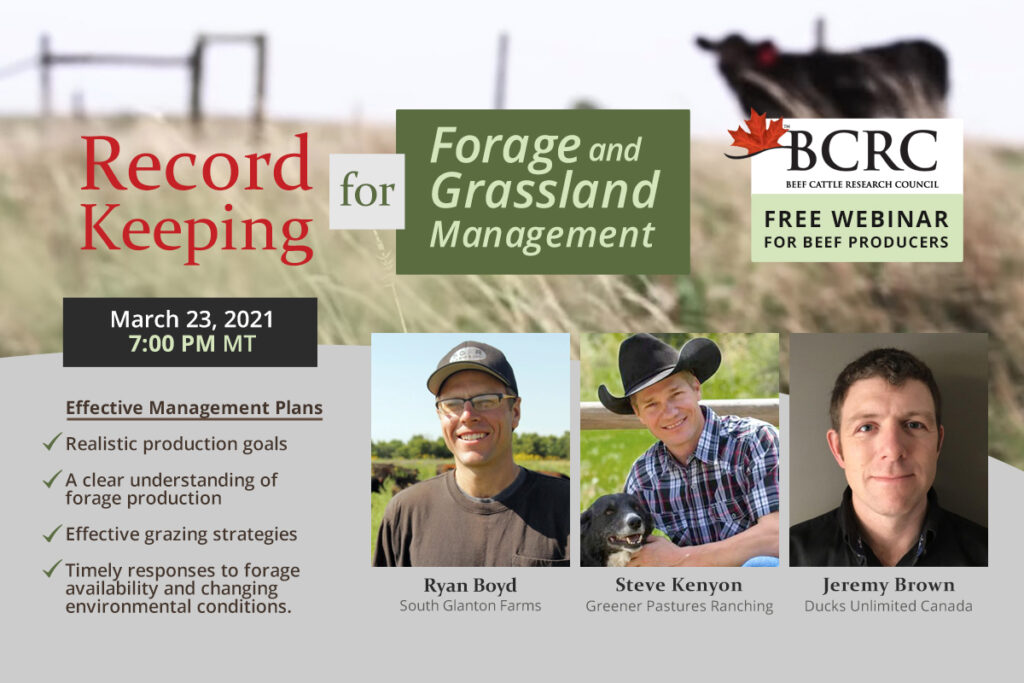 Pasture and stored forages are critical resources in the cattle industry. An effective management plan requires realistic production goals, a clear understanding of forage production, effective grazing strategies and timely responses to forage availability and changing environmental conditions. Record keeping can support management decisions needed to effectively manage both pasture and stored forage. This webinar will discuss the record keeping methods used by three producers to manage their pastures and forages.

Registering on your smartphone? After you click 'I am not a robot', scroll up until you find the task to complete.
When
Tuesday, March 23rd at 7:00 pm MT
6:00pm in BC
7:00pm in AB
8:00pm in SK and MB
9:00pm in ON and QC
10:00pm in NS, NB and PEI
Interested but aren't available that evening?
This webinar will be recorded and posted online at a later date. All registrants will receive a link to the recording and additional learning resources. By attending the live broadcast, you'll have the opportunity to interact and ask questions too.
Duration
Approximately 1 hour.
Cost
BCRC webinars are available and free of charge thanks to guest speakers who volunteer their time and expertise to support advancements in the Canadian beef industry, and through the Technology Transfer project funded by the Canadian Beef Cattle Check-Off and Canada's Beef Science Cluster.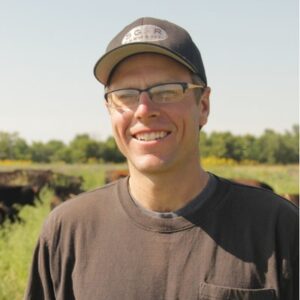 Speakers:
Ryan Boyd grew up on the farm, attended Forrest Elementary School and graduated from Elton Collegiate in 2001. After high school Ryan attended University of Manitoba and studied agronomy in the Faculty of Agriculture and Food Sciences.
Upon graduating in 2005 with a Bachelor of Science (Agriculture) Ryan returned home to the farm and began farming full time. Continuous education is important to Ryan and he has since taken many courses including Ranching for Profit and Holistic Management and many other grazing, cattle, soil and crop seminars and workshops.
Ryan is currently an executive board member of the Manitoba Foarage and Grasslands Association and the Humesville Cemetery.
Ryan is passionate about all things farming and grateful for the opportunity to farm along side his wife Sarah and kids Piper and Bingham.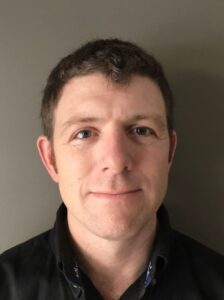 Jeremy Brown is an agrologist with Ducks Unlimited Canada, based in North Battleford. This involves working with ranchers and farmers to promote healthy grasslands as nesting habitat for waterfowl. What enhances the sustainability of grasslands benefits the agriculture industry, the landscape and wildlife.

He has a Bachelor of Agriculture from the University of Saskatchewan. Jeremy was raised on a grain and cattle farm near Cut Knife, Sask. He lives on the family homestead with his wife, Marla, and their two children. They operate a custom grazing business.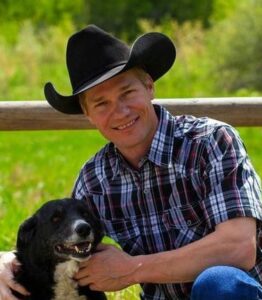 Steve Kenyon runs a custom grazing business in the Westlock, Alberta area under the name of Greener Pastures Ranching Ltd. He currently runs just over 1,400 head of livestock on 3,000 acres of leased land. By using extended grazing techniques, he is able to pasture cattle year-round. This is done by using a combination of intensive cell grazing, dormant season grazing, swath grazing, crop residue grazing and bale grazing. Steve has become well respected in the agriculture community for his business management and innovative ideas.
Steve has been teaching sustainable grazing management for more than 15 years and has been a keynote speaker at many conferences and seminars throughout Canada and the U.S. He is a writer for the Stockman Grass Farmer magazine and also for the Canadian Cattleman Magazine.
Click here to subscribe to the BCRC Blog and receive email notifications when new content is posted.
The sharing or reprinting of BCRC Blog articles is welcome and encouraged. Please provide acknowledgement to the Beef Cattle Research Council, list the website address, www.BeefResearch.ca, and let us know you chose to share the article by emailing us at info@beefresearch.ca.

We welcome your questions, comments and suggestions. Contact us directly or generate public discussion by posting your thoughts below.