Our Environmental Hoofprint is Shrinking, but our Reach is Growing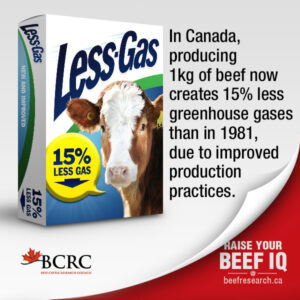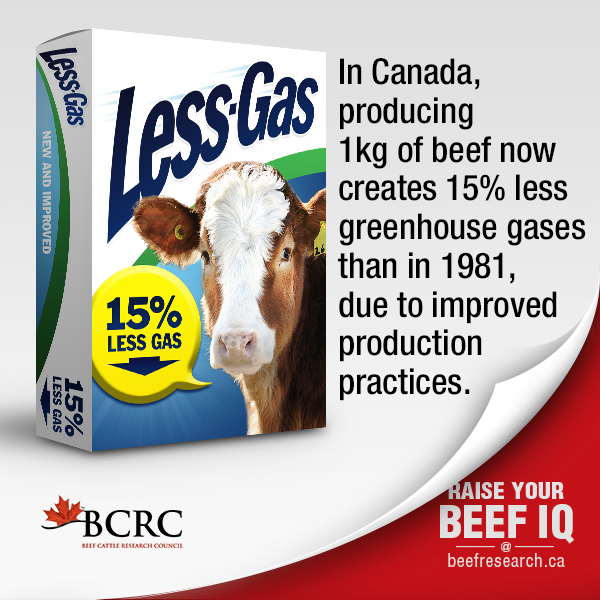 Early this year, the BCRC Blog highlighted a study titled "Greenhouse gas emissions of Canadian beef production in 1981 as compared with 2011" that documented results of an ongoing Beef Science Cluster project. This paper documented how Canada's beef industry was able to reduce the amount of greenhouse gas generated in producing one kilogram of Canadian beef dropped by 15 per cent between 1981 and 2011. This reduction was largely the result of ongoing improvements in production and feed efficiencies, crop yields and management strategies. These, in turn, can be very directly traced back to research and innovation.
This story quickly became the subject of over 50 agricultural and popular press interviews and articles in Canada in the first few weeks following its release. The research team also presented these results at over a dozen producer meetings in B.C., Alberta, Saskatchewan, Manitoba and Ontario.
We've recently learned that this research is also having a large impact on the international scientific community. This research paper has been downloaded and read more often than any other paper in the Animal Production Science journal over the past 12 months. This means that researchers from around the world are aware of the progress Canada's beef industry has made in reducing our environmental footprint.
Credible, independently reviewed and internationally-recognized work like this means that Canada's voice will be increasingly respected when Canadian scientists take active roles in international forums like the Food and Agriculture Organization of the United Nations Livestock Environmental Assessment Partnership. This is essential to avoid and defuse feeding misleading headlines like "Why Beef is the New SUV". It means that the Canadian Roundtable for Sustainable Beef's Sustainability Assessment will not be erroneously viewed as an industry greenwash. It means that Canada's beef industry has expertise we can rely on as we are increasingly asked to identify how Canada's beef industry can make further improvements and provide industry positions and perspectives on greenhouse gas policy development on both provincial and national levels.
This Beef Science Cluster research project is being led by Dr. Tim McAllister of AAFC Lethbridge, Drs. Kim Ominski and Getahun Legesse of the University of Manitoba. Those who are attending the 2016 Canadian Beef Industry Conference this week in Calgary will have the opportunity to hear from two of these researchers. On Wednesday afternoon, Dr. McAllister will speak about the need to connect positively within our industry, and with consumers, the public, government and partner industries to counteract the "eat something other than beef" movement. On Thursday afternoon, Dr. Ominski will be speaking about threats and opportunities for the beef industry related to climate change. Dr. Legesse will remain in Winnipeg to continue the team's work on estimating the water footprint of Canada's beef industry the next phase of the Environmental Footprint project.
Click here to subscribe to the BCRC Blog and receive email notifications when new content is posted.
The sharing or reprinting of BCRC Blog articles is welcome and encouraged. Please provide acknowledgement to the Beef Cattle Research Council, list the website address, www.BeefResearch.ca, and let us know you chose to share the article by emailing us at info@beefresearch.ca.

We welcome your questions, comments and suggestions. Contact us directly or generate public discussion by posting your thoughts below.