On-Farm Antimicrobial Surveillance Moves a Step Closer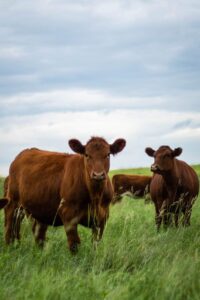 This article written by Dr. Reynold Bergen, BCRC Science Director, originally appeared in the September 2019 issue of Canadian Cattlemen magazine and is reprinted on the BCRC Blog with permission of the publisher.
As long as cattle continue to get sick, cattle producers will need antimicrobials to help them recover. At the same time, it's common to hear activists, regulators, consumers and/or retailers call for livestock producers to stop using antimicrobials altogether, reduce antimicrobial use, or demonstrate that antimicrobials are being used responsibly. Solid, reliable data demonstrating our industry's antimicrobial use (AMU) practices and antimicrobial resistance (AMR) prevalence on an ongoing basis are key to maintaining consumer and public confidence in Canadian beef production practices.
The Public Health Agency of Canada monitors antimicrobial resistance in healthy beef cattle, pigs and poultry arriving at abattoirs as well as retail meat through the Canadian Integrated Program for Antimicrobial Resistance Surveillance (CIPARS). CIPARS has also had on-farm programs to collect antimicrobial use (AMU) and resistance (AMR) data for poultry and grower-finisher swine for several years.
On-farm surveillance for beef cattle has come more slowly. CIPARS initially focused its on-farm efforts on swine and poultry because the AMR risk was thought to be higher in those sectors based on CIPARS retail surveillance.The irony is that although on-farm surveillance was initially less of a priority for beef cattle because there were fewer concerns about AMR in beef, the absence of on-farm surveillance for feedlot cattle might make it seem like our industry has been trying to avoid efforts to investigate AMU and AMR in beef cattle!
In reality, Canada's beef industry has worked long and hard to help CIPARS get on-farm surveillance underway in Canada's feedlot sector. Several collaborative initiatives involving CIPARS, Agriculture and Agri-Food Canada and the beef industry have developed a workable template and methodology to monitor AMU and AMR in commercial feedlot settings over the past 15 years. In 2017, CIPARS was able to start regional feedlot AMR surveillance in south-central Alberta through a collaboration with FoodNet Canada. However, CIPARS hasn't had enough internal funding to establish a true, national on-farm AMU and AMR component for feedlot cattle.
We're getting closer. In 2018, an expert panel consisting of beef industry representatives, the major veterinary practitioners involved in Canadian feedlot medicine, and AMU/AMR technical experts worked with CIPARS to draft a framework to collect AMU data and samples for AMR detection from the feedlot sector. Cattle industry funders (Alberta Cattle Feeders Association, Saskatchewan Cattlemen's Association, Beef Farmers of Ontario), federal/provincial government funding (in Alberta, Saskatchewan and Ontario) and the pharmaceutical industry (Vetoquinol and Bayer) have provided three years of funding to collect and analyze AMU data and samples for AMR surveillance in Alberta, Saskatchewan and Ontario feedlots. Five of Canada's most influential feedlot-focused veterinary consulting practices have identified client feedlots representing each province's proportion to Canada's overall feedlot population. Samples will be collected from fecal pats (AMR associated with gut microbes) and deep nasal swabs (AMR associated with respiratory pathogens).
Over time, this initiative will provide representative estimates of AMU and AMR in the Canadian finishing feedlot sector, provide a unified approach to monitor trends over time in AMU and AMR in the Canadian finishing feedlot sector, and (based on emerging trends in AMR) possibly investigate associations between AMU and AMR periodically on a targeted basis.
This information is important for a few reasons. It will generate reliable, third-party information to help counter misinformation about AMU practices in Canada's feedlot sector. It will hopefully become the national, science-based standard for AMU surveillance to be used by retailers that are setting AM reduction targets, and illustrate the challenges facing supply chains that view antimicrobial-free production systems as a simple, reasonable or animal welfare-friendly consumer marketing strategy.
But most importantly from a producer perspective, it will help identify trends in AMU, AMR, and potential associations between AMU and AMR as they pertain to animal health and welfare. Most individual animal AMU treatments in the feedlot are related to respiratory disease. Collecting nasal swabs on entry and re-handling will allow CIPARS to examine AMR among bacteria associated with respiratory disease. Similarly, in-feed antimicrobials are mostly used to control liver abscesses or control histophilosis in calves. Monitoring AMR in bacteria from fecal pats will help assess whether AMR is emerging among gut bacteria.
It takes many years and billions of dollars to develop a new antimicrobial, and new antimicrobials are not being developed nearly as fast as they used to be. In the future, new families of antimicrobials may be reserved for human use and not approved for use in livestock. The antimicrobials available for beef cattle production in 20 years may simply be the same ones we have today. That's why it's so critical to avoid the development of AMR as much as possible – our antimicrobial toolbox may not get any bigger. It may even shrink given political pressure to restrict which antimicrobials can be used in livestock production. On-farm surveillance that helps identify emerging trends in AMU and AMR before they become a problem will help ensure that antimicrobials remain effective and available for maintaining animal health and welfare into the future.
The Beef Research Cluster is funded by the Canadian Beef Cattle Check-Off and Agriculture and Agri-Food Canada with additional contributions from provincial beef industry groups and governments to advance research and technology transfer supporting the Canadian beef industry's vision to be recognized as a preferred supplier of healthy, high quality beef, cattle and genetics.
Click here to subscribe to the BCRC Blog and receive email notifications when new content is posted.
The sharing or reprinting of BCRC Blog articles is typically welcome and encouraged, however this article requires permission of the original publisher.

We welcome your questions, comments and suggestions. Contact us directly or generate public discussion by posting your thoughts below.